Looking for suggestions for a very bland wall
Gardening Reference » Gardening in 2006
by Malica on August 07, 2006 06:13 PM
Anyone have any suggestions for this boring, boring back wall of my house?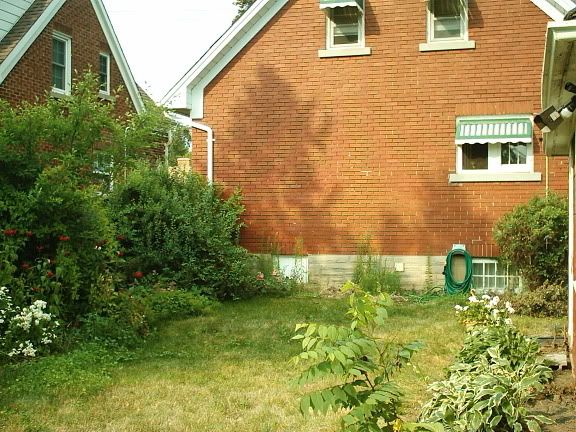 The 'window' in the bottom left is actually just access for the house's cistern (which we don't use), so it can be covered up.
I'm looking for either suggestions for what I can do right now to break up that space, but also a bigger project for next year. Budget isn't really a worry, but my skill and time are, but feel free to suggest anything as creative as you like. I'm still pretty new to looking after a garden, so I have very few ideas at all right now (ok, only one -- and that's paint an unused over-sized trellis white and stick it in the ground as at least something to break up some of the monotony of that wall).
Thanks so much for any suggestions.
by Dixie Angel on August 08, 2006 02:08 AM
I think elephant ears would be gorgeous along that wall...
Dianna
* * * *

by RugbyHukr on August 08, 2006 01:53 PM
how about a small tree out 8-10 feet from the wall.
like a flowering crabapple, flowering almond, or flowering cherry
* * * *

I love the sweet scents wafting in the breeze. I stop to admire the vibrant colors of all living things. And people think me odd. Then ODD I am!!!
http://community.webshots.com/user/flugnash
by Malica on August 09, 2006 03:14 PM
Thanks for the suggestions. I never thought to put a tree up there. I'm not too sure about the Elephant ears though -- the bottom of the window is 6 feet off the ground, so I think it would have to be something even taller than that to fill in that wall.

Part of me would love to just knock out a big huge door there (into our dining room) and have nice formal entrance into the gardens instead of having squeeze past the cars on the narrow driveway. That would be nice... and completely inprobable...
by tkhooper on August 10, 2006 01:56 AM
I like the idea of a door. Especially french double doors from the dinning room to the garden.
But in the mean time an elaborage arbor with garden swing seat covered with a fast growing annual vine would be really nice, and easy to remove when you do get around to putting in that door.
I'm thinking of an arbor with the central roof peaked to add even more height than you would normally see on an arbor with a straight roof. That would make the top about 12 feet from ground level. or you could even go fancier and make it like a half gazebo that rests right up against the house almost looking like an addition even before the door becomes a reality. And if you glassed it in you would have a fancy place to start your plants early each year, like a small green house. Wouldn't that be neat? Well you did say not to pay attention to the amount of money lol.
* * * *


by tkhooper on August 10, 2006 02:03 AM
Or.............. do a cantilevel patio with raised bed half walls set at intervals where you change the level of the patio with the wide shallow steps. I saw one done on one of those decorating shows. It was georgeous. They used brick for the patio and the raised beds and then added those grecian urns as additional focal points and a wrought iron patio table and chairs. You could even have a brick grill or fire pit as a part of the design.
Or..... what about a modern art 16 foot water wall. Some of those are just wonderful looking. I like the ones where you bend and twist sheet metal and then stress it with a torch to give it all those fantastic colors. Then weld it on to a frame made of pipe that will also force the water to the top of the sculpture. The pool at the bottom really doesn't have to be the big and they have solar pumps now so you don't even have to run electricity to them. That would be wonderful with some mood lighting placed at strategic locations around the water feature.
* * * *


by badplanter on August 10, 2006 05:40 AM
i like the idea of some type of blossoming tree a few feet from the wall. make some type of slate path or stones that lead to the tree, where you can place benches and/or lawn chairs. Plant a few colorful flowers around, and give it the look of some type of tranquility garden.
Theres just so much you can do with that space!
* * * *




"I don't want no more of army life, gee mom, I wanna go, but they won't let me go, gee mom, I wanna go home!"
My PB!
by Malica on August 13, 2006 09:02 AM
quote:

---

Originally posted by tkhooper:
I like the idea of a door. Especially french double doors from the dinning room to the garden.

---
Is there really any other kind of door?
Thanks for all the suggestions. I'm thinking an arbour or some sort of trellis -- even it's bare for the rest of the season, will at least get rid of some of the eye-sore-ishness of that wall while I scheme about some of these larger projects mentioned over the winter. (And gently break the news to my husband of what I decided to do/get done).
by tkhooper on August 13, 2006 09:19 AM
Sounds like a good idea to me. Just make sure the arbor will fit around the french doors when they are completed lol.
* * * *


by gailo on August 13, 2006 09:58 AM
What about an espalier off to the side by the downspout of the gutter? I saw a pear tree espalier when I was in Holland. It was neat with the golden fruit on the tree and so flat against the wall.

* * * *
gailo

by Malica on August 19, 2006 05:51 PM
I think my husband has accepted my new-found neurosis as far as the garden is concerned because when I mentioned the French doors leading to some sort of shaded patio (pergola, perhaps? Our backyard is full sun except for that spot which gets full sun in the afternoon and evenings, so we don't spend any time in the backyard right now except when I'm gardening), his only comment was where I was going to put the china cabinet that is currently the focal point of our dining room where the door would end up being.
Talk about getting carte blanche! I'll have to get a landscaper/contractor in to see if I can get some more concrete ideas down -- or maybe some sketches. I'm horrible at trying to draw things out and visualizing some of this (like if a pergola would look too big there if it was tucked into the corner (remove existing plants, etc).
by kennyso on August 23, 2006 02:29 AM
we have a forsynthia tha covers the side of the wall next to the garade...I think a honey suckle might do well also
* * * *


Blessed are the meek, for they shall possess the earth
My Website
My Blog
by tkhooper on August 24, 2006 02:57 AM
Send me measurements of the area. I'm no contractor but I sure love to try. I'm so excited for you.
* * * *


by M. D. Vaden of Oregon on August 26, 2006 01:49 PM
by Malica on August 28, 2006 08:38 AM
Thanks, TK!
Or a larger version:
here
It's to scale so I didn't label every length, but it is to scale.
by rainie on October 17, 2006 03:16 AM
I'm seeing a flowering dogwood or a flowering cherry off to one side and a nice slate/rock path to a little sitting area where you can look at your climbing hydrangea or your Wisteria (if you are that patient) Both will climb 50 feet plus and be georgius. I'd put some lungwort and sum and substance hosta flanking the path as well.
Search The Garden Helper: