Emergency Help Needed For Sandy Soil
Gardening Reference » Gardening in 2006
by DustyDS on March 17, 2006 10:52 PM
I downsized to a smaller house last fall, to a bigger yard with 6 foot stockade fence all around the back and nothing but sandy soil and weeds inside, sloping from the back fence down to the house..Ill tell ya how bad it is..about 4 weeks ago, we got 12 inches of rain in about 12 hours..The house sits on a hill and 1/2 of the front yard wound up in the street, and 1/2 of the back yard wound up against the back of the house.
Soooooo Needless to say...I'm garden-ly challenged at the moment
I decided to join here to see what help and suggestions I could get to assist me in getting this soil stable before the monsoon season hits here in June. Being on a very tight budget, the word SOD is strictly taboo. Besides, Id rather have just about anything BUT grass front and back..however open to any ideas for a quick fix that will hold me until I can garner the budget to do otherwise..The neighbor behind me to the south has several huge oak trees, and I have 3 huge pines in the SW corner so the yard is sporadic in where the shade and sun is depending on the time of day..The front yard faces north and stays in sun all day, but almost no grass so the soil is eroding out into the street..I have already installed french drains in the front to stop the gutter downspouts from making it worse.
Dusty

by Merme on March 17, 2006 11:00 PM
Hi Dusty ~

I too live at a beach (albeit on the coast of Maine!) and overly sandy soil and erosion is a constant headache for homeowners here as well.
A remarkably effective and low cost remedy can be as simple as a dry fit low retaining wall of large rocks and stones, hauled from tither and yon. Then any plantings added immediately in front of the wall on the house side of it also helps keep the soil in place. Be sure to add escape pipes out to the street side under the wall to allow any fill 'er ups to flow out to the street.
This project would be labor intensive, but would be a big help until you could invest in sod or other plantings.
You might also wish to speak with Joni13/Tina who lives in an area that requires sandbagging to prevent erosion on the hillsides...
Merme
* * * *


"In the midst of winter, I learned there lives in me an invincible summer" Camus (maybe a paraphrase)
by DustyDS on March 17, 2006 11:07 PM
That is about what I had in mind Merme..but rocks and stones are non existant here..so I want to use the big railroad ties IF I can find some cheaply..and the drains are definitely a must as the water got so deep at the back of the house that the downspouts were submerged and the water was backing up and surging out of the gutters..Is there anything I can Plant in the soil that will grow quickly to help hold it down?? Rye grass is no help as it will be dead from the heat in another month..

by jonni13 on March 17, 2006 11:41 PM
Hi dusty, I followed you over here from the CH. I live on a hillside in Calif that burned. Mudslides are a real danger here. Our cheapest quick fix is retaining walls made of sandbags. Not pretty but it works. And they've been in place long enough for me to plant over some to help hide the unsightliness. That is the cheapest, fastest fix that I can think of.
* * * *
~Tina


Getting old is the pits. But it sure beats the alternative.
My Blog
by Merme on March 18, 2006 12:06 AM
I'm trying to research some fast spreading ground cover for you that won't burn up in your intense heat. Today is a heavily scheduled day for me, but I will get to it later this afternoon.
Merme
* * * *


"In the midst of winter, I learned there lives in me an invincible summer" Camus (maybe a paraphrase)
by DustyDS on March 18, 2006 12:56 AM
Thank you Tina and Merme...Cant say I dont have sand..

I can fill the bags from the back yard where I want to dig out for the retaining wall..Just gotta find the bags...A ground cover would be ideal..no mowing.. and I could move some of it later when Im ready to make beds..The French drain pipe is cheap here at Home Depot.
10 foot sections are only $3.29..The pea gravel I want to put over it is not quite so cheap, but maybe I can budget for 2 yards of it next month as they have a 2 yard minimum for delivery. I really appreciate the help Merme, and thank you Tina for a terrific idea..


by tkhooper on March 18, 2006 01:46 AM
I'm thinking invasive vines like morning glories? For a start. I think some of our members have loads and loads of them and they love the heat. I'm not sure about their salt tolerance though.
Cerastium tomentosum 'Snow-In-Summer' this is an annual ground cover that self seeds and is very heat tolerant. Being an annual I'm thinking that moving it when you want to make a bed shouldn't be to hard. And since it will spread over cliffs I'm thinking that it might also spread over the sandbags so they don't look so much like what they are.
Fragaria 'Lipstick' Strawberry, Ornamental Another ground cover that is good for zones 3 through 9. Is that hot enough or do I need to go to the 10?
Soapwort
And as you say when you get money I'd definitely be thinking about a pond somewhere around the front of your property with a nice weeping willow placed right there next to it. With a variety of cannas shading more of the pond. What a cool place to go during the heat of the day. Of course you would need a pump in the pond somewhere to keep the water moving. Or if not that then some fish to keep the mesquito population down.
* * * *


by DustyDS on March 18, 2006 11:01 PM
Hi Tk...Thanks for the plant advice..I already have 3 ponds going..Im an avid Koi fan..

The front of the house has a 5 foot sidewalk paralell to it from the drive, then its downhill from there..


I am actually parked on a steep slope..
When Im sitting here on the screen porch, Im actually eyelevel with the bottom of the back stockade fence to the south..I aint kiddin when I say Im on a hill..

There is kind of a flat area about 12 feet out from the back fence where I have 1 shed/workshop and one 10x10 shed that I use for my gardening things..then its an immediate down hill slope from there to the back of the house..flatspot for the house, then downhill to the street again..


by DustyDS on March 18, 2006 11:03 PM

by jonni13 on March 18, 2006 11:11 PM
Sandbags are free around here at our fire departments. One neighbor ordered some from Home Depot before he found out about the free ones.
* * * *
~Tina


Getting old is the pits. But it sure beats the alternative.
My Blog
by DustyDS on March 19, 2006 12:14 AM
Im going to check with our county Highway dept on Monday.. We have alot of areas that are in flood zones, and they bring bags and several truckloads of sand and dump it in those areas during hurricane season..Im hoping I can get them from them.. I called Home Depot this morning, and they dont have any in stock at this time anyway..I am definitely going to use this method in both front and back yards and then plant some droopy creeper along the top of it to hide it ..Im sure glad I had your young brain to think of this as I sure didnt..



by jonni13 on March 20, 2006 02:00 AM
Well not such a young brain; I'm 55 yrs old.
Here is a picture of my favorite home made 'tool' for filling sandbags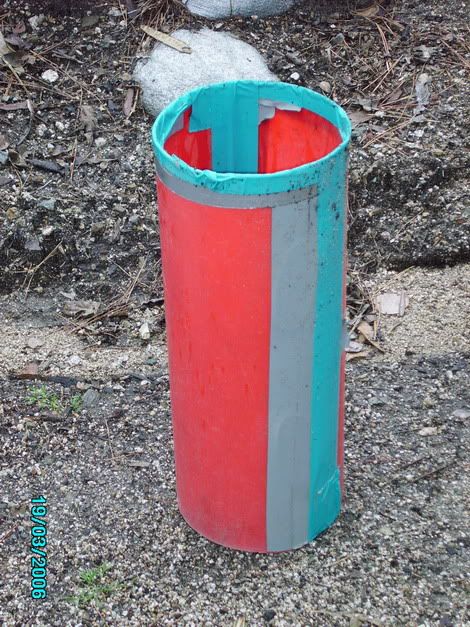 And how we use them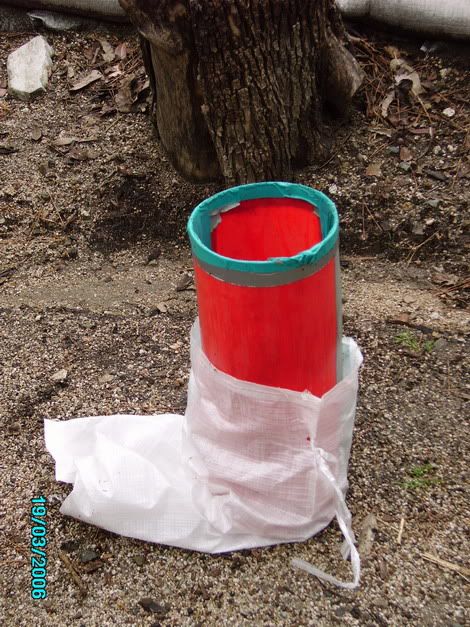 Fill the tube all of the way up, remove the tube while pulling up sandbag and tie.
We have done thousands of sandbags and I'm telling you that after we took my daughter's sled and made the tubes, it was so much easier and faster.
* * * *
~Tina


Getting old is the pits. But it sure beats the alternative.
My Blog
by jonni13 on March 20, 2006 02:05 AM
Here is my favorite plant to cover/hide sandbags.
Aptenia, red apple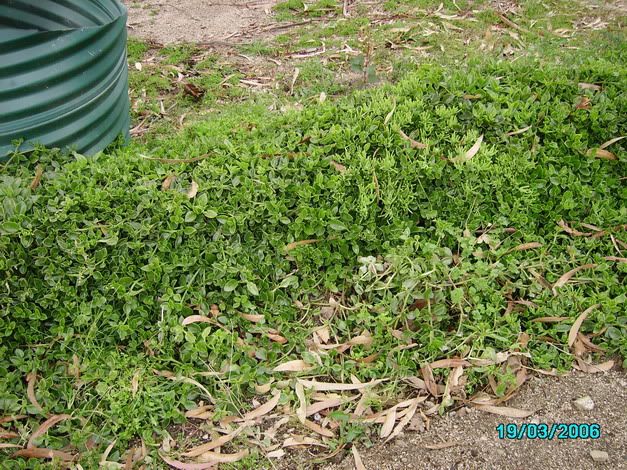 And partially covered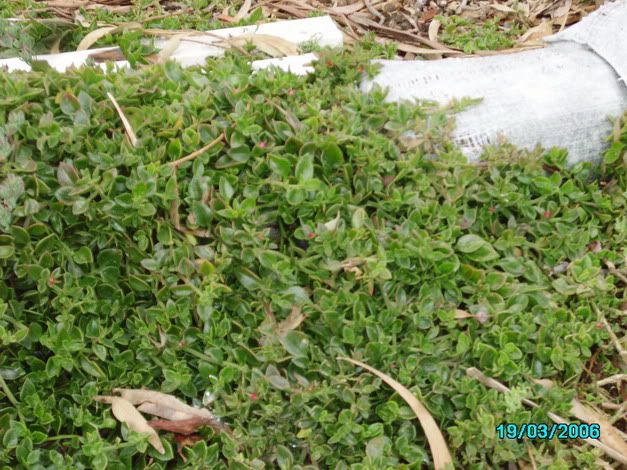 This is less than six months in place here.
This will grow in your area. It won't take sustained freezes but will grow in your sandy soil. If you know anyone who has some and will share, it will grow from pieces just plugged into the soil without loads of amendments. It is easy to control, too.
* * * *
~Tina


Getting old is the pits. But it sure beats the alternative.
My Blog
Search The Garden Helper: