Episode # 5... Mother Nature
Willy's Place » The Further Misadventures of Wild Willy
by Bill on January 14, 2004 04:59 PM

The Further Misadventures of Mother Nature
It's been a looooooong week...
(or so)
!
2004 began here with freezing temperatures and occasional bouts of snow which slowly began to accumulate on the ground. Until Tuesday the sixth, that is, when blizzard conditions brought strong winds and another eight inches of snow in a matter of a few hours....
The forcasters predicted that the storm would last for another 36 hours, but by late afternoon the snow had stopped and everthing seemed calm and tranquil.... and quite pretty!
At one AM on Wednesday I was
abrubtly awakened
by a loud crash on my roof! Having no idea what had happened, I jumped from bed to see what was going on....
It was pitch black out and impossible to see anything, so I decided to check the forum and my mail before
trying
to get back to sleep....
....
And then, the fun began!
As I sat there, I heard the cracking and crashing of a tree off in the distance.. then another and another... Before long, the sound of the falling trees began to repeat every couple minutes. Some were big bangs, others were smaller snaps. Sometimes the sounds came from off in the distance, other times they were WAY to close for my comfort!
There was no way I would be able to return to sleep! Then... suddenly, the power was gone and the world turned black! For the next several hours I sat here by candlelight, listening to the sounds and wondering what carnage I was going to find when daylight finally returned....
At daybreak, when I ventured out, I was shocked at what I saw...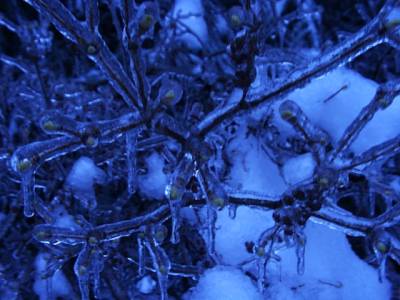 Every plant and tree was coated with ice. I could see fallen trees in every direction.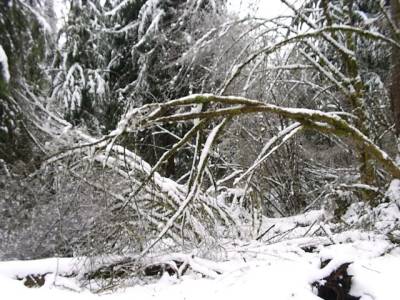 The full effect of the storm, however, didn't hit me until I began to venture out into my gardens! My Japanese Maple that I had started from a seed 20 years ago resembled a pile of kindling. My beautiful Flowering Plum was about half the size it was the night before. Rhododendrons lay flattened on the ground and trees and shrubs that once stood proudly were now bent as if to admit acceptance of their fate!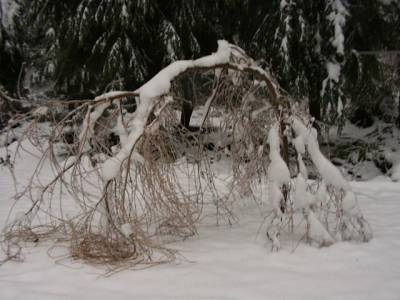 My "park" that I had worked on for several months looked like a war zone!
There were literally hundreds of trees that had snapped due to the weight of the snow and ice...
Needless to say, I felt as devistated as my landscape looked! I felt as though my only options were to start all over again... or just give up! After all how could my plants, in such dismal condition, ever survive?
The snow and ice remained for three days after that. It was nearly impossible to walk without slipping and falling... To get to town for supplies, my neighbor and I had to cut and remove dozens of trees from the roadways.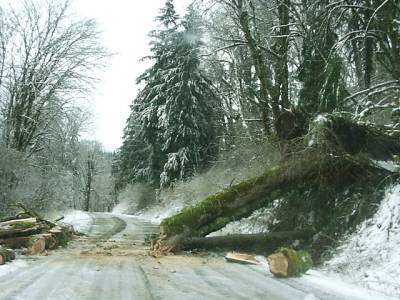 SIGHHHHHHHHHHH!!!!
I guess I've painted a pretty gloomy picture, eh?
That wasn't my intent today, because even after everything that Cedar Hill had endured, the snow and ice finally went away, and much to my joy the majority of the plants that lay lifelessly on the ground a few days earlier began to raise their heads toward the sky. There will be a lot of damage to repair, and it may take a few years for my prized plants to look as good as they did before the storm, but they survived!
Oh yeah.. and one last note....
Before the snow was even completely gone, I received a reminder of how powerful and wonderful Mother Nature can be......
This lonely little Viola poked her head up, smiled at me and told me to never give up, no matter how bad things may seem to be!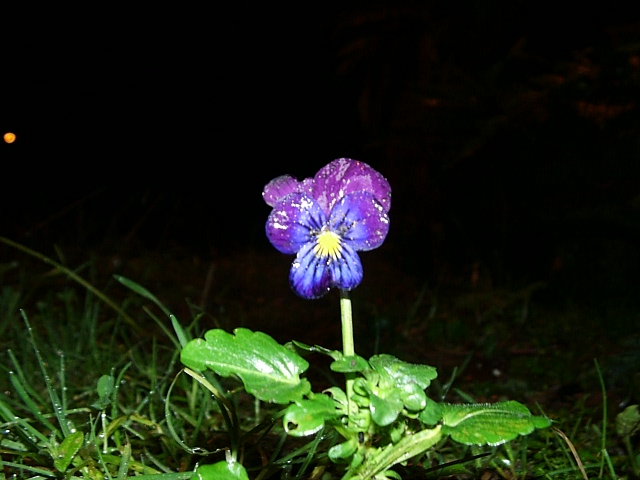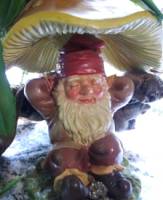 * * * *

by Jillie on January 14, 2004 10:46 PM
Oh, Bill!
What a courageous, stout heart! Wow, my Hero! I'm sorry for your damage.
May all of us always have a brave little viola pop up and remind us what's important.
* * * *


by plants 'n pots on January 14, 2004 11:00 PM
"the meek shall inherit the earth"!!!

I've always believed in that! Sorry to hear about all the destruction, but new and wonderful things will arise from this too.

* * * *


Lynne's knitting journal
"I'm spayed, declawed, and housebound - how's YOUR day going???"
by Flower on January 15, 2004 01:18 PM
Mother Nature is a very powerful force. I'm glad that the trees missed your place when they fell. Sigh....it is so sad there was so much destruction.
Love that violet though!
* * * *

by catlover on January 15, 2004 09:40 PM
You said you woke up to a loud crash....did it damage your roof?

That would be scary

hearing all that and being in the dark....the not knowing! Mother Nature can make you feel REAL small sometimes!
Maybe we will see some unique uses for several of those trees mother nature gave you!

* * * *



by Bill on January 15, 2004 10:09 PM
I didn't find any damage to the roof when I looked, but I found Shadow's purple frizbee that had been missing for quite a while!
I'm sure you're right about the fallen trees becoming topic fodder for future episodes of Wild Willy! (arbors, benches, bird feeders????)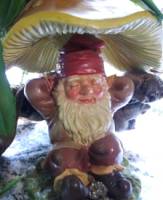 * * * *

by catlover on January 15, 2004 11:09 PM
Trellised swing?!!

I'll get you to make one yet!
* * * *



by catlover on January 15, 2004 11:10 PM
Oh and don't forget tables and chairs to match!!!

* * * *



by Bill on January 16, 2004 06:05 PM
quote:

---

Originally posted by catlover:
Trellised swing?!! I'll get you to make one yet!

---
Find me a picture of a trellised swing and I'll see what I can do!

* * * *

by weezie13 on January 16, 2004 08:17 PM
You're going to have to call that
flower, Ms. Viola "Weezie" Pansy!!
(For being the preverbial GARDEN CHEERLEADER!

)
There's always hope!!!
It may not be big, but it says so quiet beautifully!!
Weezie
* * * *
Weezie
Don't forget to be kind to strangers. For some who have
done this have entertained angels without realizing it.
- Bible - Hebrews 13:2



http://photobucket.com/albums/y250/weezie13/
by Wild Willy on March 15, 2004 05:32 AM
up
by Sue Z on March 09, 2005 06:13 PM
DANG! Now this sounds more like Michigan, Bill.
Sorry for the damage you experienced then, glad you and yours were safe through it all.

Ya' know what they say,
" when life gives you tree trunks ... make squirrel feeders."
Keep Smiling Bill and keep telling your great adventures.

Sue Z

* * * *

"WHEN IN DOUBT ... DON'T"
Search The Garden Helper: