basil
Gardening Reference » Gardening in 2006
by mrw on September 19, 2006 12:12 AM
Is it the right time to harvest basil seeds?
they are moist and white in color right now. Will they eventually dry if I leave them on the plant? I am afraid to leave them too long, in case there is a frost. I have never grown basil from seed but the one plant I have has grown so well I want to try to duplicate it for next year. I have so much basil it is amazing. I use it almost every day and have made (and frozen) pesto for the winter.
by Patty S on September 19, 2006 01:46 AM
If they're still in flower at all, it's a little too early to gather the seeds.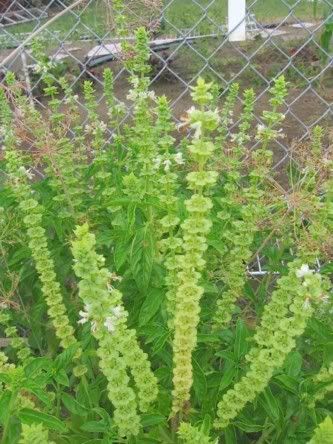 Even if the color is starting to fade, I don't think the seeds are done forming
or whatever it is they need to do
before they would naturally fall from the pods.
Wait until the little pods are brown (& fairly dry, although they still might feel a bit moist) before you harvest them.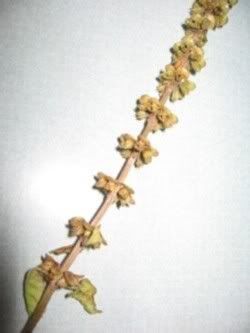 I'm glad to hear that you had a good crop this year!

I'm a real Basil freak, & plant it EVERYWHERE! I put it in flower beds to keep the bugs away (it's great to use in walkway borders or behind lower growing flowers), & I
always
plant it by my tomatoes. I even planted a 20 foot stretch of it outside my veggie garden this year, as a
Deer Barrier
, along with Dill & Devil's Claw.
I've never cooked with it
(Because I HATE to cook!)

... The smell of fresh Basil can't be beat, & I can't imagine having a garden without it!
Oh... If you find a way to smish the teeny-weenie seeds out of the itty-bitty dried hulls without grinding the prints off your fingertips, please let me know! Every year my fingers get sooo sore from separating the seeds out while I prepare seed packets to send to other people, & I'm really thinking about just filling the packets all the way full with the hulls, so they can get the seeds out, themselves!
Good luck with your harvest, & don't be too impatient, because frost won't hurt them.
* * * *


by sue099 on September 21, 2006 09:15 AM
when the seeds are ready to harvest you'll be able to slide your hand up and down the stalk and the seeds will just come off in your hand. They'll look dry and brown, not very pretty :-)

If you plant them early enough in the spring next year you can get two crops of basil in one season if you do like I did this year and not keep the flowers cut down. The seeds dropped into the same pot on my deck that the plants were in (not to mention several pots nearby!)and now I have a second round of basil going strong.

So if you don't want basil seedlings popping up all over the place keep a close eye on the seeds as they dry out and gather them before they reseed themselves ;-)

* * * *
Nature is the art of God ~ Thomas Browne,1635

by sue099 on September 21, 2006 09:21 AM
@Patty... I don't understand the part you mentioned about picking the tiny seeds out of the hull...?

I just plant what comes directly from the basil stem. Have you tried that? You may be giving yourself sore fingers for no reason :-/

* * * *
Nature is the art of God ~ Thomas Browne,1635

by tkhooper on September 21, 2006 08:23 PM
with the cinnamon basil there are about 4 seeds in each pod so I do seperate them out. And it is tedious work to do. The seeds are just sticky enough that they do not want to come out. I too am waiting patiently for the last basil plant to finish blooming so I can get to the seeds.
* * * *


by mrw on September 22, 2006 02:52 AM
Thank you all for your help!

Search The Garden Helper: