My New Cactus
Gardening Reference » Gardening in 2006
by comfrey on September 05, 2006 05:20 AM
You may have seen this picture in the banter hall, But wanted to post it here and talk about it. I am pretty sure it is a Euphorbia Trigona, But I could be wrong, so if someone thinks it is something else then please let me know. It is really top heavy and in a rather small pot, Will repotting into a larger pot solve that problem or what else could/should I do for it???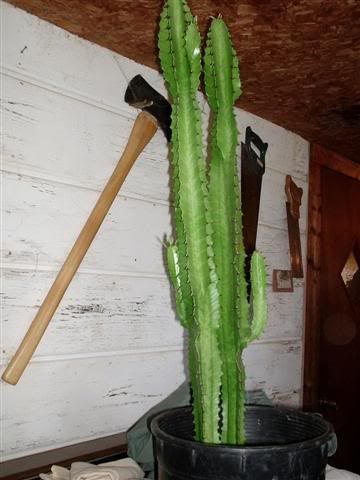 I should also mention that the cactus is 36" tall from the soil level to the top and is in a 6" pot, I have the six inch pot setting down in a larger one to add support right now.
* * * *


by Tomacco on September 05, 2006 05:51 AM
by comfrey on September 05, 2006 05:59 AM
quote:

---

Originally posted by Tomacco:
Wow, Comfrey, that is beautiful! However do you repot one of those without sticking yourself to death?!

---
You have to be very careful..but leather gloves helps alot or a piece of newspaper several layers thick wrapped around the cactus will work also. The big trick is to not break it while taking it out of the pot and placing into another one...A person really needs a buddy for this tall of cactus, so an extra pair of hands can be used. But I will probable just do it by myself...maybe I'll take some pictures in case someone else needs to every do this. This is one of those types that you don't want to get the sap on you as it is poisonous.
* * * *


by angelblossom on September 05, 2006 10:11 AM
Wow Comfrey that's awesome!! How long have you had it?? I use newspaper when I transplant mine too! I probably would repot it in a heaver larger pot maybe a little taller pot as well and use a wooden stake of sorts to support the length sometimes I also use an old sheet folded over many times because it's more flexible than newspapers and you can twist the ends to get a good hold on it without it breaking and cover more of an area of the cactus to make the transfer.
* * * *


Sorrow looks back, Worry looks around, Faith looks up!


http://photobucket.com/albums/e374/2thtek/


by gardeningmomma on September 05, 2006 10:18 AM
Gorgeous! Don't know much about cactus, but it does sound like it's ready for more support.
by comfrey on September 05, 2006 11:19 AM
Angelblossom...This is one of the gifts Christina brought me, So I just got it last weekend. I'll be digging through all the flower pots I have tomarrow, looking for just the right one, I have so many I will proable have to look in three different places before I find the right one
* * * *


by angelblossom on September 07, 2006 06:27 AM
Well did you find the pot?? What a great gift!


* * * *


Sorrow looks back, Worry looks around, Faith looks up!


http://photobucket.com/albums/e374/2thtek/


by comfrey on September 07, 2006 08:28 AM

I haven't looked for pot yet, DH is on vacation this week, so it is hard to do much of anything without having to stop and find something for him. We did go shopping today and I browsed flower pots at three different stores, I found one I liked real well, but didn't care for the $21. price tag, So I'll just browse the ones I have, maybe that will be my project for tomarrow, DH has something he is going to do be doing that will keep him busy for hours.
When I get it potted I'll post another picture.
* * * *


by DowntoEarth on September 07, 2006 12:08 PM
comfrey,
Yep, that's it, an African Milk Tree (Euphorbia trigona) Yours is beautiful!

I had a good sized one (not as large as yours) that was taking up too much room, so I took a cutting off one of the smaller arms.
I can see a couple on yours. Now the cutting is about a foot tall and growing!
Once it gets too big again, I'll be looking to do another surgery!

Similar discussions:
Search The Garden Helper: