Help, spots on plant!
Gardening Reference » Gardening in 2006
by Panther_Shadow83 on April 23, 2006 07:34 AM
>.<
I was looking at my cactus after coming home from vacation this week... and its covered in white spots! They're everywhere!! here's a pic: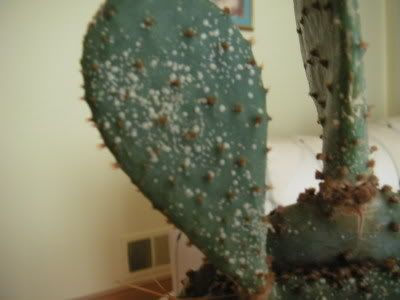 what should I do?? what are they?!
by margaret e. pell on April 24, 2006 04:20 AM
First, get in close and look at them. They look like they could be mealy bugs. If they are (the larger ones may have visible legs, and when you squish them with a toothpick 'juice' will come out), there are many threads on this site about how to get rid of them, and you have to get rid of them. That heavy an infestation will damage the plant. Check any other plants you have and watch out for the glochids on your cactus!
* * * *

may God bless the WHOLE world!
by badplanter on July 03, 2006 04:27 PM
I do think these are mealy bugs, and, i was once told to put a dab of rubbing alcohal on a cotton swab and try to gently remove them like that. I've never had this problem myself, so i don't know if this will actually work. But, i guess it's worth a try!
* * * *




"I don't want no more of army life, gee mom, I wanna go, but they won't let me go, gee mom, I wanna go home!"
My PB!
by DowntoEarth on July 16, 2006 04:57 PM
Oh my, that must have been a shock to come home to! It could be mealies, it's hard to tell. If squashed and you see a red color, it could be something else, then try doing a search on (cochineal infestation)

Hope things get better!
Susan
Search The Garden Helper: