Mystery Rose Bush
Gardening Reference » Gardening in 2006
by slredmond on April 02, 2006 09:38 PM
I have two rose bushes at my new house, and I'm not sure how to take care of them since I have no idea what they are.

The previous owner said they were "yellow!" OK!

They are two different roses. They both look like this:
but one of them has little tiny thorns, as well as "normal" thorns, up the branches.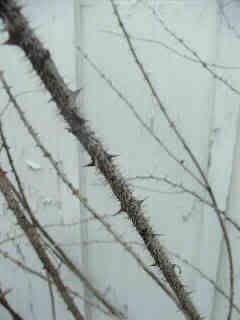 Are these shrub roses, or floribunda, or is it a mystery until they bloom? Should I prune the heck out of them? I doubt they've had any attention in years.
Sandy
* * * *
Sandy R.
by joclyn on April 03, 2006 07:56 AM
i'd say prune them back a bit - especially if you think they haven't been cared for.

from the look, i'd say they haven't been pruned for a few years, so taking them down to a height of 2-3 feet should be fine. i'd leave the thicker, more established, branches a bit longer and trim the thinner (and younger) branches back to a shorter length so that they have a chance to bulk up a bit more.
by mike57 on April 03, 2006 09:27 AM
HI slredmond.joclyn is right they look like they have been neglected for some time to me to.Here is a link on how to best prune them back.
http://www.thegardenhelper.com/pruningroses.htm
good luck with your roses.your friend in gardening.mike57
* * * *

No One Can Make You Feel Inferior Without Your Consent.
by slredmond on April 04, 2006 01:20 AM
Hmmm.. The tallest branches on these are about 5 feet tall. If they are floribunda, they should be pruned one way (center branches longer), if a hybrid tea rose they should be pruned another (out branches longer).

At any rate, they need TLC!!
* * * *
Sandy R.
Similar discussions:
Search The Garden Helper: