Up-Side-Down Tomatoes (Photo Heavy)
Gardening Reference » Gardening in 2006
by Patty S on June 22, 2006 10:03 AM
When I heard about & saw pictures of tomatoes growing up-side-down, it looked like a fun novelty. Having extra cherry tomato plants that I'd started from seed & didn't have room for in my garden, I knew I had the main ingredient to make a few, so I decided to try it! (I have a friend who won't have a garden this year because she just moved into a new house where no garden has been before, so I thought an up-side-down tomato would be a nice housewarming gift for her!)
Since my 7 year old Granddaughter ("BG") comes to stay with me two days each week & loves to garden with me, I thought it would be a nice project for us to do together.
I asked around, & nobody could tell me why 5 gallon buckets need to be used for up-side-down tomatoes. It seems to me that such a large (& heavy) container is unnecessary, so the first thing we did was to go shopping for containers & wire plant hangers. We found some nice looking 2 gallon waste baskets (& a 3 gallon bucket that was the same color as my house trim), & so began our project!
We drilled three small holes at equal distances near the rim of the containers for the plant hangers, & used a hole cutter to make a hole in the bottom of each container.
I'd read a suggestion that Wizzard had made in another thread, about sealing a PVC fitting in at the bottom of the container to keep the water off the stem of the plant, & that made sense to me... but after searching around in our garage, I couldn't find one the same size as the hole we'd cut, so I took plastic shower heads apart & used the outside casings. We used the glue gun to seal them around the hole in each container, & they fit perfectly. (I don't know how that's going to work out... ideally, aquarium sealer would have been better.)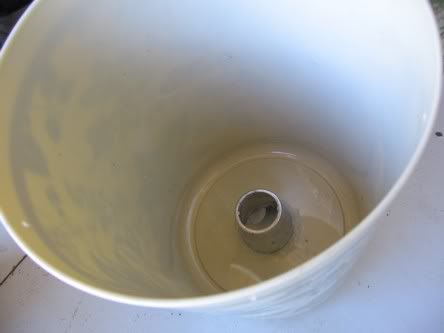 Then, for lack of Styrofoam peanuts, we broke Styrofoam sheets into chunks, to cover the bottoms of the containers.
(Don't ask why we did that... it just seemed like the right thing to do!)

* * * *


by Patty S on June 22, 2006 10:05 AM
Threading the leaves of the tomato plant through the shower head casing & out through the hole from the inside was easy, then we set the container on top of two tall cans, so as not to break the plant...
... while BG filled the container with soil that had been mixed with worm castings.
Our containers seemed too plain without plants in the tops, so we got out our shovels & went looking around the yard for plants that would be happy sharing the same container with a tomato plant.
* * * *


by Patty S on June 22, 2006 10:06 AM
We needed to find plants that:
* Liked full sun
* Didn't have large root systems that would crowd the tomato roots
* Weren't fussy about having much water
(...because after tomatoes start forming, they'll split if they're over watered.)
For this one, we chose some Fairy Jade from a planter in the kitchen window.
Then she threaded the wires of the plant hanger through the little holes we'd drilled around the rim, & twisted them back around a few times with pliers.
* * * *


by Patty S on June 22, 2006 10:07 AM
Our finished projects look like this: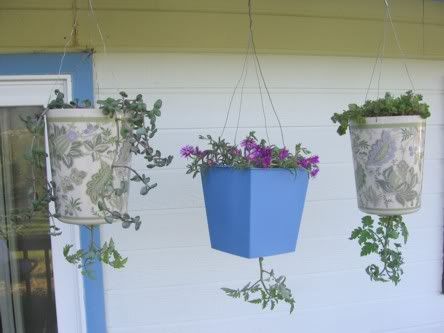 The three containers are topped with Fairy Jade plants, Ice plants & Sedum.
* * * *


by Dixie Angel on June 22, 2006 10:29 AM
Those look great, Patty! You reckon you could loan me BG so she could help me fix up one for here?

The plants are almost as pretty as the young'un. Notice I said ALMOST...
Dianna
* * * *

by loz on June 22, 2006 10:46 AM
That's so cool Patty! Especially with the plants on the top too! And what a cute little helper you have there!

by Patty S on June 22, 2006 11:29 AM
Thanks, Loz. It was a "fun" project, & I had the best helper that a shirttail full of Strawberries can buy!

Dianna, if you only knew how long my list is of things that need to be done outside, you'd understand why I'm NOT willing to loan BG out!
(What a goofy thing to do! An
indoor
project, on a day when the weather was perfect for working outside
...and I had a willing assistant!)
For a 7 year old, BG is an amazingly hard little worker & she sticks with projects until they're done... (until it's time to pick up tools & put them away!)
I can't begin to tell you all the things that would never have gotten done around here if it weren't for her enthusiasm & diligence! Before she started school I baby sat her nearly every day since she was 7 months old, & I must say that she's been a motivating factor & has kept me going at times when I didn't think I could go anymore!
quote:

---

The plants are almost as pretty as the young'un. Notice I said ALMOST...

---
I did notice, & totally agree with you! There isn't a plant on the planet that could possibly upstage this little treasure of mine... I'm SOOO blessed!
(I suppose I should start a bragging thread, instead of sitting here hijacking my own topic!)
Best of luck, if you decide to "fix one up" for yourself!
(It's actually so easy, a 7 year old did it for me!)
This is my first attempt at up-side-down tomatoes, so I don't know how it will turn out... I'll be back with a report later on.
* * * *


by Triss on June 22, 2006 11:38 AM
WOW Patty, those look AWESOME! Nice to see the finished product since all I saw was the pot when I was down. I bet that combintaion is going to be wonderful together!
* * * *


We are all under the same stars... therefore we are never far apart.
by angelblossom on June 22, 2006 03:39 PM
good Job Patty and BG!! Your finished project looks Great!!! And what a wonderful Idea as a house warming gift,, The gift that keeps on giving!!
Isn't it wonderful to have grandchildren wanting to learn gardening??


* * * *


Sorrow looks back, Worry looks around, Faith looks up!


http://photobucket.com/albums/e374/2thtek/


by penny in ontario on June 23, 2006 02:01 AM
by weezie13 on June 23, 2006 02:23 AM
Patty,
That is a very coooool project you two did...
Cudo's for keepin' the kids involved...
I'd love to borrow BG too,
my boys would keep her busy in the backyard,
oooooooooh, now wait a minute, that didn't come out tooooo good...
they'd be busy in the dirt pile, swingset and runnin' thru the sprinkler...
Love all the pictures too, Thanks for sharing those Patty..
* * * *
Weezie
Don't forget to be kind to strangers. For some who have
done this have entertained angels without realizing it.
- Bible - Hebrews 13:2



http://photobucket.com/albums/y250/weezie13/
by plants 'n pots on June 23, 2006 06:02 AM
Patty - you go girl!!! BG too!!!
You, two, did a fantastic job on this project!
They all look terrific - can't wait to see them when they've grown a little!
BG too - she's such a sweetie!

* * * *


Lynne's knitting journal
"I'm spayed, declawed, and housebound - how's YOUR day going???"
by Squirrel on June 23, 2006 12:54 PM
Patty, you just gave me the answer to something I've been saying ever since I became a grandmother. I keep saying that having grandchildren changes your whole life, but never could explain it. "motivating factor", that's it. I became motivated with ease. Thanks for your pix. I really like the finished product. Keep us up to date as they grow.


Sue
* * * *


What goes around comes around, so be nice!lol
by chenno on July 11, 2006 01:41 PM
Patty so cool, cute helper..and my god,,we will have to call you patty stewart, martha jr..you are so organized! looks good.love the containers clear and labled, it all looks good.
* * * *


Painting is silent poetry, and poetry is painting that speaks.
Plutarch
by Patty S on July 11, 2006 03:15 PM
Thanks, everyone! Angie, working with kids has taught me that I MUST be well organized, or they lose interest & I wind up doing all the work by myself!

I'm not well organized in ALL things... (you don't want to see my bedroom closet!)

I've always been a record keeper & a list maker though.... & it drives my family up the wall!

* * * *


by Patty S on July 12, 2006 07:10 AM
No new pictures yet, Penny. The plants have blossoms on them, but no maters yet! Everything has started out slow here this year, because it stayed cool for so long. (Plus, I think that watching the plants prevents them from doing anything...
sort of like waiting for water to boil!)
Pictures will be coming though, as soon as the tomatoes do, so stay tuned!

* * * *


by Robwen on July 12, 2006 06:11 PM
Oh my goodness how cute is that!!!

* * * *
~Wendy~

by jbaby7162000 on September 03, 2006 06:58 AM
hi,ive been thinking for a while to do the same project,they say tomatoes will make more that way,what is keeping the tomatoe plant in contact and not coming throught the hole the dirt?

* * * *
joanne

by Pekemom on September 03, 2006 01:01 PM
I'm very interested in this project. Read about it, and anxious to see how it goes for you, Patty. Looking foward to some new pics, too...
BG is completely adorable, BTW!!! (One 10 year old grandson here, am hoping ONE OF MY TWO DAUGHTERS gives me a granddaughter!!)
* * * *





Pekemom's Gallery
by Patty S on September 05, 2006 12:43 PM
Unfortunately, the Sedum at the top of the planter looks better than our up-side-down tomato!
Until the fruit forms & weighs the vines down, they tend to turn upward & reach for the sky. I heard that to prevent the vines from breaking under the weight of the fast-growing fruit later on, many people hang fishing weights on them, training them to grow downward. When the vines were still young & started turning upward, I guess I thought they should straighten out
immediately
, & loaded too much weight on the main branch all at once, & it broke off, the first time the wind blew!
So, while I've seen photos of some very impressive, fully branched cherry tomato plant's growing up-side-down in containers,
this obviously isn't one of those!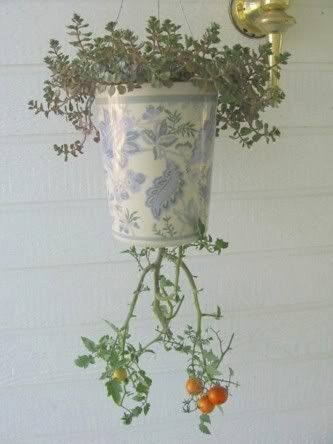 Even the tomatoes in my "normal" garden have been slow to come on this year
(maybe it's been too hot this summer)
, so I'm just now starting to harvest them.
quote:

---

they say tomatoes will make more that way

---
Hmmm... I hadn't heard that, but I don't know why planting them up-side-down would make a difference, if they're maintained & fertilized the same way that "normal" tomato plants are.

(I'm sure that this one would have made more if I hadn't busted it!)
I'm really kicking myself for doing that! This could have even looked pretty cool... if it were all there!)
quote:

---

what is keeping the tomatoe plant in contact and not coming throught the hole the dirt?

---
Mainly, the roots... because they spread out horizontally as well as vertically, as they grow. If you look back on the previous page
(1st & 2nd photos)
, you'll see the shower head casing** that we glued above the hole; that also helped, when the plant was still small.
Had I thought to take a picture of what was happening on the inside of the container when BG threaded the plant through the hole, it would have shown that the root ball was still in the shape of the Styrofoam cup that we started the seed in (& larger, of course, than the stem). When the container was propped up on the cans
(4th photo)
the root ball rested on the glued-in casing, while she filled it with soil.
** When we planted the up-side-down tomato that we took up to Bill, I didn't have any more shower heads, so I used a medicine bottle with the bottom cut out. It was the perfect size. (And a lot less work than tearing a shower head apart!)
Nikki, BG is the youngest of our 5 Grandkids.
(The "pay-backs" that I'd wished on our son as he grew up!)
Don't give up hope of your girls making you a Grandma again... our oldest daughter is
finally
getting ready to have her first baby!
...& IT'S A GIRL!
(Watch for baby pictures to appear in my Shelly's Lullaby thread, very soon!)

* * * *


by KiriOhara on September 08, 2006 04:24 AM
This is such a great idea! I love seeing the pictures of the makking of the pots and your Grand Child helping. This is a project I am going to propose to our community garden club for our fundraising sale in the spring. We all have loads of tomato plants. Thank you so much for letting us see your work in progress. Kiri in MN

* * * *
Plant Good Seeds, Whether Words or Deeds

Search The Garden Helper: