update on EEs - wow!
Gardening Reference » Gardening in 2005
by plants 'n pots on April 27, 2005 02:17 PM
I guess they've been happy by the windows in my son's bedroom.
These are the first 2 I planted on March 27th - one month ago today.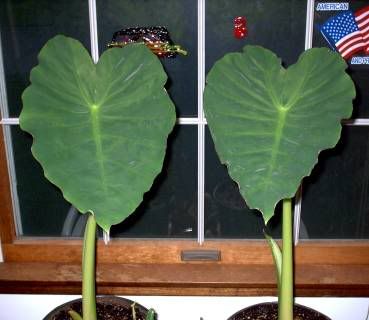 And this is one of the ones I planted a week later. It has 4 shoots coming up already - YEA!
What fun!

Can't wait to see these babies take off once they are planted in the ground!
edit on the update!
I just got back from WalMart, and they now are selling
2
of these bulbs packaged together for $2.92!!! They are just a little bit smaller than the first ones I got (1 for $2.92), but a terrific deal! Of course I had to get some more...


* * * *


Lynne's knitting journal
"I'm spayed, declawed, and housebound - how's YOUR day going???"
by RottieLover on April 27, 2005 02:23 PM
Yup, I have to agree they do look happy & they are going to be just beautiful in a few weeks

Search The Garden Helper: