homemade pot dolly
Gardening Reference » Gardening in 2006
by FRITO on April 07, 2006 10:46 AM
Today decided to do a little project.
My chinese fan palm recently planted in an old washing machine drum as a pot. the drum itself weighs 50 lbs along with about 3 cubic feet of soil. it weighs in at about 100lbs total!
Made a dolly to scoot the pot around to water and what not. a single 12ft piece of 1x4 pine was used. along with 4 casters and some exterioir wood screws. treated the pine with a wood preservative.
dimensions are 2ft x 2ft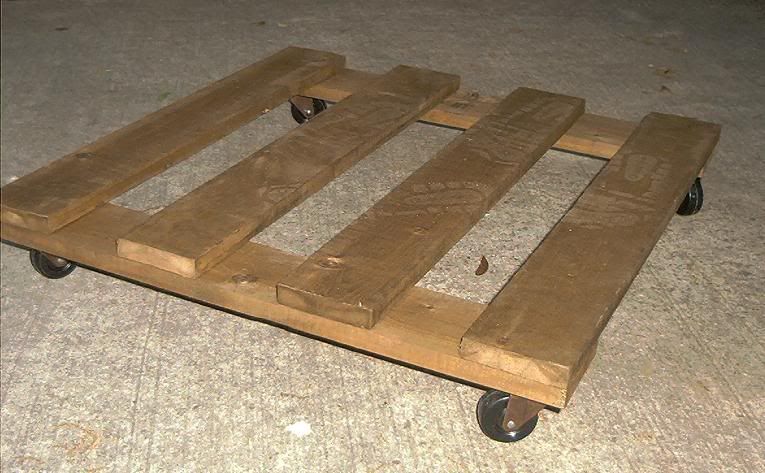 Luke
by MissJamie on April 07, 2006 11:59 AM
wow! that looks great! good idea!

* * * *

*~*Last night I played a blank tape at full blast. The mime next door went nuts.
*~*
http://www.imagestation.com/album/?id=2125497034
by Mechele on April 08, 2006 08:04 AM
COOL IDEA !

* * * *
Mechele

by weezie13 on April 08, 2006 09:47 PM
VERYYYYYYYYYYY NICE...





When you comin' over to my house???



How much did that cost you to make??
Just a ballpark idea??
* * * *
Weezie
Don't forget to be kind to strangers. For some who have
done this have entertained angels without realizing it.
- Bible - Hebrews 13:2



http://photobucket.com/albums/y250/weezie13/
by angelblossom on April 09, 2006 04:34 AM
Hmmm Easy enough

maybe just cutting a pallet in 1/2 or just putting wheels on a pallet to hold several plants would work too!
* * * *


Sorrow looks back, Worry looks around, Faith looks up!


http://photobucket.com/albums/e374/2thtek/


by FRITO on April 11, 2006 01:41 PM
cost about $20
by Triss on April 13, 2006 01:16 AM
That is an awesome idea!
* * * *


We are all under the same stars... therefore we are never far apart.
by plants 'n pots on April 13, 2006 01:54 AM
Clever idea! Looks great!
* * * *


Lynne's knitting journal
"I'm spayed, declawed, and housebound - how's YOUR day going???"
Search The Garden Helper: