Historical Site Photos
Gardening Reference » Gardening in 2006
by Thornius on September 23, 2006 02:01 AM
Many of us post photos of our favorite birds here, but how many of us post photos of the places that made the bird first known to the world?
While on a birding trip through the Southeastern U.S. in 1810-1811, Alexander Wilson noticed an undiscovered bird on a hilltop about 1 mile southeast of downtown Nashville, Tennessee. He promptly called the bird the Nashville Warbler. Ironically, he was there at one of the few times in the year that the bird is actually present IN Nashville. It does not nest ANYWHERE near Nashville and just passes through there during migration. Nevertheless, the name has stuck. The site where he first saw it later became the site of the old Nashville Memorial Hospital (now being demolished). Riding the bus to the doctor's yesterday morning, I passed by the site and thought what an interesting picture it would make, to show the exact spot that a well-known bird was FIRST discovered. Here are three pictures of the area.
NASHVILLE WARBLER
NASHVILLE WARBLER'S DISCOVERY SITE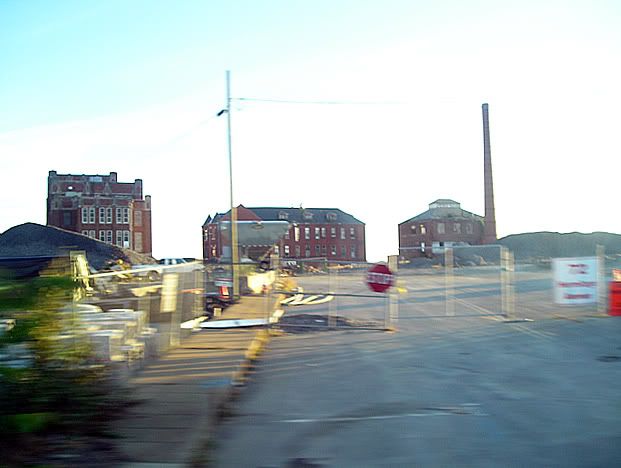 * * * *

A bird in the hand......can sometimes be a mess.
by Kratz7 on September 23, 2006 05:36 PM
Wow! that's a beautiful bird. And the biuldings look like they are still in decent shape. Are they tearing down all the buildings? What a shame to lose such nice architecture. They certainly don't build most buildings like that anymore. It's a shame some of our historical type buildings are disappearing in this modern world. I love to look at old houses and buildings...thanks for sharing your photos History is a thing of the past....lol
Kratz7
P.S. feel free to check out some of my photos on the bucket...I have a 1" inch scale dollhouse in the victorian style
* * * *

Kratz7 Photos
by floweringchild on September 25, 2006 03:50 AM
Hi Thornius!
This is great historical info you posted regarding the Nashville Warbler and the location of first discovery etc. etc.

I have a sister who lives in Franklin, Tenn. A short cry from Nashville as you know. Next time I'm there, I'll be on the lookout for that site!
Great shots too!

* * * *

by Thornius on September 25, 2006 05:20 AM
I'll be going to the Warnr Parks Nature Center Fall Bird Banding day a week from Thursday to take pictures. That is where I took the picture of the Nashville Warbler in this thread. The Nature Center is about 50 feet from the clearly visible 2,000 year old roadbed, The Natchez Trace, that Alexander Wilson walked down a couple of days after he discovered the nashville Warbler in May, 1811. He passed about 100 feet from the spot I took the picture of the Nashville Warbler in this thread.
* * * *

A bird in the hand......can sometimes be a mess.
Search The Garden Helper: