who am I?
Gardening Reference » Gardening in 2006
by plants 'n pots on August 24, 2006 05:01 AM
Is this a common house sparrow?
I was outside yesterday afternoon, trying to capture some pictures, when this bird was on this feeder chirping his little heart out! On and on and on and on - 1 short chirp - as if he was saying HELP! He let me get really close, while at the same time he was very nervous. I did turn around and thought I saw the parents sitting on the house gutter at my back. Once I went inside, they all flew away.
* * * *


Lynne's knitting journal
"I'm spayed, declawed, and housebound - how's YOUR day going???"
by Thornius on August 24, 2006 05:31 AM
Who are you? Well, you call yourself, "plants 'n pots".
Actually, that COULD be a House Finch. It is a side view and the feathers are very ruffled so it is hard to tell for sure. House Sparrows and House Finches (at least the females of the two species) are very similar. A House Finch female has a streaked breast, whereas a House Sparrow female has a plain, unstreaked breast. A House Finch has a greyish back, whereas a House Sparrows's back is MUCH more russet in color. And again, immature birds can be radically different from their parents in appearance.
House sparrows and House Finches are also similar in appearance because House Sparrows are actually Old World FINCHES. House Sparrows were imported from Europe along with many other European species of birds, in the late 19th century and released in New York City's Central Park. Only three species survived and thrived; the European Starling, the Rock Pigeon (The pigeons we see in our cities today), and the HOUSE SPARROW. House Sparrows were at first called English Sparrows here in the U.S. due to the fact that they were imported from England.
House Sparrows are members of the Weaver Finch family.
* * * *

A bird in the hand......can sometimes be a mess.
by gailo on August 24, 2006 06:01 AM
That looks like a house finch to me. The shape is right and the bill looks right. I agree with you Thorn. Here are 2 pics of house finches (yellow variety). Sorry the female isn't more clear.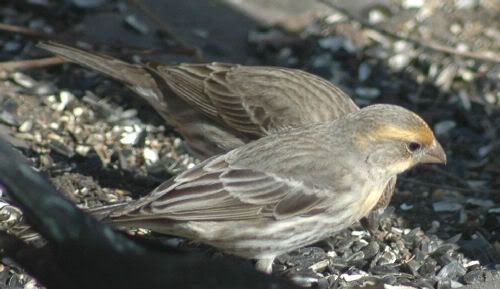 * * * *
gailo
by patches1414 on August 24, 2006 06:55 AM
Lynne, those are some really good pictures!

It looks kind of like some of the birds we have around here, but I don't know what they are!

Whatever it is, it seems pretty happy there!

* * * *


"Lord, I love you and I need you, come into my heart, and bless me, my family, my home, and my friends, in Jesus' name. Amen!"
Search The Garden Helper: