Pileated Woodpecker (Dryocopus pileatus)
Willy's Place » Wallpaper of the Day
by Bill on June 03, 2005 06:24 PM
The Pileated Woodpecker is the largest woodpecker found in North America. Mature adults are 14-16 inches in length. They are primarily found in forested areas of the southern Canadian Provinces, and in the US western states, eastern states, and along the Gulf coast.
The Pileated Woodpecker's diet consists of insects, fruit and nuts. They use their sharp bill to probe beneath the bark of trees in search of ant colonies which they extract using their long sticky tongue. They also use their bills to drum on hollow trees to claim their territory, and to excavate large holes in trees for nesting and roosting.
The female lays four eggs after which both parents tend to them until they hatch in about 16 days.
Pileated Woodpeckers spend most of their time in the trees, but on occasion they can be seen hopping around on the ground in search of carpenter ants and other tasty tidbits!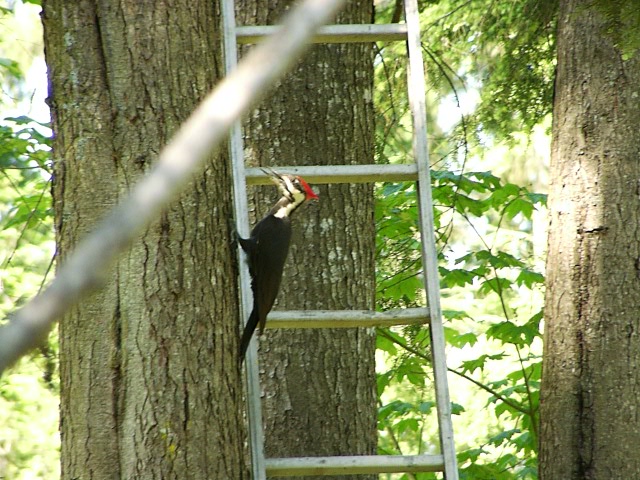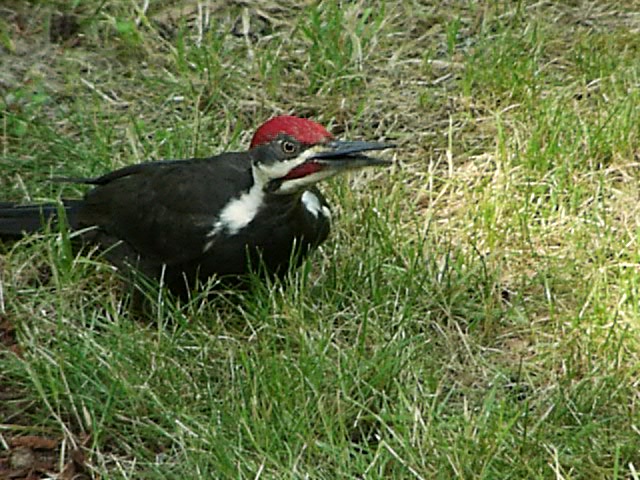 This is a Cedar Hill bird!
* * * *

by plants 'n pots on June 03, 2005 06:56 PM
Wow - great pictures, Bill!!!
We had a pair of woody woodpeckers like that in our yard, a few years back, for a fleeting moment - it was sooooo exciting!
* * * *


Lynne's knitting journal
"I'm spayed, declawed, and housebound - how's YOUR day going???"
by tkhooper on June 03, 2005 07:23 PM
Hey Bill, is that one confused. It looks like it's hugging your "aluminum"(?) ladder. It's probably just my bad eye sight playing tricks on my again. But it makes for an amusing picture lol. Thanks for sharing.
by gardenmom32210 on June 04, 2005 03:32 PM
Cool Shots,Bill!
We have them in our area and I see them all the time. They are big,beautiful birds.
Did you hear the news about their close cousin,the Ivory-Billed Woodpecker.
Thought to be extinct since 1944.
Rediscovery of extinct Woodpecker
G-Mom

by bmonchka on October 08, 2005 01:11 AM
by melcon6 on October 08, 2005 02:53 AM
Awesome pictures, Bill!!

I love those Pileated woodpeckers, one afternoon three of them came to a tree in my front yard and went 'round and 'round that tree for like a 1/2 hour playing or something. It was so delightful watching them.
* * * *

HAPPY BIRTHDAY CINDY!!!!!!!
Search The Garden Helper: