weeds and wild flowers
Gardening Reference » Gardening in 2006
by hummingbird on April 28, 2006 03:48 AM
I have a slope that is profuse with wild flowers early spring through summer. Unfortunately it is also overgrown with grasses and weeds which are not so pleasing to the eye. The slope is very difficult to maintain due to it's sharp angle. Is there anything I can do to reduce the grasses and weeds and keep the wild flowers?
Thanks!
by Patty S on April 28, 2006 06:01 AM
Hummingbird, I have the very same problem & have fussed about it for the past 3 years that we've lived here! I'm sorry to have to tell you, but finally this year I just faced the fact that if I want a hill that was eye-pleasing, I'd just have to get out there & pull those weeds by hand!
I've thought about burning the hillside in the fall,
which WOULD get rid of the weeds for a while,
but after having an Alfalfa field in Montana, which we burned sections of after the fall harvest... & watching those sections flourish the following year, I knew that wouldn't solve the problem,
& might even make it worse!
Roundup would kill everything off which would be defeating my purpose... besides, I have beautiful Bearded Iris on that hill, as well as other Perennial plants that I don't want to risk damaging. I believe that weeding by hand is the only answer, although I'm sure it's not the one you wanted to hear!
How steep is your hill? (Do you have a photo that you can share?) Mine is about a 45% grade, which seems "steep" to me, because I've had both knees replaced, so I can't get down on my knees anymore, & bending over is murder on the back!
After the first back-breaking day, I went shopping for some type of a stool that I could perch on instead of having to stay bent over while I weeded, & I found a "Bull Stool All-Terrain Seat" at our Co-Op (True Value) store, & it proved to be perfect for the job!
(You can Google "All-Terrain Seat" & find it available online for $60 plus shipping.)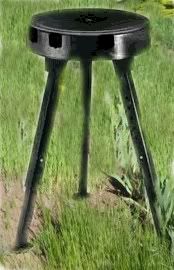 The legs are adjustable from 16" to 23" so I can place it firmly on any unlevel ground. The large leg caps prevent it from sinking into soft ground. It's very sturdy, light weight, & easy to carry. (It was a bit spendy, at $65, but I figured that it was just as necessary for my purposes as a lawn mower & other yard care equipment, & it'll last a lot longer than mechanized tools.)
Actually, it wasn't that hard, once I got started! (Right now, before the moisture bakes out of the soil, those weeds are pretty easy to pull.) I dragged empty dog food bags along with me, & shoved the weeds in them, so I wouldn't have to contend with a huge pile later on. (I would have to get a burn permit to burn them, & it's just easier to take them to the land fill, or to give them away on Freecycle, to someone with a compost pile. My weeds were mainly grasses, as our property is adjacent to a big empty meadow.)
I'm almost finished pulling the weeds on my hill, which is about 70 feet long & 20 feet wide, but guess what? ... It only took me 4 days to get 'er done! (About 16 hours, I'm guesing.)

This was taken when I first started weeding...
...and this one was taken when I was almost done. (Some day I'll remember to take before & after pictures from the same spot!)
I say "almost done", because...
Is it really EVER?!!
I still need to weed in front of the Iris row, & move some up, out of the field... if you look closely, you can see the string that I've stretched between the boundary posts, marking where our property line is.
By the way, welcome to the forum!

You will find that the people here are very friendly, & willing to help with any & all garden, landscaping & house plant problems. We also love to talk about our pets, share recipies & photos, & sometimes we just chat! Come back often... we'd like to get to know you!

* * * *


by penny in ontario on April 28, 2006 06:42 AM
by hummingbird on April 28, 2006 08:36 AM
Blessings on Patty for the quick (although a bit discouraging) answer. I do love the stool - can't wait to track it down! If pulling weeds it's gotta be, at least I'll save my back!!!
Thanks a lot, Humm.
by The Plant Doc on April 29, 2006 04:21 PM
Great find on that stool Patty!!!
Once you pull the weeds there are many types of pre-emergent weed controls that you can put down that will stop anything new coming up from seed. The only other possible way that I can think of slowing it down would be mulching the area, but if it is too steep, that could rule that idea out.
Surflan
Treflan
Snapshot
Are three of the more common preventers on the market.
* * * *

Mike Maier
aka
The Plant Doc
by hummingbird on May 02, 2006 02:52 AM
Thanks Doc!
My only concern with the pre-emergent stuff is what it might do to the wild flowers(?) which will continue coming up well into summer. If one of these products can be spot-applied to affect only those areas where it is applied directly I'll consider it.
I appreciate your help,
Humm
by The Plant Doc on May 02, 2006 10:05 AM
Hummingbird,
You will have to check the label to be sure but most of those products will only control new plants coming up from seed, so it should not have any effect on perennials or previously planted annuals. That is why you have to pull the existing weeds out 1st. There are some plants that they recommend that you do not use it near such as some types of sedum if I remember correctly, so read the labels 1st before buying.
* * * *

Mike Maier
aka
The Plant Doc
by hummingbird on May 03, 2006 05:05 AM
Well - I've already found and ordered the stool, so I'll be getting to work on the slope very soon.
For those interested go to
www.all-terrainseat.com
The stool comes in two sizes and with or without a cushion; mine cost $72. (I had tried Ace, Handy Andy and OSH stores with no success). And it sounds like I'll be able to control the weeds with the right product.
Thanks for everyone's help. I'll let you know how it all turns out!
Humm
Search The Garden Helper: