Butterflys
Gardening Reference » Gardening in 2006
by charoopy on July 24, 2006 04:24 AM
These butterflys seem to love my zinnias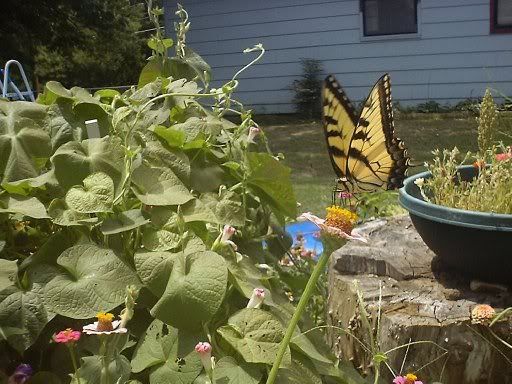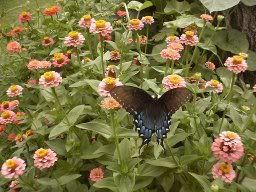 Just figured out how to do this. Sorry if they are not the right size.
Nancy
by loz on July 24, 2006 06:44 AM
The size is perfect!

Very pretty butterfiles......they just flock to Zinnias...thanks for sharing them!

by Thornius on July 24, 2006 07:48 AM
The yellow and black one is an Eastern Tiger Swallowtail; the black and blue one appears to be a Spicebush Swallowtail. You can go to eNature.com to verify this. They have online field guides for EVERY living creature in North America.
* * * *

A bird in the hand......can sometimes be a mess.
by Squirrel on July 24, 2006 01:09 PM
Great pix, Nancy.

Thanks for sharing them. Love butterflies.

Sue
* * * *


What goes around comes around, so be nice!lol
by patches1414 on July 24, 2006 09:01 PM
Those are some awesome pictures, Nancy!

I loved them!

Thanks so much for sharing the pics!

* * * *


"Lord, I love you and I need you, come into my heart, and bless me, my family, my home, and my friends, in Jesus' name. Amen!"
by jakesangel on July 25, 2006 04:42 AM
Beautiful photos! Thank you for sharing!

* * * *
Country Roads
by plantqueen on July 25, 2006 09:49 AM
by Triss on July 26, 2006 11:31 AM
Beautiful pics!!!
* * * *


We are all under the same stars... therefore we are never far apart.
Similar discussions:
Search The Garden Helper: