Thorn's House and an Eastern Kingbird
Gardening Reference » Gardening in 2006
by Thornius on May 11, 2006 04:44 PM
I finally have Eastern Kingbirds back in my yard today. These are members of the Flycatcher family and eat insects only so they won't come to your feeder but they might come to your birdbath. They like Willow Trees because Willows attract a lot of flying insects. here are pictures of the Eastern Kingbird AND the front of my house.
EASTERN KINGBIRD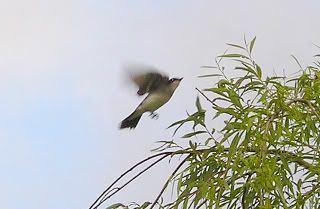 THORN'S HOUSE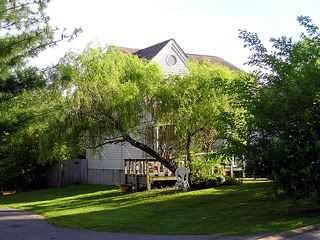 * * * *

A bird in the hand......can sometimes be a mess.
by Jiffymouse on May 14, 2006 11:12 AM

i like it thorny. one day...
by Thornius on May 14, 2006 04:05 PM
My next door neighbor just gtave me 30 Cannas and two Easter lillies today and My wife and I have spent ALL evening planting them. Next year it is Irises, Toad Lillies and TONS of more Gladiolus. We've decided we like bulb plants best.
* * * *

A bird in the hand......can sometimes be a mess.
by ChristinaC on May 14, 2006 04:15 PM
I love that tree in your yard Thorny!!
And I also love Toad Lilies! I'm going to be planting them too...maybe not this year but next for sure!

BTW..my dad just miked me from a place called Dickson, TN. He decided to take a road trip for the weekend. Is that anywhere near you?
* * * *


by loz on May 14, 2006 05:08 PM
Looks good Thorny!
Bulbs are great huh? Nice and easy...I like 'em too!

by Thornius on May 14, 2006 06:54 PM
Thanks Christina! Dickson is about 30 miles (48km.) west of downtown Nashville. I go there a lot. I used to live about 32 km. from Dickson. About halfway between Nashville and Dickson. In a community called Bellevue.
That tree was THE main reason for me buying this house 4 years ago. I love Willows. THAT tree is where I have all my wild bird attractors located. Right now there is a bird nest in the top left-hand side of that Willow. I think it is either a Robin or else an Eastern Kingbird nest.
* * * *

A bird in the hand......can sometimes be a mess.
Search The Garden Helper: