birds in greece
Gardening Reference » Gardening in 2006
by pagarden on May 04, 2006 01:46 AM
i went for a week to greece and WOW! thornius i thought of you! not sure if you can find out about birds in europe, but there was this bird on the side of the roads- about the size of a crow. all black, with white wings and a black stripe down the wing. it was awesome looking! saw lots of pigeons, some sort of finches and wrens. and the only picture i actually got was of a swallow. i'll have to post when i get the energy (still have jet lag). and i got to go to bed every night listening to a bird SING!!!!!!! what sort of bird sings at night? nightingale? mockingbird? it was beautiful. i was in heaven. literally.......
by Wrennie on May 04, 2006 01:51 AM
ask at
birdforums.net
or is it birdforum.net forget now...
They're based in england.
* * * *



Summer Camp '07, July 14th weekend, won't you join us?

summer camp thread 1,
2,
3,
4
by Thornius on May 04, 2006 04:20 AM
I personally prefer my birds cooked in oil, not GREASE.
* * * *

A bird in the hand......can sometimes be a mess.
by Thornius on May 04, 2006 04:35 AM
PaGarden, your black and white crow is probably a Hooded Crow a common bird of the U.K. and Europe. Your bird that sang at night is probably a Nightingale. Good call on both birds having not been to Europe. I've never been to Europe either but have dozens of birder friends in Europe, Scandinavia, and the U.K. and we swap pictures and other information daily. We do not have the Hooded Crow or Nightingale anywhere in the New World. But most birders here are familiar with them. We have 3 species that sing at night, mostly in the Spring and Summer in the U.S. These are Northern Mockingbird, American Robin, and Yellow-Breasted Chat. There may be some western species that sing at night also, but I am not sure.
* * * *

A bird in the hand......can sometimes be a mess.
by pagarden on May 04, 2006 05:55 AM
i'll have to look on that bird forum thing. nope- wasn't a hooded crow- i looked it up and saw a picture. i forgot to mention it had a straight skinny tail it held upright. oh and i found a sound bite of a nightingale- yup- that was it!

i enjoyed it so much. AND we saw a few stork nests! the things were ENORMOUS! they were on top of churches and i would have to say they were a few feet wide and tall! HUGE!
by pagarden on May 04, 2006 06:06 AM
YAY!!!!!!!!!! found this picture on the computer under surfbirds.com and it's a MAGPIE!!!!!!!!!!! how cool!
by pagarden on May 04, 2006 06:11 AM
and i saw house sparrows..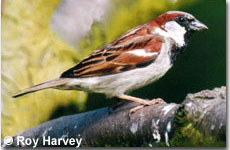 by Thornius on May 04, 2006 06:52 AM
Erm.... pagarden...we have House Sparrows here, along with European Starlings and Rock Pigeons. all three species were imported from England in the late Nineteenth Century, to New York City's Central Park by an eccentric millionaire who loved Shakespeare and birds, so he imported from England and Europe EVERY bird that Shakespeare mentioned in his writings. Luckily (or unluckily as the case may be), only House Sparrows, Starlings and Pigeons survived and thrived much to the detriment of New World birds, plants, animals, and people. Why Starlings and House Sparrows alone drive MY seed and suet expense through the roof. I have thought about getting an air rifle scope to observe Starlings with, and if an air rifle happened to be firmly attached to it and loaded, and IF it happened to fire while I was observing a Starling eating my songbird suet.......Oh Well.

(Not really. I gave up hunting 30 years ago when my guns were destroyed in a fire) However Starlings are NOT protected by ANY law in the U.S. and Canada, and may be dealt with by ANY means necessary, in ANY numbers, at ANY time of the year.
* * * *

A bird in the hand......can sometimes be a mess.
by pagarden on May 04, 2006 08:19 AM
well, house sparrows were still a life bird for me! LOL i am more thrilled about hearing the nightingale and seeing a magpie though! LOL
by Thornius on May 04, 2006 09:27 AM
I have a flock of about 50 House Sparrows that live in my yard and house all year. They squeeze in through small openings in my walls and build their nests in my walls.
I would love to see and hear a Nightingale. I HAVE seen Magpies. They have large flocks in the Western U.S. and as a kid my family would drive out West each Summer where I have seen large numbers of Magpies.
Right now I am enjoying the large flocks of Waxwings in my yard.
* * * *

A bird in the hand......can sometimes be a mess.
by pagarden on May 06, 2006 03:11 AM
finally uploaded pics from my trip- here's a pic of the swallow. a barn swallow right?
by Thornius on May 06, 2006 03:41 AM
That does look like a Barn Swallow! I'm not sure if they have those in Europe. There are many, MANY different kinds of Swallows throughout the world as well as inthe U.S. and Canada. Many of them are VERY similar in appearance. I have dozens of Barn Swallows arounf my house. One of them nearly hit me in the head as it flew past.
* * * *

A bird in the hand......can sometimes be a mess.
Search The Garden Helper: