Birds in my Yard
Gardening Reference » Gardening in 2006
by JV on May 01, 2006 06:28 AM
Here are two pics of birds in my yard outside of the dozen Doves I have.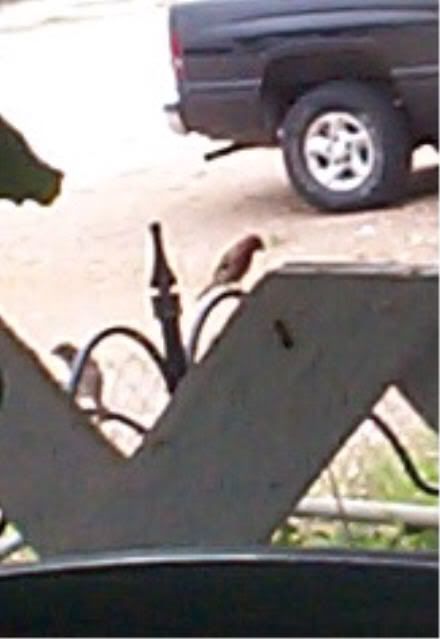 I think this is a house finch best shot I could get. Small redish heads brown bodies. Also Have one I can never get a shot of kinda large top knot like a red bird but is more orange to yellow. If I can ever shoot him I will post it.
* * * *


Meet Clyde my Male Sugar Glider. Clyde says.
Keep it organic
GOD BLESS THE U.S.A.
Pray for our Troops!
by Wrennie on May 01, 2006 06:32 AM
The first picture is of grackles.
Second could be a house finch, like you said picture is kinda hard to see. Possibly a purple finch too.
* * * *



Summer Camp '07, July 14th weekend, won't you join us?

summer camp thread 1,
2,
3,
4
by JV on May 01, 2006 06:41 AM
Thanks Wrennie not up on my birds so thank you for the ID I know the Grackles but the other I was guessing at going by other pics I saw. Have tried to get better shot but they always fly off when I bring the camera up. Anytime I post a bird photo with wrong name please give me the correct name as stated above I am not up on birds just know getting into them because of Nat.
* * * *


Meet Clyde my Male Sugar Glider. Clyde says.
Keep it organic
GOD BLESS THE U.S.A.
Pray for our Troops!
by Thornius on May 01, 2006 07:20 AM
Your yellowish bird with a crest is probably the FEMALE Northern Cardinal. The Males are red with a black mask. The females are bronze colored with large orangey-red bills and red highlights........OR you could have a Cedar Waxwing. They have a swept-back crest with a black mask, a yellow band on the tips of their tails and SOMETIMES a spot of red on the tip of the longest feather of the wings (which is ACTUALLY wax from the berries they eat, hence the name Waxwing). Do a Google Image Search on both of these birds to see if that is what they are. Cedar Waxwings are in your area of the country in Winter and some may still be here now. I had a flock of 30 of them in my yard day before yesterday. I am in the extreme southern edge of their breeding range and we are just now starting to see them breed here in Summer. Your LBB's (little brown birds) with the red heads are either Male House Finches or Male Purple finches. Most probably House Finches because they live all year in the ENTIRE contiguous 48 U.S. States. I have about 5 breeding pairs that live in my yard all year.
* * * *

A bird in the hand......can sometimes be a mess.
Similar discussions:
Search The Garden Helper: