Downy's?
Gardening Reference » Gardening in 2006
by slredmond on March 17, 2006 08:22 AM
Here are pictures of our voracious suet eaters! I think these are Downy's, right Thornius? We sure enjoy them. Pictures are taken through my kitchen window screen, so they're not real crisp-sorry!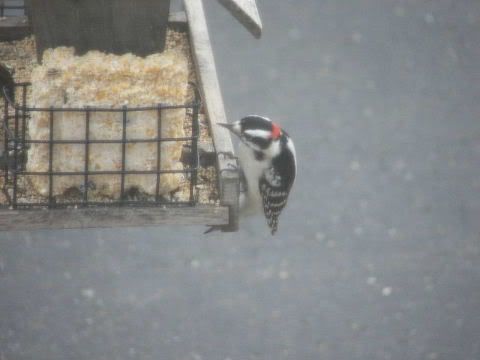 * * * *
Sandy R.
by Thornius on March 17, 2006 08:30 AM
You are correct, SIR! Those are Downys. The top picture is a male, the bottom is a female. Only males have red on the head. The head of the female is black and white, ONLY.
* * * *

A bird in the hand......can sometimes be a mess.
by slredmond on March 17, 2006 09:41 AM
Great - thanks. They were actually on the feeder earlier this week at the same time, which I thought was neat to see them chowing down together. I'm SO happy to see all the birds coming back, and I love seeing "3 days until spring" when I log onto Gardener's Forum!

* * * *
Sandy R.

Search The Garden Helper: