Bird Friendly Yards
Gardening Reference » Gardening in 2006
by Thornius on February 25, 2006 05:01 AM
If you want to attract and keep birds in your yard THREE things are essential. Food, Water, and Shelter. Food should consist of a variety of feeders and plants. You should have feeders for various types of seeds and suets. Tube feeders are used most often by Chickadees, Titmouses, and Finches. Suet feeders are wire mesh cages that are used to store hardened animal fat (suet) mixed with seeds, peanut butter and/or fruit. Woodpeckers, Nuthatches, Kinglets, Wrens, Mockingbirds, and, unfortunately, Starlings prefer and LOVE suet. Platform feeders or just the ground is preferred eating surface for Sparrows, Buntings, Doves, Quail, Cardinals, and the other birds mentioned for the other feeders. Millet and song bird mix are the best seeds to use on these broad, flat, surfaces.
Water should be provided for drinking and bathing. A bird bath and/or shallow dish or pond approx. 2 inches deep is ideal.
As for shelter, thick heavy brush is good for roosting and protection from the elements and predators. Also some species of birds will use a nesting box for raising young in the Spring and Summer and for roosting in the Fall and Winter. Some birds that prefer a birdhouse are, Bluebirds, Chickadees, Titmouses, Wrens, and unfortunately House Sparrows and European Starlings. Nest boxes should NOT have those little perch dowels below the entrance hole. This encourages House Sparrows, Starlings, and other predators. Birds are capable of clinging to the flat wood front of the boxes just fine.
Here is a picture of the bird habitat in front of my house. I have 2 green suet cages hanging in the tree on the left of the photo, 3 tube feeders hanging from the tree that hold Black Oil Sunflower Seed or Black Niger Thistle Seed for the finches. The silver table is MY platform feeder and also has 2 shallow dishes for drinking water. and on the right is my 200 pound concrete bird bath I bought at Walmart for $20.00. The tree is a Weeping Willow.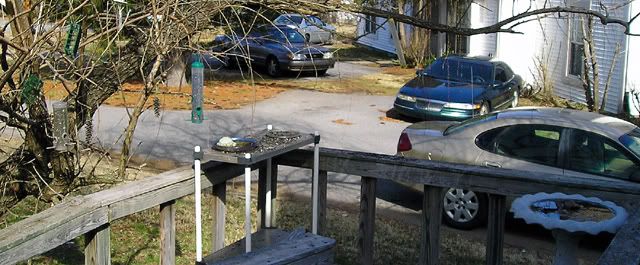 This picture of my backyard shows my Sunflower Seed tube feeder and a Green suet cage. I can never fill the suet cage fast enough to satisfy the birds. Also shown is a wooden nesting box I built from Scrap Lumber this Fall. Hopefully it will be used any day now. This one is designed to fit a wren, chickadee, or titmouse.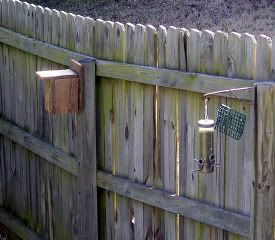 * * * *

A bird in the hand......can sometimes be a mess.
by MissJamie on February 25, 2006 06:23 AM
thanks for the wealth of info thorny! you are a birdie expert lol!!
* * * *

*~*Last night I played a blank tape at full blast. The mime next door went nuts.
*~*
http://www.imagestation.com/album/?id=2125497034
by Dixie Angel on February 25, 2006 06:24 AM
Thank you for all the info, Nat. You are a good source of information for me for all things concerning birds...
My daughter bought a couple of "bird houses" as a wedding gift for us last May. I am wondering if they don't like them, because when I took them down out of the gazebo to prepare for my son's wedding, I noticed no nest, straw, anything in there for them to live. Do they not like these types of "houses"? Do they not like where I have them? What can I do to attract a feathered friend there?
The next post will show them as I had them hanging...
Dianna
* * * *

by Dixie Angel on February 25, 2006 06:26 AM
In the gazebo...
What can I do to attract them to it? What kind of birds would like that type of housing?
Thanks for any and all information you can give me...
Dianna
* * * *

by Thornius on February 25, 2006 06:32 AM
Those are more cute, decorative, rather than functional bird houses. The ones that birds prefer are not necessarily the, "pretty" ones. The ones I make are usually downright UGLY!!! Go to place like Wild Birds Unlimited or even Walmart to buy houses that are not only functional but attractive, too. By all means leave your decorative ones up also. They look adorable and House or Carolina Wrens may very well use those.
* * * *

A bird in the hand......can sometimes be a mess.
by Dixie Angel on February 25, 2006 06:46 AM
Thank you, Nat...
I will leave them up and hope that something will nest there. I will be shopping at WalMart this week-end and, hopefully, will find something there more suitable...
Thanks, again...
Dianna
* * * *

by Thornius on February 25, 2006 07:02 AM
Look at the picture of the Nesting box in my backyard. One similar to that is what you want. I think Walmart sells them for about $10.00 - $20.00. They are usually located in the pet supply area. That LONG Tube Feeder with the green cap in my Frontyard picture I bought this Fall at Walmart for aBOUT $4.00. AND you can get a 50 pound bag of Black Oil Sunflower Seed for $14.00 at TSC (Tractor Supply Company) If there is a store in your area.
* * * *

A bird in the hand......can sometimes be a mess.
by patches1414 on February 25, 2006 08:11 AM
I've found Wal-Mart has some excellent choices of birds houses that the birds really like and they don't cost an arm and a leg. Actually, after spending a fortune on different bird houses over the years, I've learned birds really seem to prefer the ones that are much plainer, as opposed to the cute, decorative ones.
patches

* * * *


"Lord, I love you and I need you, come into my heart, and bless me, my family, my home, and my friends, in Jesus' name. Amen!"
by Dixie Angel on February 25, 2006 01:43 PM
We will be checking out WalMart this week-end...
Thank you...
Dianna
* * * *

Similar discussions:
Search The Garden Helper: