Ugly bugs!
Gardening Reference » Gardening in 2006
by Bill on April 08, 2006 08:19 PM
In the past two days a herd of these ugly bugs have nearly destroyed many of the newly opened flowers on my Trillium.

The bugs are about 1/8"-3/16" in length. Can anyone
(Buglady)
identify the bug and suggest a reasonable treatment option, please?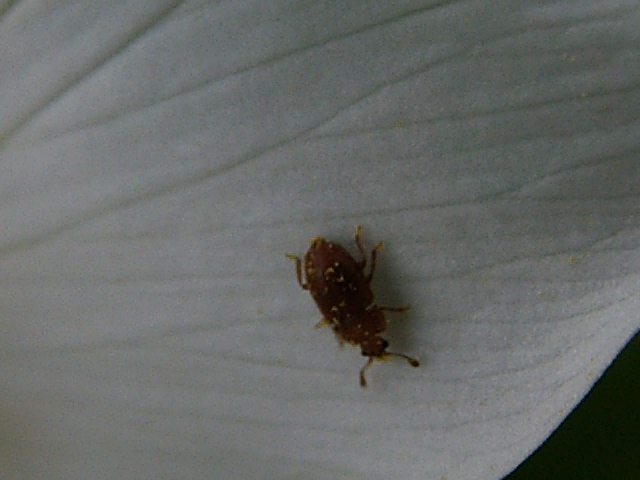 * * * *

by melcon6 on April 08, 2006 08:57 PM
I had the most beautiful chocolate/maroonish colored trillium given to me by a coworker several years ago and they got almost completely eaten up by something!!!

I never did see what was eating it, I'm going out there to check on them today, thanks for reminding me!

Last year I only got one bloom from them and almost no foliage.
Is it some kind of stink bug????

* * * *

HAPPY BIRTHDAY CINDY!!!!!!!
by Michael15r on April 11, 2006 10:32 AM
You know last year those bugs where all over my front porch during summer. I hated them then a couple of weeks later I stared seeing them come into the house!!! They look like bedbugs in a way, but there not though.
* * * *
A Sunflower Garden #7
Check out my website.
by Buglady on April 12, 2006 10:19 AM
Hard to tell from the image, and not being able to see all the anatomy. Maybe a sap feeding beetle? Have any more images?
also a pyrethrin spray should work to kill them.
Also helps to have something in the image to give size perspective.
* * * *


The Buglady
Suzanne Wainwright-Evans,
www.bugladyconsulting.com
Educating the world... one bug at a time
Search The Garden Helper: