Junior....
Willy's Place » Wallpaper of the Day
by Bill on September 13, 2004 06:40 PM
He is nowhere near as cute as
Little Rue
but for the past few days I have enjoyed watching Junior learn the fine art of hunting.
Mrs. Peregrine brought Junior by one day last week and showed him a few tricks before going on her way.
In spite of the fact that the Steller's Jays are bigger than him, he has managed to harass them mercilessly and even bagged his first meal!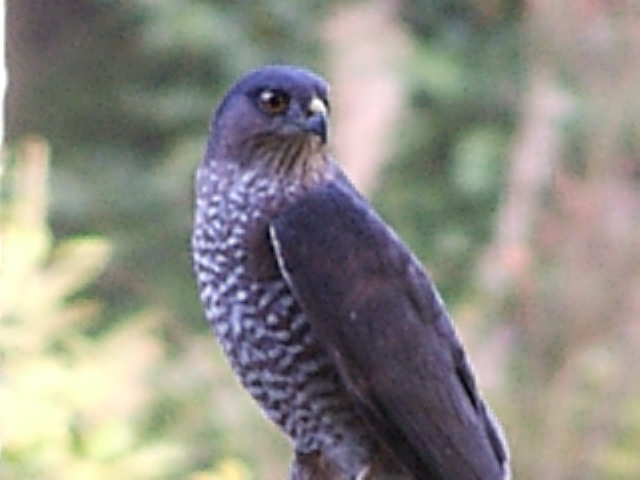 This are a Cedar Hill birds!
by catlover on September 13, 2004 08:20 PM
Junior is
beautiful
....he looks so majestic. Did you see those claws.

Will they go after a cat?

* * * *



by Bill on September 13, 2004 09:24 PM
I doubt that the Peregrines would mess with a cat, but they go after the squirrels and chipmunks.
There was a Golden Eagle circling the yard the other day that got me to bring the cats in...

by afgreyparrot on September 13, 2004 10:07 PM
Might better bring the cats in!
Years ago a Peregrine saw my kittens right outside the basement door and decided to have lunch! Well, mama cat didn't like that too much and fought the peregrine to save her kitten! It ended up with an injured wing and couldn't fly, so we patched it up and kept it until it got well enough to fly. We had no idea what it was! (Thought it was some kind of Hawk.) We sent a photo to someone at the University of Tennessee (some avian doctor) and he called us, saying it was a Peregrine Falcon. We had it for quite a long time, several months. It's hard to comprehend how big their feet and talons are in a photo, but let me just say that if you hold one you'd better have a pair of heavy denim jeans wrapped around your entire arm several times, and heavy leather gloves on!
When we finally turned it loose it would come back every now and then to visit, but eventually stopped coming.

* * * *



Buckle up! It makes it harder for the aliens to suck you out of your car!
by Jiffymouse on September 15, 2004 02:22 AM
how exciting. we have hawks and eagles around here once in a while. there was a bald eagle pair in the next county and we would occasionally see one up here, but haven't seen one in a while.

Search The Garden Helper: