Garden not dead yet
Gardening Reference » Gardening in 2006
by Woodland Garden on November 26, 2006 02:41 PM
Here are a couple pictures I took on Thanksgiving. I have two cages full of lettuce in fantastic condition and bug free! I covered the cages with polyester fabric in October to protect the plants from frost. They act like mini greenhouses. I have several great looking broccoli heads out there and some beets. November has been on the mild side but I hit 26F twice in October.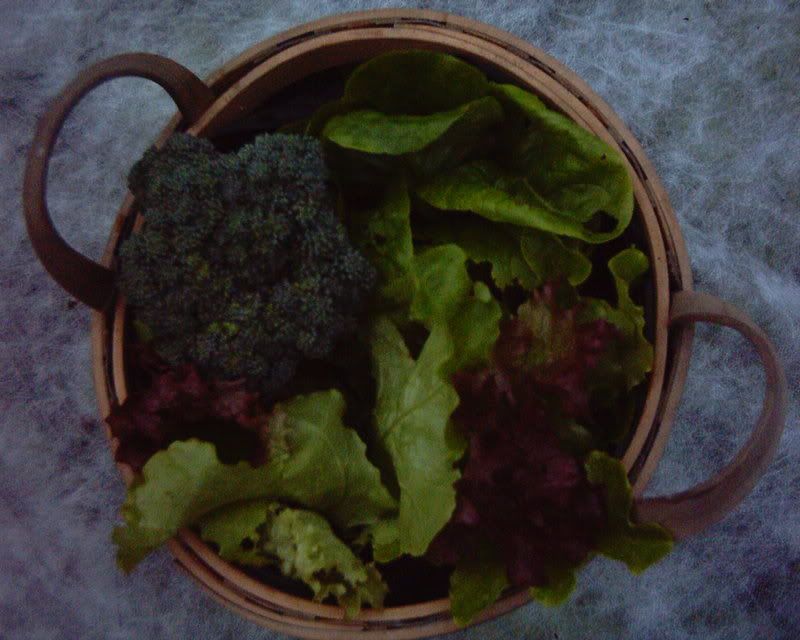 by Patty S on November 26, 2006 05:03 PM
Good going!

If I'd have planted lettuce when our heat died down, I could be enjoying 100% home grown salads right now! (I'm making myself a memo to do that next year.)
Although tomatoes aren't much for cool weather like lettuce is, I wonder if I could have helped mine hang on a bit longer by tenting them like you did with your lettuce.

This is what one of my tomato plants looked like 2 days before Thanksgiving, when I finally picked them all & brought them in the house.
It didn't start getting chilly here (below 50 during the day) until November, but we had lots of rain so the tomatoes were splitting & needed to come off the vines. Now they're in a box on my kitchen counter, where they're turning red & getting put into the frige.
My peppers have been indoors for several weeks now, & are doing great. I still have beets left in the ground that I'm pulling up as I want to cook them, & finally have green onions coming on like crazy! I thought I planted them too late or something, as they didn't do anything until the weather cooled off!

Let us know how long you can keep that lettuce going in their little shelters!
* * * *


by chenno on November 26, 2006 11:28 PM
Nice

nothing like it, make it last as long as you can, looks good!
* * * *


Painting is silent poetry, and poetry is painting that speaks.
Plutarch
by tkhooper on November 27, 2006 12:52 AM
Loving the lettuce houses. Hope I get a place where I can do that.
* * * *


by Deborah L. on November 27, 2006 03:20 AM
Now that is a cute term-lettuce houses !
Smart idea too !
I like the idea of going out to get lettuce from under their little houses.
FUN !
* * * *


by glenda on November 27, 2006 04:37 AM
I too have lettuce still growing in the garden under the sprouts.
* * * *

by Woodland Garden on November 27, 2006 06:04 AM
About the maters'-Last year I built a crude cage around the tomatoes using clear plastic, wire and
tree saplings I cut down and made into posts. My tomatoe plants survived untill thanksgiving when we got a brutal arctic front that brought true winter. I didn't finish the last tomato untill christmas!

This year the tomatoes have bad spot blight so I didn't bother. Down to my last three from the garden which isn't bad all things considered.
Search The Garden Helper: