A Funky Tomato
Gardening Reference » Gardening in 2006
by LandOfOz on September 29, 2006 11:39 PM
What is going on with my tomatoes?


All my Roma II plants are briming with green tomatoes. Some of the tomatoes (both large ones and small) look like this.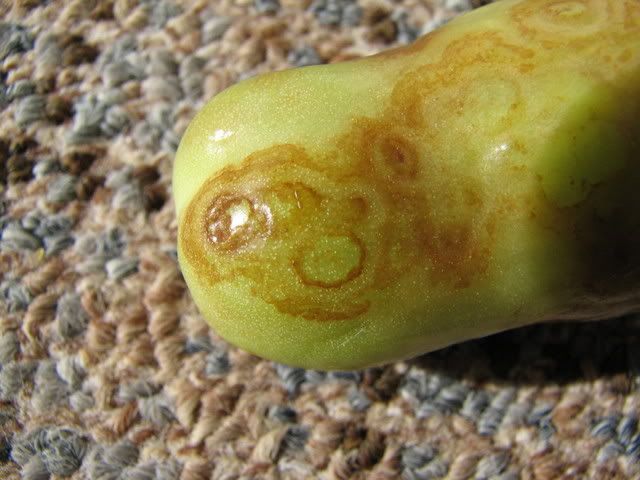 There are more pictures in my
album
of this odd-ball tomato. What the heck is going on? We've had cooler temps and I've been watering regularly. No frost, or near-frost in the area. Only about 2-3 tomatoes on each plant (ranging from probably 30 to 10 tomatoes per plant) are affected by this. Is it a fungus, bacteria? Is the entire plant affected?
* * * *

Sarah - Zone 5b/6
by johnCT on September 30, 2006 03:20 AM
by LandOfOz on September 30, 2006 05:47 AM
Thanks John, but Papito sent me this great link to a tomato troubleshooting page which was very helpful. I think it might just be that bacterial speck coming back from earlier this season. Not that we've had any rain, or that I use a sprinkler to spread the stuff, but, who am I to argue? I went ahead and pulled 2 of my smaller tomatoes, to help improve air circulation around my larger toms. I also removed any and all "infected" foliage--again. I called my local extension office and the lady I spoke with said that no matter what I do, I'll never be able to get rid of the speck because it is so "thick" in the area!! Lucky me!
* * * *

Sarah - Zone 5b/6
Search The Garden Helper: