Rufus
Willy's Place » Wallpaper of the Day
by Bill on May 13, 2004 04:19 PM
Rufous Hummingbird
Selasphorus rufus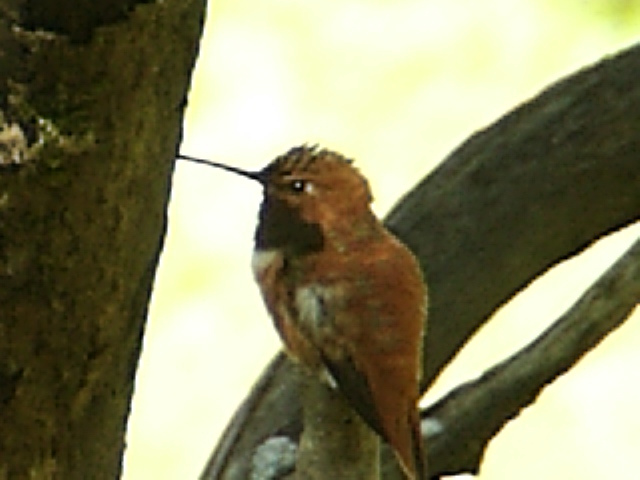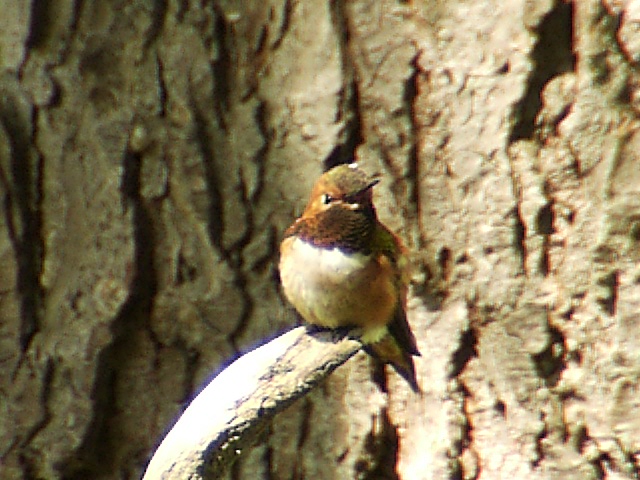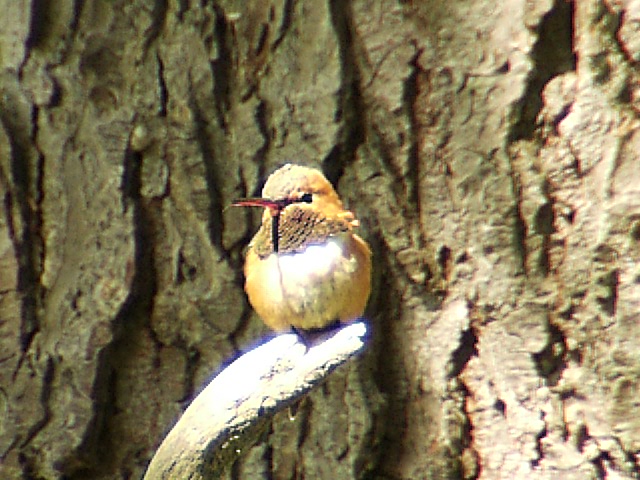 This is a Cedar Hill bird!
by loz on May 13, 2004 05:50 PM
They are great Bill!!!

I need to buy a hummingbird feeder......I feed all the other birds but the hummingbirds so I guess I better break down and buy one......

by Chrissy on May 15, 2004 03:36 AM
How sweet, what beautiful pictures. I wish I could get close enough to snap photos of the hummingbirds in my yard.
* * * *

z5b
by catlover on May 17, 2004 02:55 AM
Oh watch out now....the little one likes posing for pictures!!!

I have a ? for you Bill?? I have a feeder exactly like yours in one of your pictures...I put a contraption above the wire to keep those ants out of there....but the last time I must not have had it opened and the ants got in. After the bait stuff wears out and it doesn't work anymore, do you have any suggestions how to keep ants off the wire without having to go buy another one of those green devices????

I have those Argentina ants and they are very aggressive little things.

* * * *



by Bill on May 17, 2004 03:14 AM
I have tiny little sugar ants that manage to find the feeders, no matter where I hang them. They are small enough that they manage to get inside the feeders and drown.
They don't seem to bother the Hummers, but they bug the heck out of me! I'm going to try to set up a sticky area in their path to trap them. I'll let you know if I have success or not, if you'll promise to tell me if you find a solution first!
by weezie13 on May 17, 2004 02:56 PM
Aren't you supposed to put vaseline on the string
going down to the feeder... Or somewhere's going up the pole that hangs the feeder???
A good strip of it *width wise*, cause they can't cross it without getting stuck into it!!
Weezie
* * * *
Weezie
Don't forget to be kind to strangers. For some who have
done this have entertained angels without realizing it.
- Bible - Hebrews 13:2



http://photobucket.com/albums/y250/weezie13/
by Bill on May 17, 2004 03:01 PM
Good idea Weezie! Thank you!

by plants 'n pots on May 17, 2004 03:11 PM

Cute, Bill...
quote:

---

they bug the heck out of me

---
I use the hummzinger feeders which have the ant moat in the center. I've never had a problem with ants getting into the feeding area.
Might be worth a try if the ants are really bothersome?
hummzinger
* * * *


Lynne's knitting journal
"I'm spayed, declawed, and housebound - how's YOUR day going???"
Search The Garden Helper: