rugosa roses
Gardening Reference » Gardening in 2006
by mrw on August 11, 2006 08:32 AM
Is anyone familiar with rugosa roses? I have grown some from seeds(rose hips) and they are currently in the garden (nursery section) and are looking quite healthy about 4-5 inches tall, lots of leaves. I would like to separate them and move to another location within the next week. I wanted to know if they need special care for the winter, eg heavy mulch, or is there anything I can do to help the babies survive til spring? Thanks!
by digital flower on August 23, 2006 12:22 PM
I have never grown the Rugosa Rose from seed. I have it in the garden and it is quite a bit of work keeping it under control. You had better get a good pair of gloves.

I don't think they need any special protection to get going.
* * * *
Daily Gardening Blog
Garden Photography
by CapeCod on August 24, 2006 12:20 AM
In New England (Cape Cod especially), it grows wild. I don't think Mother Nature does much to protect it from the elements. I have never tried "borrowing" a few shoots from the sandy soil where it is usually found, but, now that you mention it....!!
by TulsaRose on August 24, 2006 01:47 AM
Is this the type of Rose you have? If so, be prepared for vicious thorns.
The various canes will jump out, grab you and wrap around you like snakes. lol! But the blooms are gorgeous and oh so fragrant...it makes it worthwhile.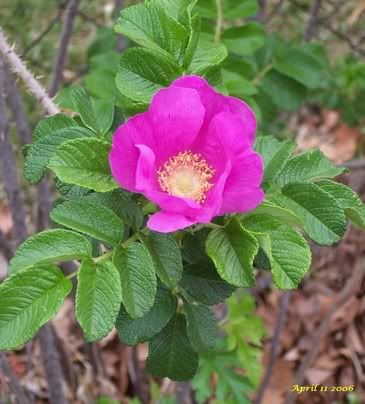 * * * *
Rosie z7a


Search The Garden Helper: