What do you use? keep
Gardening Reference » Gardening in 2006
by floweringchild on October 03, 2006 11:25 PM
Hi all!

I'm new at collecting seeds as most know. Generous people here have sent me various seeds. (P. S. keep them coming ya'll - PM me for my address

) While shopping the other day, I found this cute little box I thought I would use to store my seeds. Wanted to share this idea with you.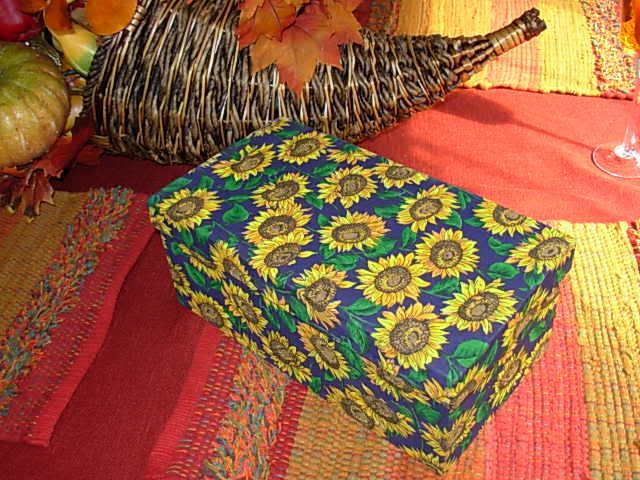 It's basically the shape of a shoe box, measuring 6 1/2" x 12" x 5". Thought it would make a cute seed box what with the sunflowers!
I think I will get an alphabetical card file to put inside, then file the seeds in their envelopes (other suggestions) by name adding who sent them.
What do you use in the way of storing your seeds?
Will this work okay?
* * * *

by LandOfOz on October 04, 2006 02:23 AM
That is a great idea, Stephanie. I've been keeping my seeds in a cheap, walmart pencil case. And I've out-grown it. Too many seeds, bubble wrap, bubble envelopes, canadian-mailing instructions, etc. I think that box should be great--you can fit a lot of stuff in there!!
* * * *

Sarah - Zone 5b/6
by loz on October 04, 2006 02:28 AM
A friend of mine bought me a photo storage box a few years ago for Xmas and I use it to keep all my seeds in.

It's perfect for that and has flowers on the outside of it.
Cute box---It'll work great.

by comfrey on October 04, 2006 03:36 AM
Well that is a cute box and it will work fine. I have a plastic pencil box (full) 5 metal boxes (full), A Christmas Card box (full) And a little metal box that has little seed boxes inside (this is the one I keep my special seeds in)and I need to find more containers for my seeds..Actually I need a bigger seed box where I can put the biggest part of my seeds in it from all of the containers. Plus I also have a 5 gallon plastic bucket with lid that has old seeds from years (alot 10 yrs old) that I need to sort through and get rid of most of them.
* * * *


by floweringchild on October 05, 2006 03:40 AM
Hi Sarah!
Thanks! Went out yesterday and purchased a colorful alphabetical index file to insert in my box. Now if only I could use these great seed templates that are listed on our site.

My printer only prints black/white at this time. I have another (new) printer but haven't set it up yet. (Don't like change and not too computer savvy)
loz, hello,
Thanks! Ah, that's a good idea using photo storage boxes to store seeds.
comfrey, hey!
Thanks! You just gave me an idea in starting a new thread. Sounds like you use separate divided boxes for seed storage? Do you use seed envelopes or whatever as well?
Wow! 10 year old seeds! What are they? Are the seeds viable for the length of time? Hopefully I have inspired you!
Others? What do you use to store your seeds.

Share your info with us.
* * * *

by tkhooper on October 05, 2006 03:59 AM
I bought a plastic draw 4x6 and the index cards the same size for my seeds. It will hold about 200 seed packets. I can get these drawers in stacks of three and if I ever get a garden again I will probably move to that size because the back of the drawer doesn't pull out well. Needless to say I bought it at Wal-Mart. Where quality isn't the standard lol. Anyway a 3 drawer stackable would let me have two drawers for trade seeds and one for my personal seeds.
Inside each alphabetic division I have in my drawer, I use construction paper file folders that I've made. I should take the time to make accordian type folders so the packets don't try to slip out the sides but I haven't been that energetic yet. Maybe this winter when I don't have anything to do.
The trade seeds are in an omaha steak box that I've glued a center piece of cardboard down so that I have two rows of seeds. From there they are alphabetized but that's it.
* * * *


by PartyGirl on October 06, 2006 03:08 AM
I don't believe in being too organized, so no alpha-sorting for me! PlusI like pawing through them. LOL! I have my seeds divided by Tender Annuals (HHA), Hardy Annuals (HA), Biennials, Perennials, Vines, & Vegetables & Other (Shrubs, Trees, weeds). This system reminds me what needs to be sown when, since HHAs are sown a lot later than the others, and Perennials and Biennials can be sown at other times besides spring such as in June and July.

If I have a lot of different kinds of marigolds or poppies, then they have a little divider of their own within the HHA and HA dividers, respectively. The dividers are made from junk mail card stock-- cut with little tabs to fit my box. The box is sheer plastic from Rubbermaid and seems to be just about the right size. Naturally it will be too small come Jan, but then the sowing will begin and inventory will drop down.

* * * *
PG

by roflol on October 08, 2006 10:37 AM
I bought a basket of peaches at the local orchard, and now that the peaches are gone (mmm, mmm) the basket is holding my seeds for the moment... in CD envelopes with windows so I can see them and shake them once in a while as they dry.
Will definitely have to get something more permanant though, plus the basket is begging to be decorated for holiday consumables. Good thread!

by floweringchild on October 11, 2006 01:24 AM
Hey tk,
Great idea you have there with regard to your three tier stackable boxes and card indexes!

"if I ever get a garden again"
May I ask what happened to your current garden?
Sounds like you got very creative with your Omaha steak box with divider. Hey, how were the steaks?
PartyGirl,
Yea, some of us folks are more organized than others. I, for one am, it's how I need to operate!

Whatever works! I like how you subdivided your seeds by tender annuals, HA, Biennuals etc. etc.

roflol
Your peach basket sounds delightful and a good idea in holding seeds too for the time being! You have a good idea there in using CD envelopes to place seeds, to shake, dry out etc.

Where did you purchase your CD envelopes?
Hope you get your peach basket decorated soon!
Thanks ya'll for participating in my thread.

I hope we have inspired as well as given others good ideas in what we use to store our seeds.


Are there others who would like to share what they store seeds in?
* * * *

by roflol on October 11, 2006 01:59 AM
The CD envelopes were from freecycle - My children's art teacher was looking for blown/ruined CDs for an art project and I posted for that on freecycle. Just so happened that somebody had bought a pallet of about 1500 advertising packets for the printing paper inside, and included were CDs in envelopes that she didn't need so she gave them to the school. The teacher didn't need the CD envelopes so she saved them for future use, and she gave some to me for CDs I don't have cases for; they came in handy for seeds for now. lol, still awake?

I did go to Wal*Mart and got a 97-cent clear plastic Sterilite container with hinged lid for my seeds.

I'm wondering if I should drill a tiny hole or two in it for air circulation? Any thoughts? It will be put in the garage on the cooler end (garage is attached and heated but closer to the doors it's colder).
by floweringchild on October 13, 2006 06:10 AM
Thanks roflol, sounds like you have put those CD envelopes to good use! Glad you were able to use an idea from this thread with the plastic hinged container for storing your seeds.

Can anyone answer roflol's question regarding drilling an extra hole or two in his/her new container?
Other suggestions?

* * * *

by netty on October 15, 2006 03:08 AM
* * * *


by joclyn on December 04, 2006 02:33 AM
i've been putting my seeds in old precription containers and vitamin bottles.
by badplanter on December 04, 2006 05:37 AM
Mine are in cut-up envelopes, in a drawer.
I take a standard envelope, and cut it vertically down the center. I cut the flap off, and then level out the other part. I tape up the side I cut, and fold the extra flap part over... each evvelope can make 2 packet thingys. did I make that confusing?
* * * *




"I don't want no more of army life, gee mom, I wanna go, but they won't let me go, gee mom, I wanna go home!"
My PB!
by flowerpower313 on December 05, 2006 12:53 PM
I try to use glass jars like for baby food or spices. But pill and vitamin containers work well. They do take up room though. I use a cardboard beer case for storage.
Search The Garden Helper: