Weed N Feed in the fall?
Gardening Reference » Gardening in 2005
by Patty S on October 29, 2005 08:54 AM
I keep hearing that you aren't supposed to fertilize perennials & transplanted things in the fall. (& no one every says why!)

Does that apply to lawns as well? We have a strip of lawn that's not part of the big reseeding project we're doing this fall, & it's pretty weedy. If I use Weed N Feed on it now, will it hurt the grass, or just not do anything?
* * * *


by weezie13 on October 29, 2005 11:30 AM
What the Weed~n~Feed product does is..
It is a fertilizer for the "plant" and the
Weed part is, ~that when seeds are in the ground
*from before* or when a plant flower's and produce's a seed and the seed falls to the ground,
the "Weed" part prevents the seed from germinating....and growing into a new plant.
*Does that make any sense?*
Feeding the lawn or plants now, would make it
stay too green for too long into the season,
when it should be dormant or at least sleeping
a wee~bit...
I would hold off until spring time for that product myself...
* * * *
Weezie
Don't forget to be kind to strangers. For some who have
done this have entertained angels without realizing it.
- Bible - Hebrews 13:2



http://photobucket.com/albums/y250/weezie13/
by obywan59 on October 29, 2005 03:50 PM
You're right Weezie, feeding now might promote too much new growth, which would then be subject to damage as the temperatures get colder.
However, our local turf shop recommends feeding the yard again in November, after growth has stopped. This feeding will strengthen the root system and will result in better winter survival.
Also, the recommendation on bags of Holly-Tone fertilizer, says to fertilize your acid loving trees, shrubs, and (I think) also perennials in the fall after growth has stopped. This application is only half the rate of the spring application.
My mom has been fertilizing her hostas both spring and fall and they are HUGE!
* * * *

Terry
May the force be with you
by The Plant Doc on October 29, 2005 08:22 PM
Fertilizing lawns can be a bit tricky this time of the year, because you are caught in a "Catch 22"
The plants do need a source of food right now and it will not hurt them to receive it, However, if you live in an area which can receive a early snowfall that may stick around until spring if there is too much nitrogen left on top of the soil, it can cause a disease called Snow mold.
Once a grass plant goes "dormant" in the fall all the top growth stops and from the crown up the plant turns brown. This does not mean that the plant has gone to sleep yet though. This is actually the most important time of the year for that plant as the roots start growing at a very high rate. This produces a much stronger plant that can withstand drought,heat and disease attacks. The plants need some nitrogen in order to grow roots at this time. They also need potassium or potash which is essential for root development.
If you do fertilize now, make sure that your lawn has a constant source of water, at least an inch and a half a week. This way the fert will not just sit there, and become the catalyst for a disease attack.
Many weeds are perennials and hitting them now with some weed and feed would be great. Just try to get a ratio as close to 21-0-21 as possible. with most of the nitrogen being quick release.
Hope this helps
Mike
* * * *

Mike Maier
aka
The Plant Doc
by Patty S on October 30, 2005 06:48 AM
Thanks for the input, everybody.
It's so sad to hear all of you up in arms about your impending winter weather

while here in the pineapple belt of Oregon (the 'healthy weed & bug belt' is more like it), we simply don't have that problem cuz IF it freezes, it might last for 20 minutes! (& it DOESN'T snow here!)
:::neener

neener:::(sorry about that, but after living in NW Montana for more than half my life...I've put my time in with 3' of snow in my yard for 5 out of every 12 months!... I just CAN'T RESIST GLOATING NOW! I feel SOOO lucky!)
35-39F is plenty cold enough for me, but honestly, that's usually as bad as it gets!
Anyway, I've decided that since my little strip of lawn isn't threatened by the weather, I'm going to Weed & Feed it this afternoon. (It's 52F right now at Noon, & the sun is shining!) The "good" grass on this 1 strip of lawn looks OK, but I can see that it's being taken over by stuff I don't want there.
This is what I'm dealing with & hopefully, it's among the undesirables that Weed & Feed will zap.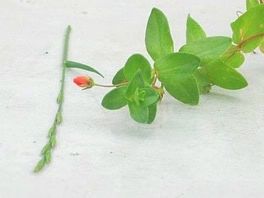 On the left, I'm almost sure that's Quack grass, but I have no idea what the ...pretty little thing... on the right is. (Anybody have a guess? It's a bit taller than whatever else is there right now, but is only about 2" at maturity.) As you can see, it's flowering now so I want to attack it before it goes to seed.
I didn't used to care... if something GREEN was growing out there, I just called it "LAWN" & mowed it down every couple of weeks! The trouble with that is, these little plants don't stay green for as long as the stuff that grows in NORMAL PEOPLE'S lawns! While I don't think we need something so lush as to save us gas by not having to drive to the putting greens to practice our short games, I am ready to compete with the BHG type lawns down the street!
...Even though we're at the dead-end of our street, so nobody ever sees this yard!

(Go figure!)
~~~~~~~~~~~~~~~~~~~~~~~~~~~~~~~~~~~~~~~~~~~~~~~~~
(ROFL guy stolen from afgreyparrot... ain't he cute? Thanx, afgreyparrot!)

* * * *


by The Plant Doc on October 31, 2005 07:29 PM
By the seed head the grass looks more like a tall fescue. The one on the right appears to be some form of chickweed, it looks identical to the mouse ear chickweed we have growing out here in WI but the leaves on yours are about twice the size.
Weed and Feed will do nothing to take out grassy weeds, but it should work on the broadleaf.
* * * *

Mike Maier
aka
The Plant Doc
Search The Garden Helper: