Yummy Yummy Strawberries
Gardening Reference » Gardening in 2006
by SassyManal on April 20, 2006 04:19 AM
I picked my starberries yesterday! They are so juicy and sweet. I never tasted one so sweet. I'm so proud of myslef. Here's a pic!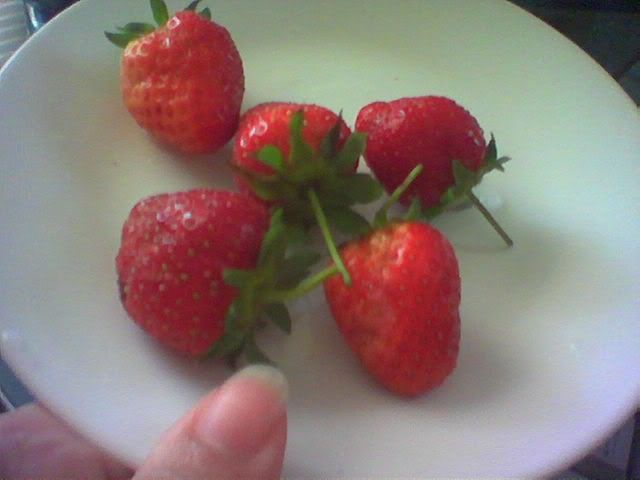 by Firstyeargardener2006 on April 20, 2006 09:33 AM
by Patty S on April 20, 2006 09:59 AM
They look so nice, I would have guessed they're made out of wax!

I like the smaller ones like that, as opposed to the giant ones that they use to dip in chocolate... the big ones have no flavor! Do you know what kind yours are? Do you have a Strawberry bed, or are yours in a pot/tower?
Ours are just making flowers out here, after all the cold we've had... can't wait for summer, when I'll have a steady supply of them!
* * * *


by SassyManal on April 20, 2006 11:42 PM
I have my mind in a pot sitting outside my door. It's called strawberry "Cardinal".

This is what i found about Cardinals...

Cardinal
Cardinal is a release of the Arkansas Agricultural Experiment Station and was developed by J.N. Moore, H.L. Bowden, and W.A. Sistrunk. Cardinal is a strawberry that is firm, glossy red, and very large in size. It is a very good berry for eating fresh and freezing. Because of its high yielding and shipping qualities it is an excellent berry for pick-your-own operations. Cardinal is a mid-season variety. The plants are productive, vigorous, and resistant to leaf spot, leaf scorch, and powdery mildew. It is recommended for the South-Central states surrounding Arkansas and East to North Carolina and Maryland.
by Budman on April 21, 2006 12:47 AM
Those strawberries look so good that they have made me hungry! I have just had my Spring delivery come in and I was not quite ready for them. I am planning on putting in two raised beds for strawberries. One for June bearing and one for ever bearing varieties. Since I am not ready I ended up planting the strawberries in some large pots that I have in hopes of transplanting them in the next week or so. I sure hope that does not hurt them to do that. Hopefully I will be eating fresh strawberries next year,just like yours. Best of luck.
Search The Garden Helper: