It's a WOOHOO
Gardening Reference » Gardening in 2006
by tkhooper on March 06, 2006 10:03 PM
Guess what...the second avocado sprouted. I'm very pleased with that. Hopefully I have a boy and girl but if not at least I got them to sprout and that better than watching them rot like I used to do. You all are marvelous at helping black thumbs turn green and I really appreciate it. I've so enjoyed learning this.
* * * *


by tkhooper on March 10, 2006 05:52 AM
Here is the oldest of my avocado trees. It is barely 12 inches tall. I want to wait a bit before I cut it down because it doesn't really have any leaves to speak of on the lower part of the trunk. will that be ok? or maybe just pinch back to top 2 inches instead of 6. Just color me yellow and listen to me cluck. I'm sooooo chicken.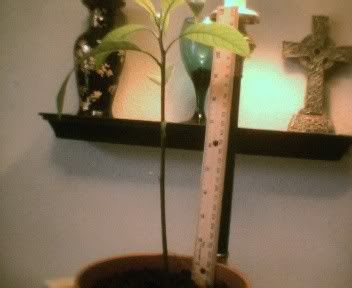 * * * *


by Francine on March 10, 2006 08:09 AM
tammy,
congratulation,this is a beautiful one

Franny
* * * *
http://photobucket.com/albums/d23/fv1962/
by Bestofour on March 16, 2006 09:24 AM
How long before you get fruit TK? I love avacados. I ate one last night. If I start a tree will I be dead before it produces fruit?
* * * *


http://www.picturetrail.com/bestofour
by tkhooper on March 16, 2006 11:52 PM
If it's the smooth skined one you'll live to eat the fruit. If it's the bumpy old fashioned kind you and I will both pass away before it fruits.
Just remember that they need a female and a male in order to produce fruit. And although they like a lot of space you can plant the two trees in the same hole.
I haven't figured out how you tell which one is the female and which one is the male yet. I'm hoping bill will add that to his fact sheet on the avocado soon. otherwise I'm sticking two in each hole and hoping for the best. lol.
* * * *


by Bestofour on March 18, 2006 08:52 AM
I like both kinds. I'll come for lunch when yours produce.

* * * *


http://www.picturetrail.com/bestofour
Search The Garden Helper: