Stark Jumbo Apple- Anyone seen or own one?
Gardening Reference » Gardening in 2006
by DeepCreekLake on February 05, 2006 08:01 AM
Been looking through a bunch of mail order catalogs, looking for other apple trees to add to the home orchard- and saw the Stark Jumbo Apple (pic below) anyone seen, or own one? Anyone tried one of the apple (eating) before? Hard to believe an apple can get up to 2 and half pounds! I think it would be an intresting addition!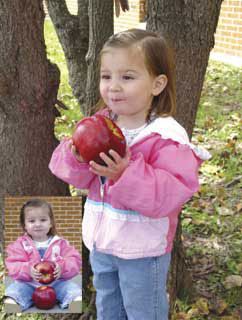 by tamara on February 20, 2006 08:37 PM
Never seen one personally but you can order a tree for $22.99 from Starkbros. The number is 1-800-325-4180. They say it takes only one apple for a whole pie, I would love to own one but my zone is too cold.
* * * *

Tamara's Photos
Thinking Spring, Thinking Spring...Nope, doesn't work.lol
by DeepCreekLake on February 26, 2006 03:02 AM
Yes I saw them in Stark Brothers Catalog they sent me. I have ordered from them last year, think I will add one to this Spring order!
by tamara on February 27, 2006 08:42 AM
Good luck with the apple tree DeepCreekLake. Your gonna be neck deep in pies.
* * * *

Tamara's Photos
Thinking Spring, Thinking Spring...Nope, doesn't work.lol
Search The Garden Helper: