Help with Camellia cuttings
Gardening Reference » Gardening in 2006
by floweringchild on December 03, 2006 04:45 AM
While out of town, say two hours away, I happened on beautiful camellia trees. Now I don't make it a practice of doing what I did yesterday, but I stopped the car and broke off several branches of the beautiful tree.

At the time I didn't know what it was, but figured it was in the camellia family. There was a nursery nearby and they identified pieces at camellia sasanqua. There were three various colors, white fushia and pink.
I just read about air layering. According to the article, it's 100% successful in March. Here I am in December with these three branches hoping I can root.

Any suggestions?
The trees these branches came off of were really something to behold. Just gorgeous.
I learned a wee speck more today!

Suggestions, advice etc. etc. Comments?
BTW, I have never air layered. Are there other ways I can root these plants, particulary at this time of year?
* * * *

by loz on December 05, 2006 02:04 AM
Not sure what to tell you to do this time of year, but I have a pink camellia sasanqua and I love it! Hope you get them rooted!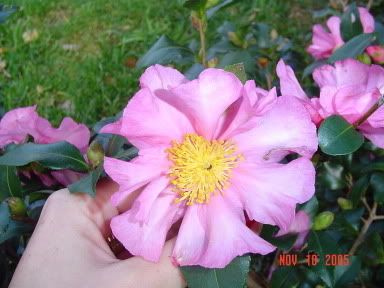 I was pretty sad this year, the cold made all the buds fall off and I barely got a flower...last year it was really warm.
by floweringchild on December 05, 2006 11:48 AM
Hey loz

Your camellia sasanqua is very pretty! Looks like I may not have any luck with my cuttings. Oh well, I learned more about camellias anyway.
Sorry your blooms fell off and you saw no flowers this season. Maybe next

I once planted a camellia years back with rotte

n luck.
Others with camellias?
* * * *

by markr on December 05, 2006 10:57 PM
it may be worth a try with some bottom heat from a propagator at this time of the year.
i have got them to root feb-march with bottom heat
* * * *

Mark
by luis_pr on December 12, 2006 05:02 PM
I have never tried rooting camellias because I am lazy and prefer to buy the plants but the process is simple, in theory.

Cuttings should have several leaf nodes and all but the top two or three leaves should be removed. Trim the remaining leaves by about half or less to reduce the chances of dehydration. Make a tapering cut at the base. The branches on your picture should provide you with many good cuttings. Apply rooting hormones and fungicides per label instructions. A 4-6" deep mixture of sand and peat moss (50/50) can be used as the rooting medium. Insert the cuttings to a depth of at least 4" in a 6" deep rooting medium. Keep the rooting medium moist, not wet. Cover with a transparent plastic soda bottle to keep the humidity high (this is why you need fungicides). Keep the plants in bright indirect light. The ideal time for doing this is during the summer. 6-8 months later you should have a well rooted cutting that can be transferred into a small pot. Keep the underside warm.

Air layering is a process that involves scraping off a piece of a limb and covering it with aluminum foil (plastic wrap, etc) & spagnum moss to develop roots. After roots develop in 3-6 months, you cut off the limb below the original scrape, soak in water and then plant. Remove excessive plant buds on the first year as air-layered plants will bloom on the first year. Note: because the limbs in your picture are not attached to the plant, you cannot air layer with them.

Good luck, floweringchild!
by floweringchild on December 20, 2006 03:34 AM
markr & luis_pr,
Thanks for your input. Sadly, I pitched the cuttings soon after. Luis-pr, I'm with you, think I'll purchase the plant.

I will post your invaluable information in my plant journal. Thanks again.
Oh, I was in the area of Ocean Springs, Mississippi this past weekend and just had to go back and take pics this time. The flower petals were dropping but did get a nice pic. Wanted to share this with ya'll. Of course the pic does not do justice to what I saw several weeks earlier. Owners trimmed down their white and fushia camellias.
Here's a close up of Camellia Sasanqua.
* * * *

by nmlAlba-dC15 on December 28, 2006 02:19 PM
Hi floweringchild and everyone...
i m also trying to root some camellia cuttings...mine r Camellia japonica i think... but wish i had come across luis_pr's tips before i started!! i didnt do anything to da cuttings except stick 'em in some soil!!
Here's a pic of my Camellia cuttings...
yucks i cant access my photobucket...yesterday was da same! But i posted da pic some time ago in Gardener's Chat...may b u can still take a look.
Then makr advised me to snip da buds off... which i did... well da leaves r still green up to date....but m not sure if there has been any encouraging progress...didnt notice any... itz been nearly 2 months now n i wonder if there r any roots yet.....n i wonder if i should apply some fungicide s our weather has been very wet with such a lot of rains...in fact a lot of other places r experiencing very bad floods...
* * * *

i believe that somewhere in da darkest night...a candle glows,
i believe for every drop of rain that falls...a flower grows....
Similar discussions:
Search The Garden Helper: