Late Bloomers (store-bought plants)
Gardening Reference » Gardening in 2006
by Patty S on October 08, 2006 02:02 AM
It's a good thing there's no such thing as a stupid question around here, because I think I have one!
I bought some potted Callas the other day ($2.99 at the grocery store... seemed like a bargain to me!)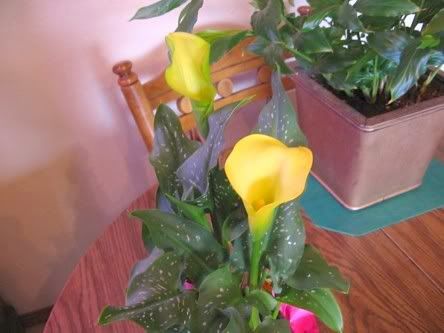 I'm wondering, since they're blooming now,
2 months after the ones in the yard
, are they going to bloom at the "right time" next year, or has their cycle been thrown off from being raised in a greenhouse. (I'm assuming they come from a greenhouse.)

My "Lilac Mist" Calla is done & gone, & the seed pods are drying on top of my piano.
I just love these plants, & thought it would look so cool to have the yellow & lavender ones blooming in my Lily garden at the same time next year! (My wedding colors, although that was several decades ago & the honeymoon is over... I still like those colors together!)

Oh... and why do the yellow ones have white spots on the leaves? I don't remember seeing that before.

(Different species or something, I suppose, huh?)
* * * *


by kennyso on October 08, 2006 02:29 AM
I wanted some callas for so long, you are so luck to get them for 2.99 each. The only tubers that I've seen are 3 for 11.99 and they were on sale. I'm pretty sure if you put them together when they go dormant they will wake up together in time for spring and they'll hopefull bloom together!
* * * *


Blessed are the meek, for they shall possess the earth
My Website
My Blog
by plants 'n pots on October 08, 2006 02:38 AM
Patty - those are soooo beautiful, and what a great price!!!
I've only tried to grow them twice.
Once from a neighbor who gave me some tubers - nothing happened, and once from store bought tubers - again, nothing happened!

* * * *


Lynne's knitting journal
"I'm spayed, declawed, and housebound - how's YOUR day going???"
by loz on October 08, 2006 02:53 AM
Oooooo, very pretty Patty!

by TulsaRose on October 08, 2006 03:30 AM
Dang, Patty...that is really beautiful and such a deal on the price!

That may be the Millenium Gold Calla...it has the speckled foliage.
I've been wanting to buy a couple to attempt to grow outside and leave in the ground without lifting for the winter. I have a perfect little micro-climate that I think they would do well in. I've been "window" shopping at
Pacific Callas
They have so many lovely pink shades that I can't make up my mind which I like best.

* * * *
Rosie z7a


by Patty S on October 08, 2006 05:17 AM
Kenny & Rosie, guess what?
There are TEN plants in that pot!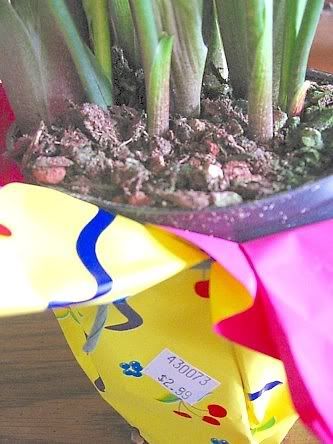 I thought that 3 bucks was a STEAL!
Thanx for the link, Rosie. I like the green 1 ...there's something about GREEN flowers that fascinate me! (I wonder what I'll wind up with, when my lavender & yellow ones cross pollinate next year!)

I wonder why you have trouble getting them to grow for you, Lynne.

I planted seeds that I got from my lavendar one last year, & plants came up just fine. (They were little... & no flowers, of course, but I didn't expect more than that on the 1st year, anyway.)
Do Callas come from tubers? (I thought they have bulbs.)

I think I'll dig one of mine up when I go ouside in a little bit, & take a look.
* * * *


by joclyn on October 08, 2006 11:11 AM
the purple calla's are gorgeous!!!

will you have enough seed to do some trades??
by roflol on October 08, 2006 01:21 PM
Patty, I got a great deal on callas too - $1 a pot for "hot chocolate" and there were probably 5 in each of the 3 pots I bought.... (but *apparently* there was a reason they were so cheap)...
... unfortunately I think they were mostly rotten, or I killed them, or something. I still have one that is putting out new growth in a pot but there's a portion of mush in that bulb/tuber/whatever-it-is. It reminds me of mashed potatoes or melted marshmallows, but with firmness in the healthier sections. The completely dead ones were all mush.
Does anybody know if I cut the "diseased" part off would this save the rest of the bulb, or is this a doomed calla?
And do you suppose whatever this disease or condition is has spoiled the potting soil now? If so, just for callas, or for everything?
This has me just the slightest bit bummed, I was really looking forward to seeing these callas come up!

by roflol on October 08, 2006 01:27 PM
lol, failed to say Patty that yours definitely were a steal - beautiful plants - *you win*!
Mine were already looking quite sad at the store, were on the bottom of the distressed rack, with half the leaves snotty and dead already. I can't help it, I'm a Charlie Brown when it comes to plants; I usually pick the underdog. They just looked like they could use a little help. lol
The hot chocolate has speckled leaves as well (unless that was a symptom of its illness, but I don't think so).
I need to learn more about callas.

by tkhooper on October 08, 2006 07:46 PM
It's a very bad idea to reuse potting soil. Even the pot needs to be washed in a 10% bleach solution before being used again to make sure the problem doesn't reoccure the next time you use it.
* * * *


by Patty S on October 09, 2006 01:12 AM
quote:

---

Do Callas come from tubers? (I thought they have bulbs.) I think I'll dig one of mine up when I go ouside in a little bit, & take a look.

---
Answering my own question here...
Yup, they're tubers.
Roflol, I've never tried cutting off the mushy part of a tuber, but when I thin out my Irises, quite often there's a mushy part on the rhizome
(probably last year's used up part)
, & I just trim that off & toss it... & the good part sprouts.

I suppose it's worth a try, but make sure the good part has an "eye" on it... or a nubby thingy. (I'd use some kind of rooting compound on it where you make the cut, just for safe-measure.) Let us know if it works!
As Tammy mentioned it's not a good idea to reuse potting soil, in case the plants had contracted a disease of some kind. It sounds like someone had overwatered those Callas before they were marked down, but decay invites enzymes & bacteria that can contaminate the soil, as well as the pot. (You don't want to start an epidemic in your garden!)

Joclyn
(& Norhaini... I got your PM)
, I only got 1 seed pod this year & it's just a small one... not very many seeds. My daughter just moved into a place with a yard & no flower beds, so she's planning her gardens & has already spoken for the Canna seeds.
(Sorry!)
* * * *


Search The Garden Helper: