orange pixie dwarf asiatic lily and sedum autumn joy
Gardening Reference » Gardening in 2006
by klozewski on October 02, 2006 12:46 AM
HELP-- i am new to any type of gardening and planted the mentioned above flowers, i live in CT and it is getting to be that time of the season, what do i do with them over the winter, cut back? how much ?

and especially with the orange pixie lilies, will they come in thicker next year??

thanks
by dodge on October 02, 2006 01:30 AM
klozewski

Welcome aboard..........Stay long and come often..This is a great place to Learn.. We're all learning........
Lilys in CT
I never do a thing to my lilies over winter.. I am zone 5 ......penna.
Notice you name sounds Polish or slovish...I am Polish........
Have fun.
dodge



* * * *

''''Those who live in the Lord Never See Each Other For The Last Time!''''
by neko nomad on October 02, 2006 02:24 AM
Welcome to the fascinating world of the friendly fellow gardeners, ski (sounds American to me)-- I agree with dodge (not related to de soto/ plymouth, are you)

: October is a good time to set lilies out; I pretty much let mine be, since they like to be left alone. Had bad luck replanting some martagons a couple of years ago.
Click on pic to link for an informative rundown on it: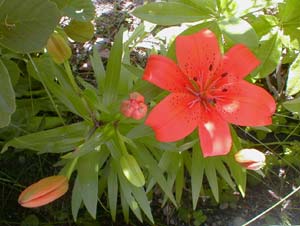 This site says to divide them every third year.
by sibyl on October 02, 2006 01:01 PM
Klozewski
im in zone 6. the winters are cold and freezing, i have autums joy sedums.ive never cut mine back. im too lazy when the cold weather comes. ill wait till spring then clean up the mess.just toss some mulch [i use leaves i rake up ]on them to protect them from the winter.

* * * *

Search The Garden Helper: