Snapdragons
Gardening Reference » Gardening in 2006
by Merme on July 23, 2006 11:25 AM
Maxi's Snapdragons have grown tall and beautiful and are ready to bloom any second. However, they are ALL leaning at a surprising angle, like they want to lay down.
Do Snapdragons do this ordinarily? Do they need stakes?
Merme
* * * *


"In the midst of winter, I learned there lives in me an invincible summer" Camus (maybe a paraphrase)
by justabloomer on July 23, 2006 12:45 PM
I would stake them if they are leaning. All the snapdragons I have ever grown were upright and never leaned. Are they deep enough in the soil? Are they in shade and are leaning toward the sunlight? They could just be top-heavy, too.

Good luck with them.

Charley
by loz on July 23, 2006 02:23 PM
We've never had to stake any here either....maybe they aren't deep enough Merme like Charley said. Usually if pushed down into the dirt firmly enough they'll be okay.
Is it very windy on your porch where they are at? Or are they leaning over that way towards the light?

This picture is just so not fair. Me and mom bought the same snapdragons from the same place. Planted on the same day. Both of us had fed them twice with the same thing. Hers are easily twice as tall as mine.

Must like her soil/location better I guess.
Moms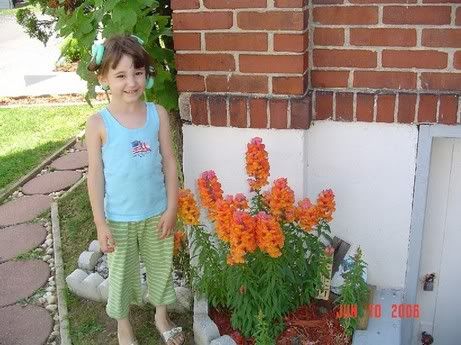 by tashmoo on July 24, 2006 08:21 AM
my snaps lean sometimes. they lean and then the flower/tops curve up toward the sky. they are definitely planted deep enough. i just assumed it was because they get so tall & top heavy. I grow them for cuts so i have a tiered netting system that works for me. if it's just a clump, a tomato/peony cage would work. -mara
by melcon6 on July 24, 2006 08:30 AM
What colors do you have, Merme? I love the color you've got there, Loz. Mine are called Rocket Red: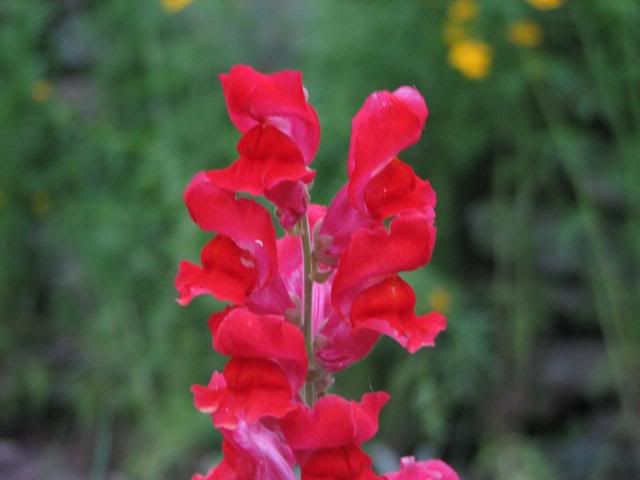 * * * *

HAPPY BIRTHDAY CINDY!!!!!!!
by tashmoo on July 24, 2006 11:21 AM
i've been working in the garden and i'm now pretty sure my snaps are leaning because they are not getting enough sun - enough to flower & flower nicely, but not enough overhead sunlight.
mara
by loz on July 25, 2006 03:57 AM
Pretty Mel!

I'm not sure what they are called, but they are orange and pink combined.

Mine are all in full sun, so they don't really seem to lean.....
Search The Garden Helper: