its a jungle in here!
Gardening Reference » Gardening in 2006
by eClaire on June 13, 2006 03:08 AM
here are some recent pictures of my crowded garden


i can't control myself and keep buying plants. i read on a posting here that kmart had $1.99 perrenials, and decided to drop by and see if ours was having a sale...and they are! i found a place for everything, but think i am maxed out in my little backyard.....i guess i could always buy more containers!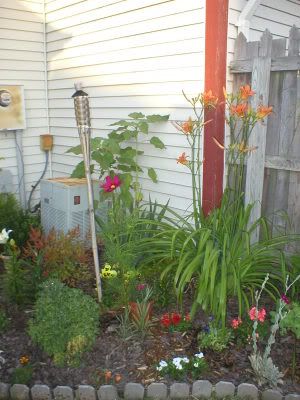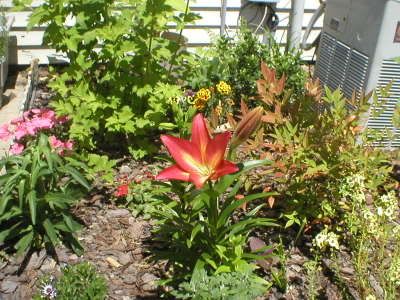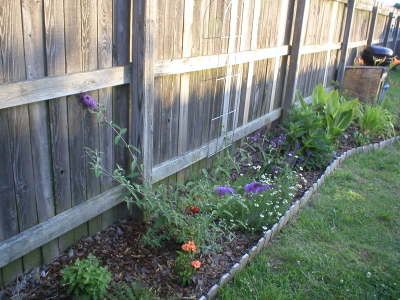 * * * *
Claire
by tkhooper on June 13, 2006 03:44 AM
I see lawn so you have plenty of room to expand lol. I am so bad. I've been eyeballing the neighbors patch of weeds lol.
* * * *


by joclyn on June 13, 2006 05:45 AM
my answer to having excess plants: expand the beds (who needs grass anyway??
)
your gardens look great!
by eClaire on June 13, 2006 07:11 AM
my hubby keeps pointing out that we are probably going to move within the next 2 years, and all this money will go to someone else's garden. I told him it will increase property value, but he seems to think that most folks want more lawn. I think less lawn = less mowing!

* * * *
Claire

by joclyn on June 13, 2006 07:20 AM
yes, more flower beds = less grass to cut!!
you can always take some of these plants with you when you move (bet he didn't think of that, huh?

)
by eClaire on June 13, 2006 01:11 PM
hahaha - no he didn't, and you can bet i'm taking plants with me

* * * *
Claire
by lilylu on June 14, 2006 02:59 AM
Yes, I see lots of pretty plants.....it is hard to pass up all those plants we see at the garden places......I'm the same way....just love them...
yeah, you could expand your garden, and I say bah humbug to your husband,


why not enjoy gardening now, even if you are moving in two years...it's a hobby and we don't give up our hobbies becasue were gonna move in two years....keep gardening and buying all the plants you want...you can take some with you when you leave.....
* * * *
"Seeing life through Rose-colored glasses!"
by eClaire on June 14, 2006 01:23 PM
i agree!! thats what i keep doing, he comes home and lets the dogs out and finds i've expanded almost weekly

he doesn't mind, he just doesn't understand. i think my shade garden is the next to get an addition, maybe this weekend.......
* * * *
Claire
Similar discussions:
Search The Garden Helper: