Christmas Cactus
Gardening Reference » Gardening in 2004
by Merme on October 30, 2004 04:42 PM
A week ago, I was given a large Christmas Cactus that was full of buds. It started blooming soon after, really lovely blossoms that are white with a gentle pink inside. I have never seen a Christmas Cactus up close and personal before and have no idea how to care for this one in the best way possible once the blooming phase is over. The research I did on-line confused me. Of particular concern is that it seems to be in a very small pot (4 in square) for such a large plant. Is this safe? And does the plant really need to be put in a closet at certain times of the year? I'd hate to damage this handsome plant through simple ignorance.
* * * *


"In the midst of winter, I learned there lives in me an invincible summer" Camus (maybe a paraphrase)
by plants 'n pots on October 30, 2004 06:44 PM

Hi Merme!
I have had a Christmas cactus (that's what it was sold as, but I'm pretty sure it is really a Thanksgiving cactus because that's when it usually blooms) for about 5 years now that flowers bright magenta with white inside. I bought it for $1 marked down at the nursery because it had finished blooming. This is one of my all-time favorite plants!!! I bought it in a 4 inch pot, and repotted it the second year I had it - it has gotten pretty big, but I don't want to disturb it again yet.
I have never put this plant in darkness to encourage blooms, and it flowers at least twice a year for me every year. It is about 4 feet from my east facing window and now has about 20 buds beginning to show.
This past August, while I was away, our new kitten knocked over the entire plant and a few sizable stems broke off. I put them in a small cup of water, and was amazed at how easily they rooted! I had tried to take cuttings before, but they always rotted before rooting - go figure.
Good luck with your plant - hope you enjoy many years of flowers with it!
* * * *


Lynne's knitting journal
"I'm spayed, declawed, and housebound - how's YOUR day going???"
by mom54 on October 30, 2004 07:09 PM
There are what I call Easter Cactus, Thanksgiving Cactus, and Christmas Cactus. To me they are all the same plant, blooming at different times. They do like being pot-bound, just make sure the roots don't take over. I have always just stuck the stem cuttings in a pot of soil and most of them have "grown up" to beautiful plants. My daughter has one that is almost a magenta with white. Even the all-white ones are really pretty. One thing I heard is that once it starts budding don't turn the pot, as the buds are very sensitive and will fall off easily. Don't know if that's true or not!!!

* * * *
by Merme on October 30, 2004 07:33 PM
Thanks so much for the information. Mine must be a Halloween Cactus because it surely is blooming to beat the band now. Tis The Season.
But oops, I didn't know about not moving it. I moved it last night from the kitchen counter to the kitchen table. Doesn't seem any worse for the wear. But thanks for the warning; I will certainly stop lugging it around the house until it stops blooming.
Your magenta versions sound beautiful. Now I want to go scouting for this fine plant in other colors. Also, a friend told me I should try something he called a "pothos ivy". Dunno what that is.
* * * *


"In the midst of winter, I learned there lives in me an invincible summer" Camus (maybe a paraphrase)
by plants 'n pots on October 30, 2004 08:00 PM
Mom 54 is absolutely correct in saying not to turn the plant once it has set buds. They will simply fall off if you do this.
I became like you, searching for different colors once I saw how beautiful the first one was. Now I'm on a mission each year after the season is over, looking for plants that are out of bloom so I can collect them at a lower price. Keep an eye out - even most grocery stores mark them down - I got several small ones last year for 50 cents!!! Put them together in one pot and they are doing well - no buds yet though.
Flowers on my original plant this past May: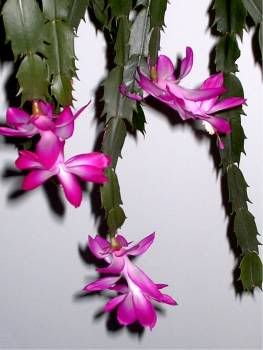 * * * *


Lynne's knitting journal
"I'm spayed, declawed, and housebound - how's YOUR day going???"
by Will Creed on October 30, 2004 10:32 PM
Holiday cacti (Thanksgiving, Christmas, Easter) are actually different species, but that is probably not particularly relevant to you. The bloom time depends a lot on the day length and temperature. In greenhouses, where the environment can be carefully controlled, they can force a holiday catus into bloom at almost any time of the year.

Don't repot your holiday cactus. It can stay in a 4" pot for a long time and will probably max out in a 5 or 6 inch pot.

The period of time between the emergence of buds and actual bud set (fully formed buds) is the time when the plant should not be moved because the buds are very sensitive to any change in light. Before and after that period, the plant can be rotated.

The dark nights are something that will help promote more flowers. It should be done in the fall and only at night.

I have written an article on the year-round care of holiday flowerig plants (Holiday cactus, Poinsettia & Amaryllis) that I will e-mail to anyone who sends their request to me at the address below my name.
by BoothX3 on November 01, 2004 10:35 PM
My Christmas cactus is about five years old and has not bloomed for the last two years. I have tried moving it to a darker part of the house in October to try and promote blooms for the holidays, but nothing seems to work. About a year ago my son thought he was doing me a favor and watered my plants and over watered the it.

I didn't realize this for quite some time when I found stagnant water standing in the pot. I dumped the entire pot onto some newspapers to dry it out and then repotted it in fresh soil, but I don't think it is going to ever fully recover. Some of the leave still look sickly.

Any suggestions, or should I try to find me a new Christmas cactus with the upcoming holidays?

* * * *
He who laughs last, thinks slowest.
by Rosepetal on November 03, 2004 09:28 PM
I too have had my "Christmas" cactus for 5 or more years now. Last year I had to move it to set up my villiage for Christmas, when I accidently bumped it over, I set it upright and tho't it might be ok. The next morning there it was on the floor again.

The pot had broken and many of the leaves were cracked off as well. So I had to repot it.
It did get a few buds after this mishap, but now the real test is coming this year.
For years I have been starving my plant in Oct. No water the whole month, and sure enough it bloomed beautifully, did this again this year so we'll see.

My plant was absolutly huge before it fell, I'm looking forward to seeing it grow this big again.

* * * *

For this "New Year" help me to be kinder and more loving to all around me, I pray.
by Robert Wright on November 04, 2004 01:54 AM
These cacti love sun. What i would do is just keep my plant in a south or west window and leave it there. The sun will promote growth and energy to produce flowers. Robert

* * * *
"Two Green Thumbs"
by Merme on November 05, 2004 08:27 PM
How does one propagate a holiday catus?

Merme
* * * *


"In the midst of winter, I learned there lives in me an invincible summer" Camus (maybe a paraphrase)
by Lily789 on November 06, 2004 02:48 AM
How do you propagate a holiday cactus?
Well, it's easy. Cut off a piece of stem with two "leaves" on it. Then stick it into soil, water, wait, and watch it grow! It's so easy to root them--they'll start growing soon and is certainly a great way to expand your collection.
The cutting I rooted last spring now has pea-sized buds! Can't wait for it to bloom. Even the momma plant has lots of buds too

!
* * * *
~Lily
by shamrock316 on November 06, 2004 07:28 AM
I have had a Christmas cactus for close to 8 years now (or more). It is starting to get buds right now and does so several times a year. It blooms beautiful coral blooms. It has been in the same pot for probably 5 years or more (about 10-12" across and 6-8" deep, ceramic), and probably needs to be re-potted but I'm almost afraid to disturb it. I have started several other plants from this one, and they have all done really well. All I did was when a leaf fell, just leave it lay in the sun (in a windowsill) and it would start roots and then I would pot. The first time, I'm sure this was by accident! I think most cacti do this, or I have heard that.
I just checked it and it is full of buds and seems like it has added 1/3 of its size. It's getting huge. It is gorgeous and very healthy, and I don't do hardly anything to it. Its "limbs" grow upright, unlike most that I have seen that kind of droop over the pot. I don't know if they are different types or what the deal is on that. Does anyone know? I keep it in front of a window that gets sun from the west, so I guess it is mostly afternoon. I never have put it in the dark to force blooms, but I do let it go awhile without watering, except when it is blooming.
Les

* * * *
If you find yourself banging your head against a wall, then maybe you missed the door.
by pinky on November 06, 2004 09:38 PM
It is interesting to hear the different experiences others have with their plants. I have 3 Christmas Cactus; one large (in my eyes) one small (belonged to my mother before she passed on) and another one in a small pot that kept falling over (losing earth at times) it's pot now sits in 2other pots, just so it will not fall over.
I treat all three the same; the large one gets some flowers every year -around Christmas; my mothers is in very poor condition and I plan to repot, however at the moment it has one bud on it. The one that is in many pots is in full bloom -BEAUTIFUL!- it looks like the picture above; every stem has a flower blooming or about to bloom.
How do I care for them -very poorly- I water them haphazardly, never put them out doors, move them from my east window (when I feel like it) to the west window and then if I think of it, I move them to the back of the room away from the west window. Excepting for when they are in bloom they are always on the floor -even in the winter, our cellar is not heated and the heat is
always turned down at night.
My big plant is still at the back of the room. The other two are now in the kitchen and living room -it is all open space.
If they lose their buds from being moved, then I should have lost all the buds on the one in bloom now, as I took it from the darkened area when it was in full bud; I have not lost one bloom.
I have to admit I am not the best house plant gardener, however I have been blesses this year.
IN LOVE AND LIGHT

* * * *
pinky

by plants 'n pots on November 13, 2004 08:54 PM
Thought I'd share my Thansgiving cactus coming into bloom a little early this year. This is the same branches that I posted above taken in May, only now it's after the cat knocked it over this past August.
* * * *


Lynne's knitting journal
"I'm spayed, declawed, and housebound - how's YOUR day going???"
by loz on November 13, 2004 10:28 PM
Mine's budding really nicely now and should be in full blooms of pink very soon!

Can't wait! This is close to it's 3rd year now!
by Jiffymouse on November 14, 2004 06:46 PM
well mine is looking healthy, but no buds yet... not in a hurry though, when ever it blooms is ok with me!
by madsquopper on November 15, 2004 04:37 AM
Here's one of ours that's flowered early this year since we had it outside in the cold.
Larry
* * * *
"It only takes one child to raze a village"
by Jiffymouse on November 18, 2004 03:26 AM

looking good larry!
Similar discussions:
Search The Garden Helper: