Help me with my African Violets!!
Gardening Reference » Gardening in 2005
by Blaise on July 05, 2005 03:49 AM
Hi there, a while ago I separated an overgrown pot of two African Violets into two. I planted them into AV compost. To begin with they were doing really well, but all of a sudden the peripheral leaves all started to go "mushy" shrivel up and start to die.
I know its not crown rot, as i only water it at the bottom, it has plenty of drainage holes and none of my other AV plants seem to be doing this!! They are in reasonably sunny areas.
Any ideas on how to revive them and keep them healthy?? Thanks!!
* * * *
by Will Creed on July 05, 2005 08:46 AM
Hi Blaise,

AV's don't like their roots disturbed. If you don't repot properly, you can easily lose them.

I see you are from Scotland. I am not sure that we have the same definition of compost here. However, AV's should be potted in a peat-based potting mix with no compost, at least as we define it over here.

AV's must also be very tightly potted. If you divided your AV, then both should have been moved into smaller pots than the original.

When repotted there is a slow period during which the roots must develop and some of the older leaves die back.

Do you have a photo you can post?
by Blaise on July 05, 2005 09:40 PM
by pcgrav on July 06, 2005 12:45 PM
quote:

---

Originally posted by Blaise:
I would...soon as somebody explains how to do that to me!

---
You will need to upload your photo into an online album such as
http://www.webshots.com/
http://photobucket.com/
http://www.imagestation.com/tour/upload_images.html
these are free to use-- once your pictures are here use the image button at the bottom of the FULL REPLY PAGE and insert the url into the box that pops up... you will need to delete the highlighted http:// then paste your url in and click ok.
Your picture should show up in your post.
Sidenote: I use photobucket and it has the option to just right click the image address underneath the chosen picture then copy then paste into your post. This works without using the image button at the bottom. I do not know if the other sites offer this feature or not. But they are all free to use...
Hope this helps you get your pictures on and
to the best gardening site on the web!!!
* * * *


Each day is a new beginning...What you begin is your choice.

The pleasure you receive from life is equal only to the attitude you put into it.
by Carly on July 06, 2005 10:17 PM
Well, you gotta' figure - AV's grow in Africa and they grow under things - so they don't like direct sunlight anyway.
Right - water from the bottom. Any plant that has a fuzz on its leaves doesn't like getting its hair wet.
My AV has a flower this morning, but it looks kinda' geeky to me - I don't think my plant is a good one, however, I persevere with it.
I have a couple of leaves sitting in soil to see if it will root. I've been told it will.
Mine has a little extra hair. My cat's! The only real place I have for it is on the windowsill and I put it right underneath Skitter's platform that Jeff built for her over the AC. Spoiled little brat, is that cat, lemme' tell ya' . . .
Good luck with your AV. We know success is possible because some people have a lovely collection - damn 'em all anyway - probably stay up all night watching them - ha ha!
* * * *

When sorting seeds, do not whistle.
by Blaise on July 07, 2005 05:06 AM
Hey pcgrav, cheers for the advice!! So here's fingers crossed that it works!!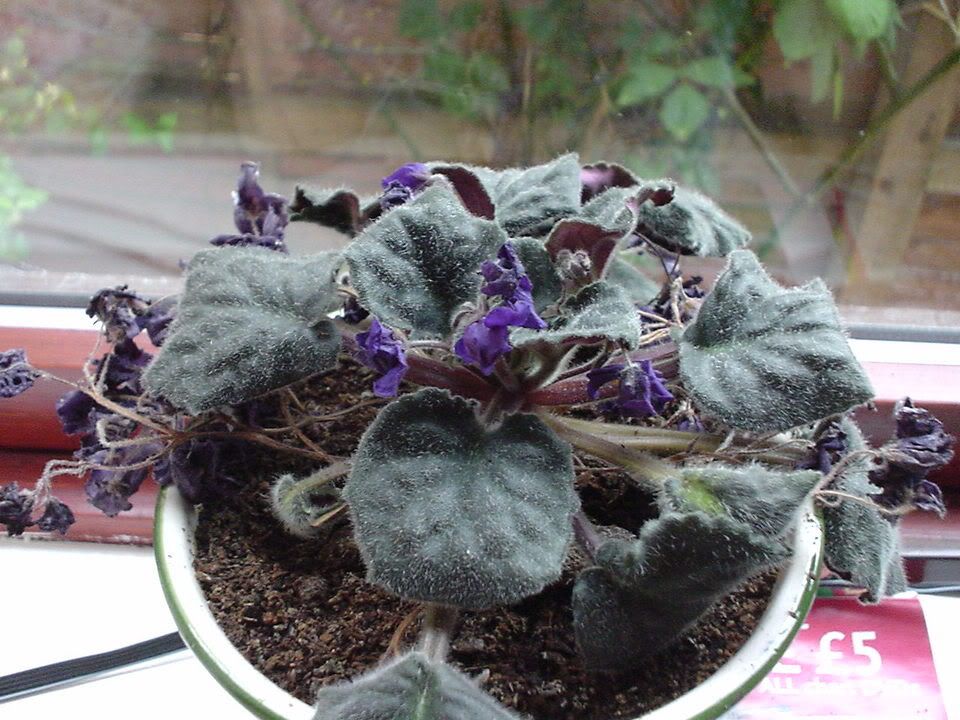 This one isn't doing very well as you can see...
This one sits right next to the one above and after splitting it, it is doing very well.
This has the same problem as the first picture!
This is another one of my many AV's any comments?
These have all been split from one plant that I bought about 5 years ago!! I have 3 leaves just now sitting in a pot of water...roots have started to develop.
Thanks for the advice as well Carly, much appreciated.
Thanks!
Blaise xxxx
PS, Will, check my aloe vera qs, I have managed to upload some pics.
* * * *
by pcgrav on July 07, 2005 05:14 AM
Hi Blaise!!
Glad you got your pics to work!!! I seem to have forgotten a minor detail though... Next time you post try out the PREVIEW POST button so you can tell how large your picturs are gonna be... They may need to be reduced on occasion

-- although you probably need the largest ones in this case to give a good veiw of the problem... I wish I could help with the plant, but alas, I am not an AV person... They've always seemed a little too fragile for me...
But again congrats on the pic posts and GOOD LUCK with the plant
* * * *


Each day is a new beginning...What you begin is your choice.

The pleasure you receive from life is equal only to the attitude you put into it.
by pcgrav on July 07, 2005 05:29 AM


* * * *


Each day is a new beginning...What you begin is your choice.

The pleasure you receive from life is equal only to the attitude you put into it.
by Cricket on July 07, 2005 05:48 AM
I never bottom water any plant, including AVs, because it is not easy to tell when the plant needs water. For me bottom watering leads to overwatering. To avoid wet leaves on fuzzy-leaf plants just water at the soil level.
by Will Creed on July 07, 2005 08:10 AM
Tricia knows her stuff and helps out like a Hostess! Are you on the payroll, Tricia? LOL!

Water on AV leaves is OK as long as it is not COLD water. So top watering is fine as long as you use tepid or warm water.

Blaise, it is apparent that the two ailing AV's are suffering from root disfunction. That means the roots are not absorbing enough water to keep the leaves and flowers from wilting. That might be because they never got properly established when they were severed and propagated. It might because they have rotted from staying too moist or from being in a pot that is too large. Or it might mean the soil got too dried out and the roots died from drought. In all three cases, the result is the same.

I suggest that you remove the aling plants from their pots and inspect their roots. I suspect you will see few if any healthy roots. If they are soft and mushy, then they have rotted. If they are dry and shriveled, then they were not given enough water.
by Blaise on July 08, 2005 03:52 AM
by butterflylover_52 on July 08, 2005 08:08 AM
Don't worry too too much about your violets. My mother has had the same AV for over thirty years. It has seen days much much worse than yours, no flowers, barely any leaves. She just left it alone, and it repaired itself. Don't do a lot of stuff to it- it tends to revolt if you do

. Hers' is thriving now and has been for about 5 years. Take a breath, yours will be okay. Good Luck!


* * * *
The Butterfly Lover
by Blaise on July 08, 2005 05:52 PM
Hey Butterfly, that's what I tend to do until they're dry and need watered...until this happened and I began to pay a little more attention.
Will, I took your advice. I think it was a pest problem. All the leaves and flowers seemed to be free of them, but when I got to the roots, they were covered in little insects...they look like greenflies, except some of them were white. Any ideas what these are? I decided to just let the AV go and haven't had the heart to investigate the other one yet, will do later on though.
That AV was on a window sill which was always slightly ajar (Not enough to a draft through) is that how the insects got into my plant? Should I keep all my other AV's away from slightly ajar windows?
Lol I'm making myself sound dumb.
Blaise xx
* * * *
by Will Creed on July 10, 2005 06:29 AM
Hi Blaise,

I hadn't anticipated critters being at the root of the problem. From your description, they might be aphids, although it is unusual for aphids to attack plant roots.

I don't know anything about Scottish creatures (besides the Loch Ness Monster, which I have seen many times!), but I doubt that they entered through the ajar windows. They were probably there all along in much smaller numbers or were introduced with that "compost" you use, if you repotted them. I suggest that you toss them both.

I also suggest unjarring the window to keep the Loch Ness Monster out.
by Blaise on July 10, 2005 05:41 PM
I've got rid of both of them. Seems a shame really, as none of the other AV's seem to have a problem, but that may be due to the fact that the compost has been sitting in a dark little shed for months; that's the only way I can think of them getting in.
I'm not afraid of the Loch Ness Monster! (Fondly known as Nessie) Well...not since I was a little girl anyway. Cheers Will.
Blaise xx
* * * *
by Will Creed on July 11, 2005 03:13 AM
Blaise,

One of the reasons I don't recommend compost for indoor plants is because there are lots of bacteria, fungi, and critters in compost that work well outdoors where the forces of nature (including natural predators) come into play, but are absent indoors. Sterile potting mixes made with peat moss avoid these problems.

I should have known you would be on a first-name basis with "Nessie!" Scares the crap out of me. I guess I am just a little girl!
by Blaise on July 13, 2005 02:23 AM
Thanks Will, I'll keep that in mind, I haven't seen sterile potting mixes around, maybe I just wasn't looking hard enough.
There is nothing to fear in Nessie, except how; she has managed to live for millions of years with a limited food source, how she has manged to evade all the explorers and - through many different pictures - how many different shapes and forms she seems to possess!
* * * *
by Will Creed on July 13, 2005 05:00 AM
Hi Blaise,

If you cannot find packaged peat-based potting mixes, you can make your own. Add one part perlite to three or four parts peat moss and throw in a bit of timed release fertilizer.

Are you suggesting that Nessie might not be real? I am shocked! Next you will be raising questions about the Easter Bunny and God! Perhaps you studied too hard for your exams! LOL!
by Blaise on July 14, 2005 04:35 AM
by loz on July 14, 2005 05:43 AM
quote:

---

I have a couple of leaves sitting in soil to see if it will root. I've been told it will.


---
Carly, mine did--it took quite a while and I didn't use any special rooting stuff, just popped some leaves in the soil....now there are all kinds of little leaves growing....The cool thing is I took a leaf from 3 different colored AV's...so when this gets big it should bloom in all different colors!!!
I

African Violets...I'd have a house full of them if I could...right now I only have 5 of them....One of mine has gotten really bad lately and I don't know why....I've had it for oh 3 years and I water and feed it regularly, just like the others...from the bottom.....All of a sudden the leaves started flopping over and dying...I have no idea what went wrong with it because my others are all fine...but I moved it outside in the shade and cut off all the flopped over leaves....I'm hoping that it makes a comeback! Keeping my fingers crossed anyway!
PS--I believe in Nessie....When I was little I watched and read about all of that unexplainable stuff.....I believe in Bigfoot too...
I'm serious...

by Will Creed on July 14, 2005 07:05 AM
Blaise,

Did you leave your broken tooth under your pillow for the Tooth Fairy or is she on your questionable list, as well!
by afgreyparrot on July 14, 2005 10:07 AM
quote:

---

...the Easter Bunny broke my tooth once I remember...still have a grudge against him .


---
quote:

---

Did you leave your broken tooth under your pillow for the Tooth Fairy or is she on your questionable list, as well!

---
...and this prompts me to ask the question...

...Is the tooth fairy a male or female?
* * * *



Buckle up! It makes it harder for the aliens to suck you out of your car!
by butterflylover_52 on July 14, 2005 10:34 PM
Hi, sorry that I haven't replied but my internet has been acting moody. I talked to my mother,
One: those bugs are called Aiphids (don't know if that's the correct spelling). Keep those plants away from others because they'll spread to the others as well. You need a spray to get rid of them. I would check your other plants that have been around the buggy ones.

Also- your leaves are dim because AV HATE Direct Sunlight. they need partial sun
g2get back to work!
-Butterflylover_52
by Will Creed on July 15, 2005 04:31 AM
Cindy - To each his/her own! Please remember we have a couple of students on this thread who may not yet be ready for you!

Butterfly lover - Tell Mom that aphids don't live in the soil. Do you perforn profesionally? Ballet, that is.
by Blaise on July 15, 2005 05:32 AM
Hey Loz, nice to speak to you outside of the newbie section! That's what mine did to begin with...I hope I'm not bringing bad luck! I had 7 AV's at one point, but as this thread suggests, I've lost two. But the three leaves I left in a bit of water have sprouted roots. That is such a good idea with the 3 different AV colours!! I definitely have to try that...nicking your ideas now too!
I had (actually still have) a teddy called Bigfoot from my childhood. He used to scare me and I refused to play with him, until my grandmother told me that Bigfoot was friendly!
Will, me and broken teeth don't mix!! My teeth didn't get wobbly until I was about 9 or 10, all my friends had lost at least one tooth already, so my loving parents sent me to the dentist, who taking a hammer type thing wacked my front teeth and said "There, now it's wobbly"

I'm not joking.
Afgrey, loved the question about the tooth fairy. I meant the Easter Bunny brought chocolate that broke my tooth!! But you're right, how would there be new fairies if all the fairies were female?
Thanks Butterfly, I'll check, but the others seem OK. Now you've got me all worried...
Blaise xx
* * * *
by Will Creed on July 15, 2005 06:23 AM
Blaise,

Maybe you should take a hammer to that dentist!
by Blaise on July 16, 2005 03:14 AM
by butterflylover_52 on July 20, 2005 01:19 PM
Oh no!
I didn't mean to scare you!
I just don't want your plants to get eaten!
Whatever those bugs are- I hope everything turns out ok with your violets.

Hi Will,
I don't do ballet pro right now- still in college. But I've made some money doing Modern dance for pro choreographers' shows.

* * * *
The Butterfly Lover
by Blaise on July 20, 2005 06:38 PM
by Will Creed on July 22, 2005 09:20 AM
Butterfly,

Where in RI are you in school? I have spent many summer weeks on Block Island.

Will
Search The Garden Helper: