Are these seedlings too "leggy"??
Gardening Reference » Gardening in 2006
by heidi_ho80 on March 21, 2006 09:12 AM

Hello Everyone I am a pretty new gardener I tried to start seeds last year and failed. This year I have done some things different and so far everything has lived. I planted these over the course of the last 2 weeks. I would like to know if I should re-start some of these plants because they are too leggy. I am not even sure what is "TOO" leggy. but I look at a lot of the started seed pictures and most of them don't look as long and spindly to me. My morning glories are about 4 inches or so. I started all of these seed in front of a east facing window. I just moved them all under a 48 inch floresnt light, but I am not sure if they will "recover" What do you all think? Leave them? Start new ones? Also how long should I leave that light turned on? 24 hours a day or like 12 on 12 off?
Here are some pictures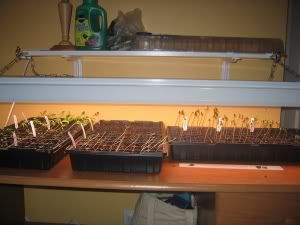 by peppereater on March 23, 2006 02:04 AM
Heidi...move the lights down until they are practically touching the plants...I'd get a second fixture so all plants have LOTS of light...put a fan in the room so that it stirs the plants slightly, this will strengthen the stems.
* * * *

Dave
Even my growlights are getting restless!
by peppereater on March 23, 2006 02:17 AM
Oh, and as for the time....Some people recommend leaving them on 24 hours. I turn mine on when I get up and turn them off when I go to bed.
* * * *

Dave
Even my growlights are getting restless!
by Ironside on March 23, 2006 08:53 AM
I would re-seed your plants, and when they germinate, keep the lights about two inches from the plants.
by rozy221 on March 25, 2006 03:36 AM
what type of plants are they? I know vegies you can plant most almost up to their first true leaves, so what i've been doing is, as they start to get leggy, I put them in a deeper pot-but not yet above the first seedling leaves--not sure if the same goes for flowers, but I guess I'll find out seeing as I did the same for them too. Hope this helps-good luck!
by heidi_ho80 on March 25, 2006 08:34 AM
Thanks for the input so far. I think I will try that with the veggies at least, Rozy. The fan is a good idea too I heard that helps prevent "damp off" as well. Now that I have had them under this light they have stopped streching out and the younger ones are real short so that is good. Thanks again! I will let you know how it goes.
Search The Garden Helper: