Amarylis care
Gardening Reference » Gardening in 2006
by Patty S on November 19, 2005 02:54 PM
My Mom wrote to me today & asked, "Do you have any idea why my Amaryllis wants to spread it's leaves like it's weak or something? Maybe the 2 big buds that are getting tall are pushing the leaves out of the way. Will it hurt to cut off the outside leaves?" (She does have it staked/tied & knows that they don't like too much water. Her apartment windows face the SE & get reflected bright daylight, but not direct sunlight.)
I told her that I don't think it would be smart to cut any leaves off because plants rely on their leaves for photosynthesis, so it might die off without them. (Besides looking stupid!) Although I love to look at Amaryllis (& think they're among the very weirdest plants on the planet, with their freaky rapid growth & top-heavy blossoms), I know nothing about their care.
What should I tell her? Do maybe the leaves need to be supported, as well as the stem?
* * * *


by obywan59 on November 19, 2005 04:33 PM
I just potted my 2 Amaryllis bulbs up this morning. (okay, yesterday morning: I haven't gone to bed yet). One of mine did the same thing last year, and I attributed it to getting too dry. I have my bulbs at a west window in my living room about 5 feet away from my wood stove, so they tend to dry out. The year before I didn't have that problem with the floppy leaves.
Maybe I overcompensated and watered too much?? One way or the other, dry or wet, I think it's a moisture problem.
* * * *

Terry
May the force be with you
by tkhooper on November 19, 2005 05:03 PM
When I did one I ended up with one big heavy decorator pot a bunch of gravel filler and then the real pot centered inside the big one. And yes it did seem to me that the stems of the flowers were pushing the leaves out of the way. But I'm a beginner and I make more mistakes than accurate observations.
* * * *


by obywan59 on November 19, 2005 11:07 PM
Now that I've had more time to think about it, I seem to recall that my amaryllis leaves were drooping before I watered it. Then the leaves never recovered.
* * * *

Terry
May the force be with you
by cinta on November 20, 2005 11:28 AM
Usually about this time of the year the leaves start to drop down and start to yellow just cut them off and water sparingly. The leaves that grow during the summer feed the bulb to flower in the winter.
I keep mine outside all summer. When I bring them in the leaves start to drop. I think it is a light problem because of the shorter daylight hours. Mine bloom about Feb or March.
Sometimes when they bloom they have leaves and sometime they do not. If you have had leaves for at least 5 months you will get flowers. When the flower starts it should be in the sunniest window you can give it and once the flower opens move it back from the light and the flower will last a month.
If you want it to look decorative without the leaves put some moss around the bulb. That is the way you usually see them in the ad for armarylis.
* * * *
http://www.flickr.com/photos/audwoman/
If you want the rainbow you have to put up with the rain!!
by obywan59 on November 23, 2005 01:34 PM
My droopy leaves occurred after new growth resumed after dormancy. All the old leaves had already died back or had been cut off. I had another amaryllis sitting right beside it that didn't have the same problem. The second pot was different, though. It had no drainage holes. I think I just neglected the watering for too long and the pot with drainage holes dried out and wilted sooner than the other.
They say to water when the top inch of soil is dry, but I've never really paid that close attention.
* * * *

Terry
May the force be with you
by TomR on December 10, 2005 08:28 PM
Do not cut off any still green leaves. They are needed by the bulb.

Tom

* * * *
My memory's not as sharp as it used to be. Also, my memory's not as sharp as it used to be.

by Bill on April 25, 2006 02:17 AM
Amaryllis care
* * * *

by twwright on April 25, 2006 04:50 AM
Here in Central Texas, Zone 8, near Austin I have grown these beautiful flowers for a decade at least. As noted above, if you plan to grow them indoors and buy them in a pre-packaged gift box then all you need to do is water it initially and watch it grow. However, I like to grow them outside! Once finished, I wait for the leaves to turn yellow, cut them off about two inches above the nose of the bulb and put them in an extra refrigerator we have in the garage, the crisper to be exact. After 6 weeks or more I plant them outside in a spot I have reserved for them. After that I leave them alone except to feed them twice a month with Super Bloom. I occassionally have tried Super-Phosphate or Triple Phosphate to see if there is any benefit to the flowers themselves. I leave them planted all year long only to remove spent leaves and they do great, coming back year after year. This won't work in all Zones but it's worth trying as an experiment. The bulbs here only cost $2.50 each so a loss of one isn't going to hurt anyone. The rewards are incredible! I have neighbors walking down the street come up to me outside and ask me "What on earth are those beautiful flowers?", and "Where can I get some of those?" I just love that! Hope this helps.
by njoynit on April 25, 2006 07:44 AM
I grow mine in the garden bed also.They bloom 'normally-non-forced' in April.My apple blossom just finished blooming.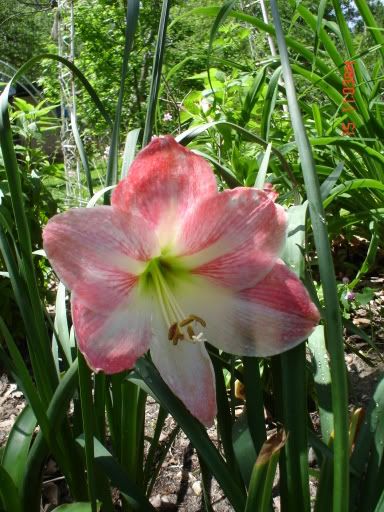 Th bulbs also grow larger in size in ground& I just leave my off sets in place.I use to do the force bloom deal.I used terra cota azealia pots and had them sunk in larger pots.But is easier for me to just plant it and let it run its course.I'm a zone 8b.I do rake some leaves over the beds& thats about it.
* * * *


I will age ungracefully until I become an old woman in a small garden..doing whatever the Hell I want!
http://community.webshots.com/user/njoynit03
http://community.webshots.com/user/njoynit
http://photos.yahoo.com/njoynit03
Similar discussions:
Search The Garden Helper: