ideas for easiest to maintain
Gardening Reference » Gardening in 2005
by Nurse Kate on March 26, 2005 05:47 AM
I am the greenest (meaning newest) of green thumbs. I want something beautiful, and colourful that is very easy to keep as I may not be able to tend to them every day. (I'm not asking for a lot am I?)

Impatience are the favorite around the complex, something different would be nice.
* * * *
When a child is locked in the bathroom with water running and he says he's doing nothing but the dog is barking, call 911. Erma Bombeck
by afgreyparrot on March 26, 2005 07:01 AM
My 5 year old grandson planted these last summer, and the summer before that when he was 4, etc...
That's how easy they are!
ZINNIAS!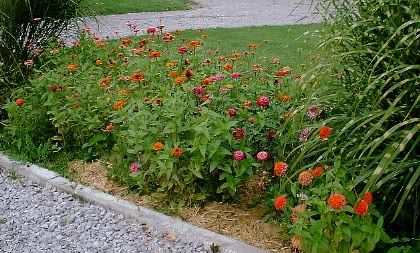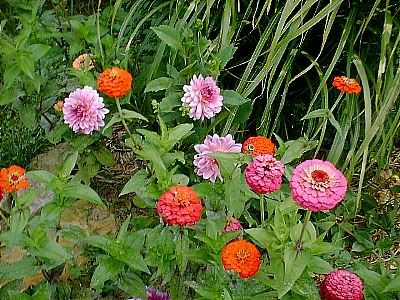 Cindy
* * * *



Buckle up! It makes it harder for the aliens to suck you out of your car!
by Cricket on March 26, 2005 07:04 AM
Cindy, your grandson takes after his Granny Cindy!

Please tell him he did good and I hope he shows us this summer's accomplishments.
by BFVISION on March 26, 2005 02:03 PM
If you are talking about annuals, then zinnias are a sure winner

. Purchasing them from your local nursery or growing them from seed will give you a bountiful crop. They appear small when they are in the nursery tray

, but by mid to late summer they are crowding everything around them so don't be shy about spacing them out. Also dont

put them in the front of your beds if you want to see whats in the back.They make great additions to the cut flower vase and bloom until frost. Another winner that is easy to grow, drought tolerant, and comes in a variety of colors and sizes are marigolds.
GOOD LUCK
BFVISION
* * * *
BFVISION
http://www.imagestation.com/album/?id=2122269418&mode=guest
by tkhooper on March 26, 2005 02:15 PM
If your nursery has moss roses they are easy care and really pretty, we had a mess of them last year and I just loved them. They too are an annual.
Is your patch sunny, shady, dry, moist? That would help narrow down the types of plants that would work. Also if you know your growning zone.
* * * *


by Nurse Kate on March 26, 2005 05:59 PM
Thank you so much for your suggestions!! Those Zinneas are gorgeous! I can't thank you enough!

Search The Garden Helper: