2 plants I would love help identifying
Gardening Reference » Gardening in 2006
by Amber Petersen on January 12, 2006 02:20 AM
Can anyone tell me (1) what these two plants are? and (2) how can I take a peice...lol.
This one has nice pink flowers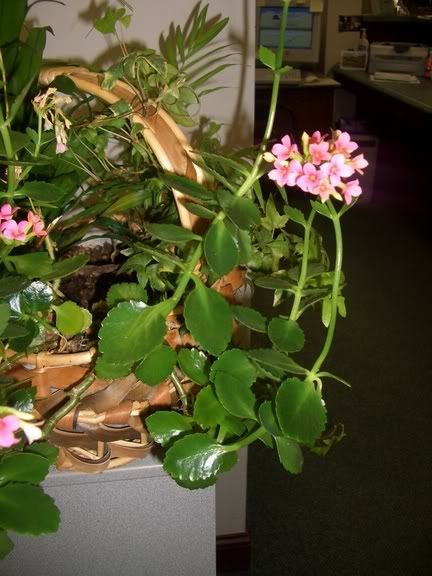 and this one is only tiny so I'm not sure about taking a peice off of it, but I would still like and ID if anyone knows. It's kinda fuzzy and it looks like it had a long stem that might have had a flower? guessing that because the long stem part is now dead.
Thanks a lot for any help.
* * * *
Amber
by kirksgirl on January 12, 2006 05:00 AM
The top picture looks a lot like a Kalancho,it has the thick waxy leaves and stems, and the little clumped flowers. But I could be wrong. I took one of my Kalancho leaves and put it back into the soil and it rooting- Is that you meant mby taking a piece.
by RugbyHukr on January 12, 2006 05:34 AM
kalanchoe
Variegated Semi-miniature african violet
* * * *

I love the sweet scents wafting in the breeze. I stop to admire the vibrant colors of all living things. And people think me odd. Then ODD I am!!!
http://community.webshots.com/user/flugnash
by Amber Petersen on January 13, 2006 12:51 AM
Umm...so no guesses on the second yet? And I think I will just try to take a cutting and dip it in some root hormone, see if it will grow. I don't have near enough flowering plants in my apartment, and since I'm looking after Ian's while he's gone for 3 months....

heehee
* * * *
Amber
by Bill on January 13, 2006 01:09 AM
The second plant is a
Polka Dot Plant
(Hypoestes)
* * * *

by Amber Petersen on January 13, 2006 02:49 AM
OOO!!! I really want a polka dot plant (I've seen some cute photos) This one is a bit TOO small to be taking peices though...I guess I will have to get my own.
* * * *
Amber
by Amber Petersen on January 13, 2006 02:51 AM
Do polka's bloom?? Was wonder what the long stem thing that was coming from it was. (it's brown and mostly dead now)
* * * *
Amber
by Bill on January 13, 2006 02:58 AM
They get a stalk of tiny blue "nothing" flowers. If allowed to go to seed, the plant will die so I always pinched the flowers off right away.
* * * *

by dodge on January 14, 2006 10:05 AM
Can I put my 2 cents in?

i had a polka dot plant and it was pink and green. It wasnt fuzzy ........I was ...
they are nice though.
I agree with Kol. it is all types.

dodge
* * * *

''''Those who live in the Lord Never See Each Other For The Last Time!''''
by Bill on January 14, 2006 10:23 AM
Polka Dots can have different shades of white, red or pink dots. The new growth is fuzzy, mature growth isn't.
* * * *

by margaret e. pell on January 23, 2006 04:20 AM
Maybe #2 is a fittonia. Someone just asked about one and I didn't know what it was, so I googled it. The pics reminded me of yours.
http://images.google.com/images?client=firefox-a&rls=org.mozilla%3Aen-US%3Aofficial_s&q=fittonia&hl=en&btnG=Search+Images
* * * *

may God bless the WHOLE world!
by GardenGuy_Gardener on January 28, 2006 09:19 AM
I just got a dish garden with them and i no what they are. the top is a Kalancho and the second is a polkadot plant. They're both very pretty!
* * * *

The good thing about snow is that it makes your yard look just like your neighbors!
Search The Garden Helper: