Helping Spider Plant Babies Grow Up
Gardening Reference » Gardening in 2006
by Patty S on October 20, 2006 07:01 AM
I had given a gal pal some Spider plants this spring, & now she wants to know what to do with the babies that have formed on the runners, sent out by the Mommy plant. I don't know how other people get them started on their way to growing up & becoming Mommy plants themselves, as I suppose there is more than one way.... but this is how I do it.
The babies can stay on the runners for a long, long time, but if you want to you can snip them off & start them rooting. I've never had any luck just sticking them in the dirt with the Mommy plant, because it's hard to keep the soil wet enough without over-watering Mama & causing damage to her. (I think that can be done though,
without
taking them off the runner.)

They're so easy to root in water, it just seems like the easiest way to deal with them, & it's always worked for me.
Being a genuine retired school teacher probably won't happen until I'm six feet under, because I keep coming up with things to go back to the school for... I talked to the 1st/2nd grade teacher this morning & will be taking about half the babies off my wall next week
(there are 22 of them)
, & taking them in to the kids so they can start rooting them.
After a few weeks with their bottoms in water, the plants will have established their initial "water roots" & will probably be ready to start making some "dirt roots".
Putting a water-rooted Spider plant directly in a pot with soil will often result in a dead plant, so we'll be adding a bit of potting soil every few days (keeping it pretty soggy at first, so "dirt roots" can form), until we've finally got potted Spider plants for the kids to take home as Christmas gifts.
(Once the plants have settled in, holes will be punched in the bottoms of the pre-decorated Styrofoam cups, to provide proper drainage.)

Established Spider plants DO NOT like to have their feet wet!

To illustrate the difference between the two types of roots:
This one has been finished making of "water roots" for quite some time (the thicker, green ones), but I just never got around to adding dirt until a week or so ago. There doesn't seem to be a set "time limit" for the water-to-soil process, but when "dirt roots" are well established, adequate drainage is essential.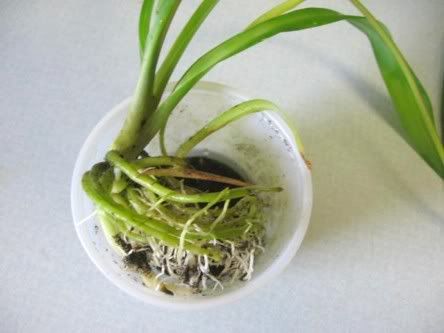 The new white roots, that you see here, are the "dirt roots".
(I removed it from it's soil/water mixture & rinsed the roots off, for this picture.)
*** I haven't done it myself, but I would think that they would develop a healthy set of roots from the beginning --
without rooting them in water first
-- if the crowns were to sit in soggy soil for a week or so, gradually letting the soil become dryer as the roots form.
* * * *


by Jiffymouse on October 20, 2006 08:08 AM

that is how i do mine patty. AND, if you leave them attached to momma, they can be put in normal soil and just watered when you water momma. done that too.
by Triss on October 20, 2006 10:05 AM
Thanks for that information Patty. Since I have my first baby, I will be needing that to let it grow up to be its very own plant.
* * * *


We are all under the same stars... therefore we are never far apart.
by treelove on October 24, 2006 10:10 PM
Thank you, Patty!
My spider plant is having its first baby, so the info is very useful. I want to grow the little one for my brother and his wife. Their son is due at the end of November, and I heard that spider plants are good for nurseries because they clean the air

. So I thought a young spider plant would be a great present. Thanks again,
happy gardening,
t.
* * * *
I am so happy I found this forum!
by Tonya on October 24, 2006 10:34 PM
What a thoughtful gift for a new baby!

* * * *


Bote and Babe's World
by joclyn on October 25, 2006 12:30 AM
a friend gave me a bunch of babies...some were too tiny and didn't make it (didn't help that the cat got to the pan of water i had them in).

i've managed to get 3 to root properly in water...

thanks for the pics! comparing it to the one i've got, it's definitely ready to start putting soil in the water so that it can start forming proper roots!

that's a great idea for the babies room!!!
by shanbear on October 26, 2006 12:13 AM
Thanks for the helpful info- I want to get a spider plant (my house is much too bare right now) and everything you said will come in handy.
Thanks!
* * * *


Search The Garden Helper: