How to Grow and Care for Vine Maple Trees
Acer circinatum
















Vine Maples are native to the Pacific Northwest where they are usually found in moist woods or along stream banks.
Once established in the landscape, they will tolerate almost any level of watering.
Your Vine Maple Tree, Acer circinatum, is a close relative of the Japanese Maple, Acer palmatum.
Vine Maples are multi stemmed plants that are excellent plants for erosion control,
their flowers provide food for butterflies and the seeds feed birds, squirrels and chipmunks!
This easy to grow Maple tree is hardy in USDA zones 5-9.

Growing Requirements for Vine Maple Trees

Vine Maples adapt and grow well in a wide variety of soil types,
but will grow best in a slightly acidic, humus rich soil.
They tolerate varying levels of sunlight,
which, to a certain point affects the coloring of their beautiful fall foliage.
When grown in deep shade, the foliage turns to a deep golden hue,
but when grown in full sun, they will turn to brilliant shades of red and orange.
Vine Maple trees that are grown in full sun require regular, deep watering.
A yearly top dressing of compost is usually all the feeding your Vine Maple will need
to keep it healthy and growing strong.
Provide protection from strong winds.
Pruning and Propagating Vine Maples

Vine Maples grow to a height of 15-20 feet, but they can be kept to a more compact size by regular fall or winter pruning.
If the stems are allowed to lay on the ground, they will root and produce many new upright branches,
quickly becoming a large colony of trees.
These self-layered branches can be cut from the cane and replanted to propagate new Vine Maples.
Vine Maples can also be grown from seeds that will germinate faster if given a couple weeks of chilling in the freezer
before planting in a cold frame or directly into loose garden litter.
Vine Maple Tree
Acer circinatum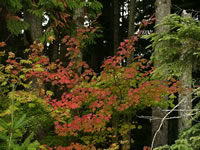 Search The Garden Helper: