How to Grow and Care for your Pink Snowball Tree
Viburnum bodnantense 'Pink Dawn'









Pink Dawn Viburnums produce clusters of small red buds that open to fragrant, bright pink flowers from mid-winter to early spring.
When the foliage first emerges in the Spring, the three to four inch leaves are a deep bronze color.
The deeply textured foliage. will change to dark green by mid Summer, and then turn to different shades of red in the chill of Fall.
These deciduous shrubs grow to a height of 8-10 ft. tall and 6 ft. wide
Viburnum bodnantense is hardy in USDA Planting Zones 6-9
Viburnum Growing Requirements
Viburnum 'Pink Dawn' plants should be grown in full sun but will appreciate a little afternoon shade in hotter climates.
They grow best when planted in rich, moist, well drained soil.

Water regularly during the first growing season to establish a deep, healthy root system.
Feed your Pink Snowball bush yearly with an all purpose, balanced fertilizer before foliage growth begins in spring.
Unfortuantely, a hard freeze can kill developing flower buds, depriving you of the current year's show of pink flowers.

Pruning and Propagating Viburnum Plants

Prune annually for shape, after flowers fade in the sppring.
Remove any dead or broken branches at any time.

You can easily propagate new Viburnum plants by taking softwood cuttings in early summer or hardwood cuttings taken in the fall.
Pink Snowball Tree
Viburnum bodnantense
'Pink Dawn'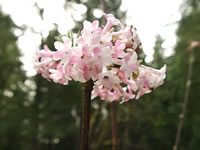 Search The Garden Helper: