How to Plant and Grow Japanese Pachysandra Plants
Pachysandra terminalis







Pachysandra terminalis is commonly known both as Pachysandra and as Japanese Spurge.
It is a very easy to care for, durable, low growing, mat forming, slow spreading ground cover plant that
grow on thick, un branched stems to about 6" tall in partial shade and 10" in deep shade.
Japanese Spurge forms a dense, dark green carpet of 3" leathery evergreen leaves with serrated edges.
Pachysandra is an excellent plant choice for growing under trees
and in other areas where other plants refuse to grow.
A variegated variety of Pachysandra terminalis is also available.

Plant Pachysandras 12 inches apart and pinch back the tips occasionally for the fastest ground coverage.

Japanese Spurge
Pachysandra terminalis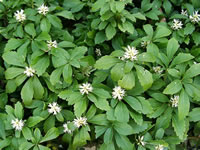 Search The Garden Helper: