Stinky Ivy
Gardening Reference » Gardening in 2006
by Tonya on August 04, 2006 11:41 PM
I brought home some ivy(not sure what kind) from my mom's house a while back and have had it in water because every time I put it in soil it wilts terribly. I had been noticing a horrible smell in my kitchen and finally discovered it was the ivy


It smells like sewer. YUCK!! I gave it clean water and rinsed the roots very well and moved it outside, but any suggestions on getting the smell to go away? The taproot is "shedding" for lack of a better term. Very odd...I have never had this happen and I am the queen of leaving things in water so I can't screw up the watering...

Here is a pic of the leaves: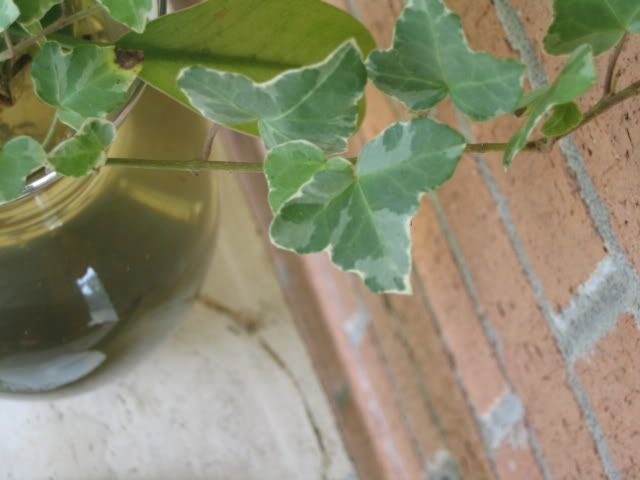 * * * *


Bote and Babe's World
by angelblossom on August 05, 2006 09:13 AM
I don't know about the plant itself but if there is water standing for too long in the bootom of the pot it becomes stagnit and will develop a smell.. When I first started with houseplants years ago,, I had a habit of leaving water standings untill I discovered the smell I would do just as you did rinse it off and put it in a pot with soil soak the soil good and let it drain really good then water again so the water that should stay in it.... does.. But the Ivy you have looks like the kind we have here that climbs the outside of homes and building and it is very dry here but they are everywhere But you have your in a glass If you want to keep in a jar of water just change the water out morre frequently and clean the jar cuz it will hold the smell too

* * * *


Sorrow looks back, Worry looks around, Faith looks up!


http://photobucket.com/albums/e374/2thtek/


by TulsaRose on August 05, 2006 09:28 AM
Tonya, I went through that once and before I finally discovered where the smell was coming from, I had thrown out everything in the fridge and freezer, looked for standing water under the house, hauled off tons of stuff out the garage, thinking it might be a dead animal. lol! Now I know to change the water more often of all my babies I'm rooting.
Your ivy appears to be Variegated English Ivy.

* * * *
Rosie z7a


by Tonya on August 05, 2006 11:30 AM
It had only been in the water for about 2 weeks and I have another that has been in much longer and is fine...I will try repotting again! Thanks!

Rosie, I thought something had died, too!!!
* * * *


Bote and Babe's World
by Squirrel on August 05, 2006 11:40 AM
Tonya, that is pretty ivy. Hope you can stop the stinkies so you can keep it. Good Luck with it.

Sue
* * * *


What goes around comes around, so be nice!lol
Similar discussions:
Search The Garden Helper: