Hibiscus care in Maine....
Gardening Reference » Gardening in 2005
by Marci on October 22, 2005 11:08 PM
Any information on it would be appreciated.
I have an inherited hibiscus. Friends of ours are fantastic landscaper and try to grow different types of plants, including exotic ones, meaning needing to be pulled up and brought inside for the winter months. They donated this plant to the library i work for last fall and it nearly died because of the lack of sunshine thoughout the winter months there. Last spring I brought the nearly leafless plant home and they instructed me what i should do. Plant it in the ground and then dig it up come fall. I refused to do that cuz i wasnt really attached to it at the time, so they told me what I could do and possibly rescue it. I bought it home and placed it on my lawn, in the pot it was in. It thrived for the most part, blossumed beautifully and im loving it now. I brought it into the house about 4 weeks ago and it lost just a few leaves from shock i guess, it budded and from that point on we had rains and more rains, dreary dreary days for a couple of weeks anyways. I was worried, the plant dropped way to many leaves, but the bud still blossumed and was beautiful again. Any pointers for me?? Its a keeper and I will plant it into the ground come spring.
Thanks in advance..
Marcia

* * * *
Sunshine on, it not only makes you happy, it makes your hibiscus happy too!!

by Safari Barbie on October 23, 2005 01:32 AM
I'm assuming you're talking about a tropical hibiscus. You were actually very correct in not planting it in the ground. As the name implies, it can't handle cold temps - much below 40's for more than a couple of days and it's doomed.
It is in shock, you're correct about that. This is "normal" for these plants and it should recover. Are there small baby leaves starting along the branches? That's a definite sign that it's acclimating to its new location.
FYI - the leaves live about 8 months, then turn yellow and fall off. It's no cause for alarm, as long as not ALL the leaves do this at once!
Next summer, don't plant it into the ground, but you can give the impression that it's planted by burying the whole thing, pot and all. Then, come Fall you can just lift the pot out. MUCH less stress on the plant and you!
Winter: if you can, keep it next to a window with several hours of bright sunlight. Water less now since it won't be growing as much as it did during the summer. Fertilize less also. It should keep on blooming for you.
If you don't have the room or the window with bright light, you can put it in a cool location that doesn't get too cold and it will go dormant. Here's a very good link with info on growing these up North.
http://www.trop-hibiscus.com/index.html
Hope this answers your questions.
Barb
* * * *
Barb
Southern coastal North Carolina
http://community.webshots.com/user/safari_barbie
by melcon6 on October 23, 2005 03:40 AM
Here's my "Hibiscus in Maine", but I don't dig them up or try to save them, it's a killer $14.99 from my gardening budget each year, but I'd rather do that than try to fret over it all winter long. I only have one tiny south-facing window in my whole house and it's on the woods side of the house.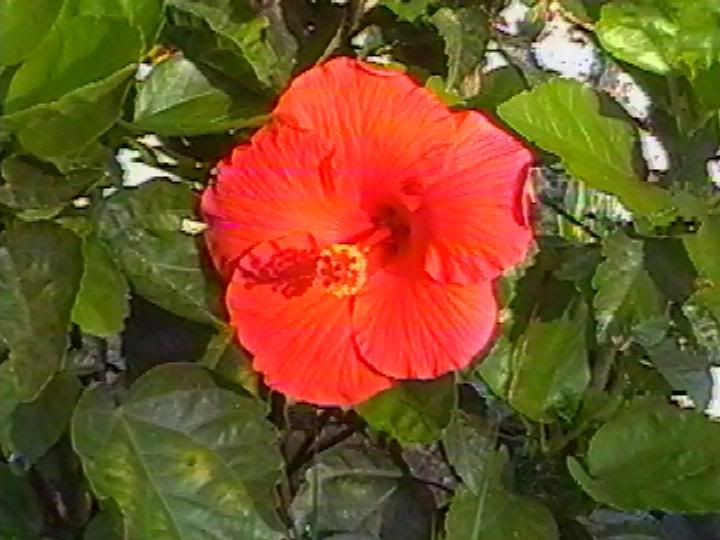 * * * *

HAPPY BIRTHDAY CINDY!!!!!!!
by Jiffymouse on October 23, 2005 07:08 AM

beautiful mel!
by Marci on October 23, 2005 10:00 PM
Good morning..
Thank you Barbie and Mel for your responses. Both are very much appreciated and varying in thoughts. I appreciate them both.
I am such a nongreen thumb person, Im going to try to keep the hibiscus happy for the winter. I really want to convince myself that I can do it. Mel, my hibiscus is the same color as yours. It just this morning dropped its blossum, more to follow soon.
Barbie, that is a a very interesting thought about planting the whole plant, pot and all into the ground. That would be my kind of gardening (at this point). What about potbound?? Currently its in a pot thats 16 inch diameter. The plant is almost 48inch diameter. Will it have to be repotted at some point?The liquid plant food Im giving it is 10-15-10 which is what I had for other houseplants. It seems to like it ok...
Well the sun isnt shining and the rain has returned. Should be this way for the next few days I guess.
Thanks again.
PS which one is from Maine again?? Where abouts? Im in the Bangor area..

* * * *
Sunshine on, it not only makes you happy, it makes your hibiscus happy too!!

by Marci on October 23, 2005 10:04 PM
oh sorry, its Mel from Maine...

* * * *
Sunshine on, it not only makes you happy, it makes your hibiscus happy too!!

by melcon6 on October 24, 2005 01:21 AM
Hey, Marci! I'm near Bath.
* * * *

HAPPY BIRTHDAY CINDY!!!!!!!
by Marci on October 24, 2005 02:49 AM
I dont know Bath well but have been to Brunswick many many times in the last 4 years. My son just graduated from Bowdoin May of this year!!! Love the place!!

* * * *
Sunshine on, it not only makes you happy, it makes your hibiscus happy too!!

Search The Garden Helper: