Brown Spots on Leaves
Gardening Reference » Gardening in 2006
by gardeningmomma on April 28, 2006 02:36 PM
My big plant in the living room is not doing so well.

There are some brown spots on the leaves. I recently re-potted it from a plastic planter to a terracotta planter, as it took ages to dry out between waterings (before the spots appeared). Could this be the source of my problem?
I'd appreciate any advice.
by joclyn on April 28, 2006 03:43 PM
what kind of plant is it? could you post a picture of it?
by gardeningmomma on April 29, 2006 04:23 PM
This is it...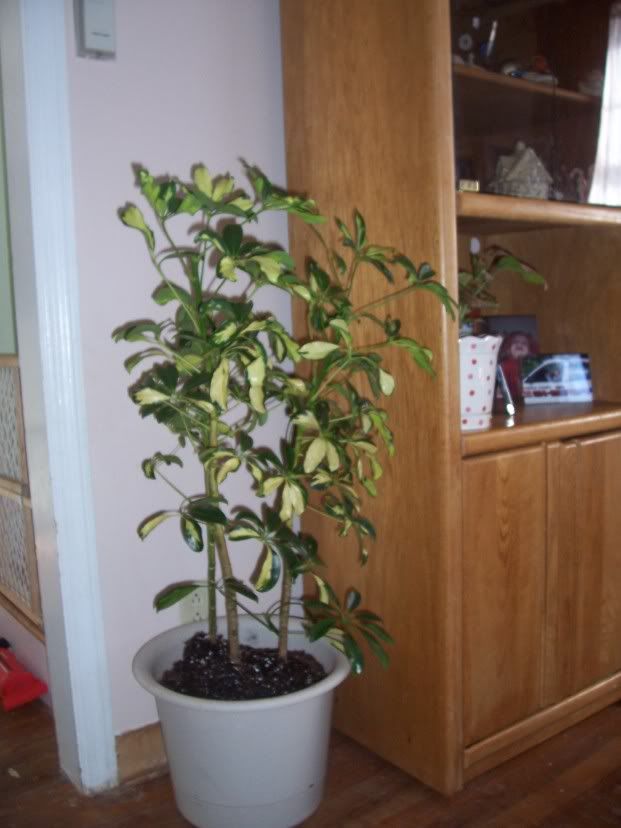 by gardeningmomma on April 29, 2006 04:24 PM
That was the old planter, now it's in a terracotta one. Any advice?
by joclyn on April 29, 2006 05:58 PM
that's an umbrella plant.

where are the brown spots? it looks like the leaves are variegated in color? or are those the spots you're talking about?

i've got a miniture umbrella and it's supposed to stay evenly moist. i'd think the full size version would have the same requirement.

am i reading your post correctly? the spots appeared AFTER you transplanted it to the terra cotta planter? if that is what you are saying, it sounds like it's drying out too quickly - i wouldn't transplant it again (too much shock). i'd just water it a bit better.

what you could do is get a container that's wider than the clay planter and fill it with a couple of inches of water and then set the clay pot in it and let it soak up all the water. that should give it a decent soak, then check the soil at the top of the planter - if it still seems dryish, then do some watering from the top.

water from the top weekly (or even every 4-5 days if the soil is dry) and do a good soak. pour in some water and let it settle for about 5 minutes and pour in some more and let it settle. maybe even another dose - if you look at the side of the pot you should see it darken in color a bit when the water reaches it from the inside. also, it will feel cool and moist if the soil that's in the pot is fully soaked.

do the bottom soak thing every other week.

unglazed clay pots really dry the soil out! i only use those types of pots for cactus and other succulents.

you're best to leave it for the moment, tho...for at least 6 months to a year. don't want you to lose the plant completely!!
by gardeningmomma on May 02, 2006 01:39 PM
Thanks for your advice. My plant looks better today. The leaves were getting brown spots on them, then turning completly brown and falling off. I do have lots of new growth, so I must be doing something right! I went ahead and put a plastic saucer under the pot and filled it with water. I also put it in the shower and throughly soaked it. I'm hoping that it's just transplant shock and my plant is through the worst of it. I'll keep you posted and thanks for your wonderful advice.
Gail
by gardeningmomma on May 09, 2006 01:52 PM
I've discovered that I have some kind of growth on the stem of the plant. Talked with a lady at Lowes and she gave me a product to try.
Will keep you posted on my plant. I don't want to lose it.
by Jiffymouse on May 09, 2006 02:07 PM
your plant's proper name is varigated schleflera.

they don't mind getting dry, but do better if they are watered when they begin to dry. terra cotta pots dry out faster than plastic, so that is a consideration. you have a beautiful specimin, and it sounds like you are on the right track!
by gardeningmomma on May 09, 2006 03:20 PM
I have most of my plants in terracotta pots because I tend to over water them! I love this plant, I've wanted one for some time and it was $6- at Wal-Mart. I just hope that I've managed to get rid of what ever the growth is. Thanks

by guero75 on May 09, 2006 04:14 PM
Schefflera's prefer bright light as well. Mine gets direct eastern sun, for about two hours in the morning, and it's as big as a house. Yours is looking a bit leggy, and I would suggest pruning the top a bit and moving it to a sunnier location.
by gardeningmomma on May 13, 2006 03:32 PM
Okay, I moved it to a sunnier location. Please explain to me about pruning the top and can I root the pieces I cut off?
Thank you all so much.
Search The Garden Helper: