HAVE:October rose hibiscus
Gardening Reference » Gardening in 2006
by njoynit on November 16, 2006 12:16 AM
I cleaned in flowerbed yesterday.I took out 2 of the october rose hibiscus.I have seeds.This hibiscus is an annual(yes even in zone 9)it blooms in Sept-October till frost.It gets huge.can be 10 ft& 5-7 ft on each side easily.trimming as it grows would make it more bushier& fuller& make it have more branches& can form it as a 4x4 shrub.
Here is 2 pictures of seedlings I relocated to fence.These had just started blooming.
here is a page with a few pics on it.
http://davesgarden.com/pf/go/59791/index.html
Mine mostly look like onalee's,BUT that pale color flordian shows?I've had a few flowers turn like that and we were overcast a few days when they did that.See that seed pod?thats one thorny sucker.I clip pods with pliers& wirecutters,needlenose& I place the pod in buttertub& when clean I use pliers& needlenose or a scissor blade& scrape seeds out.I change clothes immediatley afterwards cause them lil thorn hairs itch like fiberglass.Love this hibiscus though.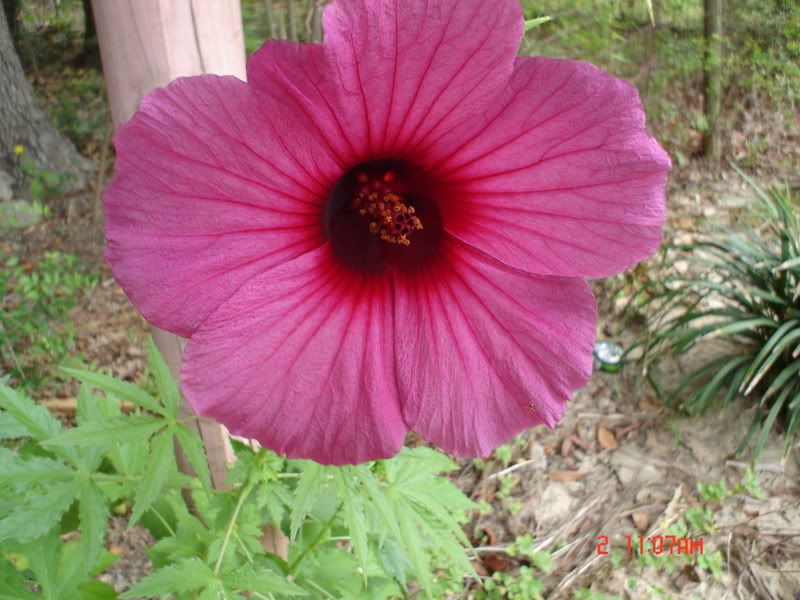 * * * *


I will age ungracefully until I become an old woman in a small garden..doing whatever the Hell I want!
http://community.webshots.com/user/njoynit03
http://community.webshots.com/user/njoynit
http://photos.yahoo.com/njoynit03
Search The Garden Helper: